Fans Told The List Which Of Kate Middleton's Go-To Designer Clothing Brands Was Their Favorite - Exclusive Survey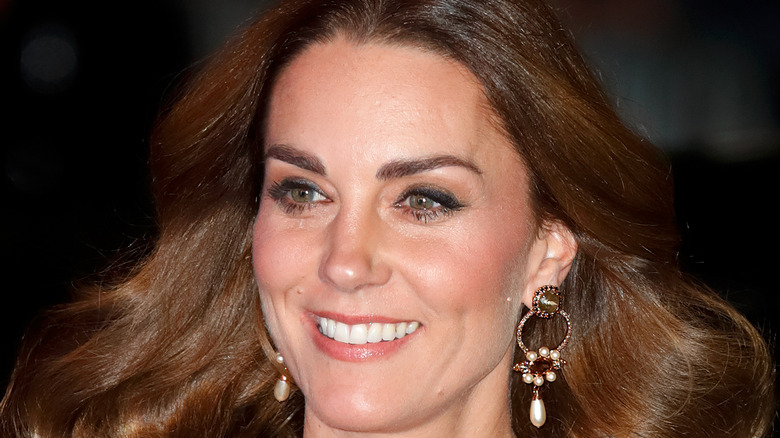 Max Mumby/indigo/Getty Images
If you've ever wondered what a real-life princess's wardrobe looks like, look no further than the royal herself, Kate Middleton. The Princess of Wales is no stranger to fashion: we always look forward to seeing what she will wear during a royal family outing. From her casual, everyday looks to the most regal ball gowns, Kate Middleton has had some iconic fashion moments. Not only do we admire Kate's keen eye for trendy looks, but we also love the designers she works with. With a team of pros behind her, Kate always looks incredible.
To find out which one of the future queen's designers fans can't get enough of, The List conducted a survey on YouTube that asked, "Which of Kate Middleton's go-to designer clothing brands is your favorite?" It is a hard decision for sure, as one voter commented, "I love everything she wears. I wish I had her wardrobe." But after 16,000 votes, there was a clear winner.
This designer has become Kate Middleton's signature brand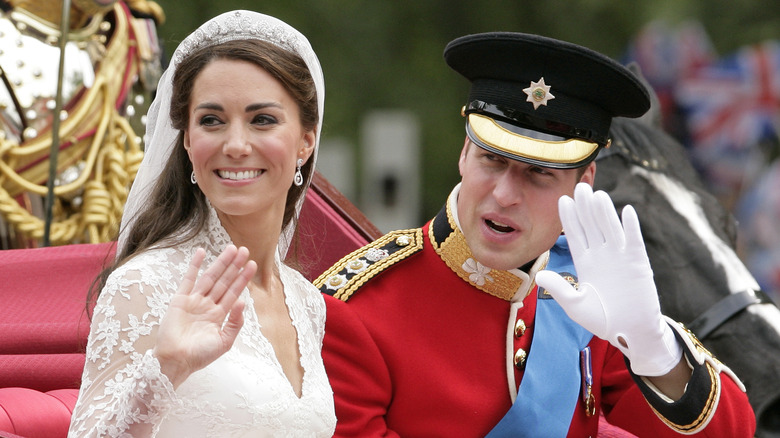 Max Mumby/indigo/Getty Images
According to The List's survey, 76% of people agree that Kate Middleton looks incredible in anything made by Alexander McQueen. According to Harper's Bazaar, the iconic British fashion label was once known to be "rebellious" and "controversial", as Alexander McQueen often made political statements within his designs. But when designer Sarah Burton took over for McQueen after his death, the brand evolved into the classy style with a "feminine softness" that Kate Middleton loves so much.
The Princess of Wales has been spotted rocking Alexander McQueen many times, including on her wedding day. Kate Middleton's wedding dress was absolutely breathtaking, featuring "long lace sleeves, a nipped-in waist, a full skirt and a nearly 9-foot-long train," per Page Six. Kate's iconic wedding dress was so beautiful that she cried, according to royal experts.
From tasteful gowns to chic coats and power suits, Kate Middleton clearly favors Alexander McQueen's timeless style. And we can't say we blame her — she looks stunning in every one of the brand's designs (via Vogue).
No one can dispute Kate Middleton's impeccable taste when she wears these designer brands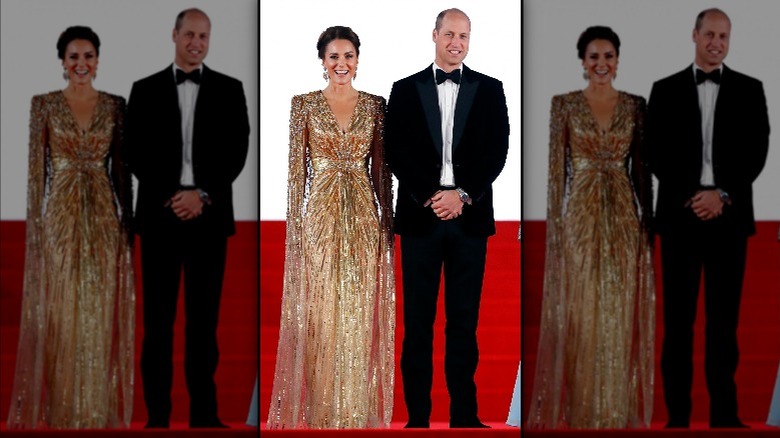 Max Mumby/indigo
Alexander McQueen may be the fan-favorite designer brand, but it's not the only brand that Kate Middleton and The List voters love. According to The List's survey, 11% of voters love when Kate Middleton wears Jenny Packham designs. The British designer is known for her bridal gowns and red carpet worthy dresses, including the gold sequin gown with a built-in cape that trailed behind Kate Middleton at the "No Time To Die" premiere back in 2021, per Vanity Fair.
Voters identified more of their favorite Kate Middleton go-to designers, including Ted Baker (7%), Hobbs (3%), and Reiss (3%). No matter what designer brand Kate is wearing, she exudes poise, grace, and kindness along with her seemingly ageless beauty. If you still aren't convinced that Kate Middleton, Princess of Wales is a fashion icon, here is a list of her best outfits in every color.