Get The Look On A Budget: Rihanna's Over-The-Knee Boots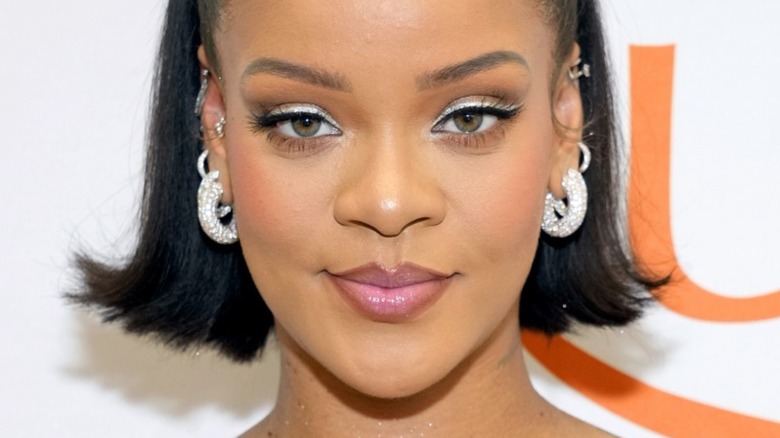 Kevin Mazur/Getty Images
What is the best way to tell if a trend is in style? If Rihanna is wearing it, obviously. Known for her looks, which are always on trend and excruciatingly cool, The CFDA Fashion Icon Award winner and Fenty Beauty founder turned heads when she took to the streets of New York wearing over-the-knee boots. 
But they weren't just any over-the-knee boots; they were cool and slouchy and baggy –- kind of like waders, the fishing boots, per Who What Wear. And the boots set off strong emotions; you either love them or hate them — or maybe you're just thoroughly confused by them. Created for the spring and summer 2023 collection of the Parisian brand Y/Project, the boots have had a lot of people envious, hoping to copy Rihanna's iconic fashion sense. 
 Should you want to stay on top of the trend like Rihanna, here are a few over-the-knee dupes to help you get there.
Seeking to define a cultural attitude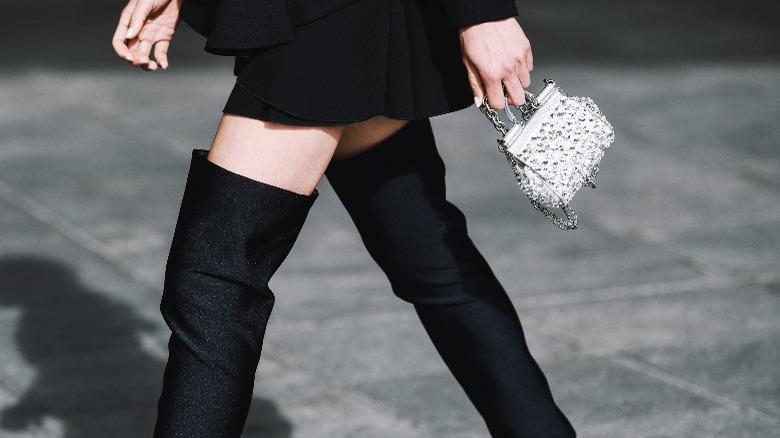 Creative Lab/Shutterstock
After World War II, fashion brands around the world were seeking to define both the cultural attitude and aesthetic of a post-war society. In 1947, French fashion designer Christian Dior debuted Dior's infamous "New Look," which featured a feminine collection of dresses and skirts. The "New Look," meant to inspire a new age of opulence, per DW, was seen as a step backward by some feminists. After saturating the workforce during the war, taking jobs that were typically performed by men who were off fighting, women looked forward to a future of independence. Turning from the military apparel — including combat boots – that marked the era, the "New Look" was nostalgic for the past; a past that some women did not want to return to (via the Athenaeum Review). 
When Christian Dior died in 1957, the "New Look" received the boot, so to speak. In 1962, Spanish couturier Balenciaga debuted an over-the-knee boot in its fall collection, per Sheen Magazine. This shoe was meant to look masculine, perhaps a reflection of the beginning stages of the countercultural movement. Fashion houses around the world followed suit in subsequent years, and the over-the-knee boot became a staple of women's empowerment, as feminine traditions in fashion were kicked out. 
Wearable alternatives to Rihanna's boots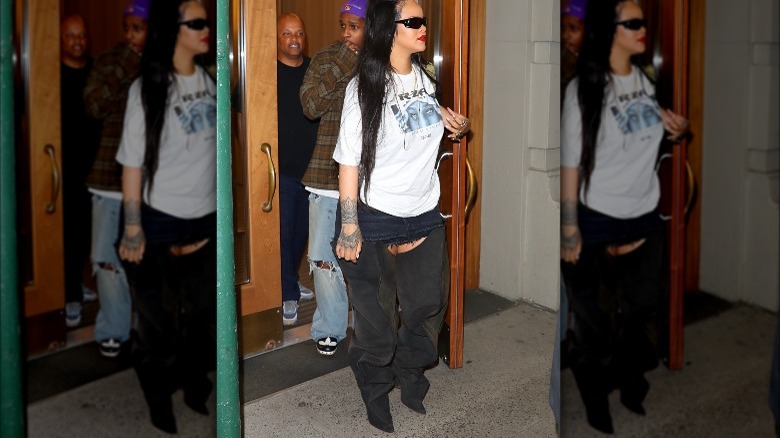 BlayzenPhotos/Backgrid
Fast-forward to today: over-the-knee boots are back and more oversized than ever before. While these are not quite as baggy as the boots Rihanna wears–-and maybe that's okay with you –- they are almost certainly less expensive. For $79.00, these wide-fit, over-the-knee boots from ASOS might be the most wearable alternative to the ones on the runway, with a block heel and seemingly soft fabric for comfortable wear all night out.
For a bit of a glossier, dressed-up look, these boots from Pretty Little Thing are super thigh-high and feature a stiletto heel, so you are sure to strut like Rihanna for $88.
Next, these boots from Shiekh answer the question, what if my shoes were also my pants, but fashion? It appears that the Y/Project boots donned by Rihanna were made of denim or look like denim, so if it's the denim jeans vibe you're after, these medium-wash denim boots will deliver –- or rather, be delivered –- for $42.99.
With these boots, your outfits are sure to leave a crowd utterly speechless, like Rihanna anytime she walks a red carpet.