Of All Of Rihanna's Looks - This Stands Above The Rest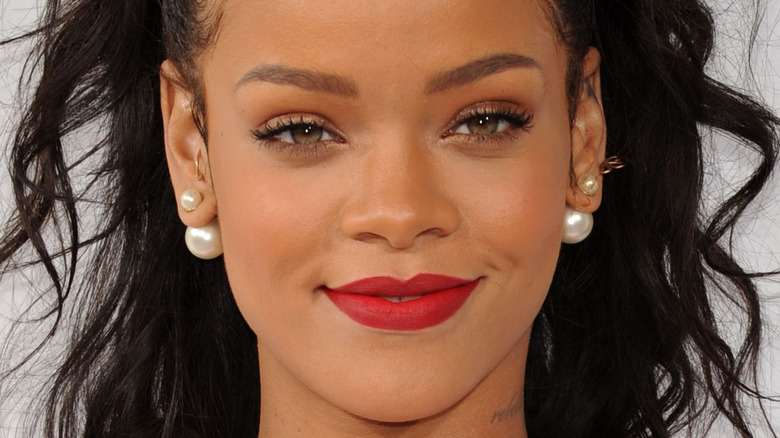 Bryan Bedder/Getty Images
Rihanna is so much more than just a pop star. Sure, the "Work" diva is the top-selling digital artist of all time with more than 60 million albums and 215 million digital tracks sold, per Roc Nation. That's a pretty impressive feat. But she's also the face of a makeup empire and a mega-successful lingerie line, and she's a bona fide fashion icon. You know it's real when Vogue dubs you the "queen of style." The publication also wrote earlier this year, "When it comes to taking fashion risks, Rihanna is in a league of her own."
Elle U.K. compiled more than 100 photos of some of her most awe-inspiring looks over the years. That includes unforgettable moments like when she channeled the pope at the 2018 Met Gala and paparazzi pictures of her effortlessly cool street style. There's no question that her wardrobe is unrivaled. However, one look rises above the others as her most memorable of all time.
That would be the absolutely breathtaking, sheer, crystal-studded gown she wore to collect the Style Icon award at the 2014 Council of Fashion Designers of America Fashion Awards. Rihanna paired the dazzling dress (designed by Adam Selman) with a matching head wrap and gloves, a Pologeorgis fur stole, Manolo Blahnik heels, a nude thong, and jewelry by Paul Morelli and Jacob, according to Harper's Bazaar. 
Talk about shining bright like a diamond and more than earning her award of the evening. Keep scrolling to learn more about why this outfit stands above the rest.
Rihanna's 2014 CFDA Awards dress was a work of art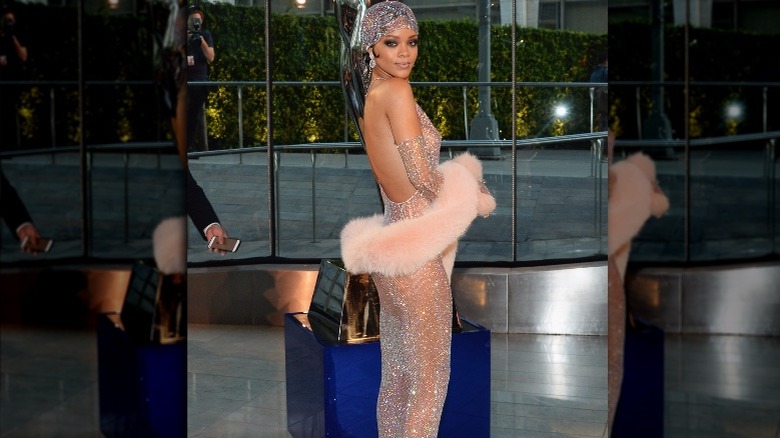 Larry Busacca/Getty Images
Like any work of art, Rihanna's look for the 2014 CFDA Awards took a surprising amount of time and effort to create. Adam Selman shared the details in an exclusive interview with Elle at the time, and the specifics are jaw-dropping. It took seven days for a team of 20 people to finish the dress, which was created using more than 230,000 crystals. "We started on Memorial Day," Selman said. "It took so much longer than expected. We had people crystaling 'round the clock until 3pm the day of the event."
Selman also opened up about Rihanna's input into the design. "She was very exact with what she wanted. She always is," he explained. "We dyed the mesh to be her exact skin tone. She also asked me to mix plain crystals in with the colorful ones, and in person it made such an amazing difference." He further gushed about her involvement and spot-on insights. "Her instincts on these decisions are always spot on."
Unsurprisingly, the iconic gown made history. The New York Post wrote that it "launched a style movement." Khloé Kardashian wore a similar outfit the following year, per Cosmopolitan. Rihanna, meanwhile, moved on and continued creating iconic fashion moments every time she stepped out. 
Rihanna has one regret about her 2014 CFDA Awards look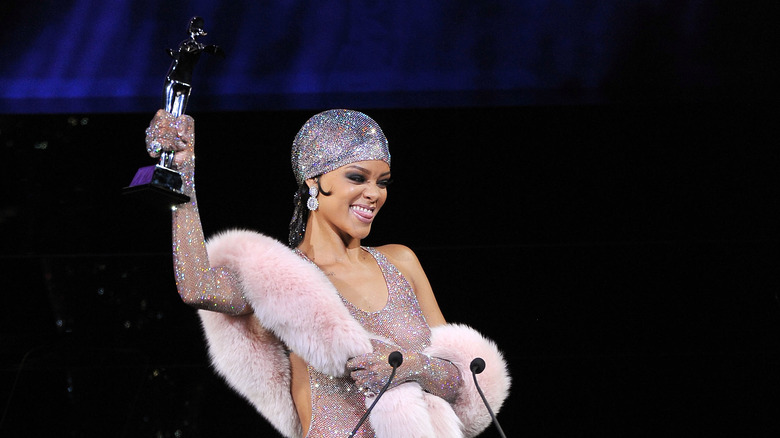 D Dipasupil/Getty Images
It turns out that Rihanna regrets only one thing in her life, and it has to do with the dress she wore to the 2014 CFDA Awards. More specifically, it is all about the decision to wear a nude thong underneath the see-through dress. She opened up about the decision to go without a bra and regrets about the thong in a 2016 interview with Vogue.
"I just liked it better without the lines underneath," she explained. "Could you imagine the CFDA dress with a bra? I would slice my throat. I already wanted to, for wearing a thong that wasn't bedazzled. That's the only regret I have in my life." The reporter was surprised and followed up for clarification. Was she really upset about the decision to wear a thong under the dress? "To the CFDA Awards. Yes."
Selman had similar regrets. "I wish I had made enough time to make the panty, too," he candidly admitted in his 2014 interview with Elle. "Next time." Although the thong haunts Rihanna years later, it's fair to say that the look will go down in history as the image of perfection.