The Most Unique Airbnbs You Can Find In The Colorado Mountains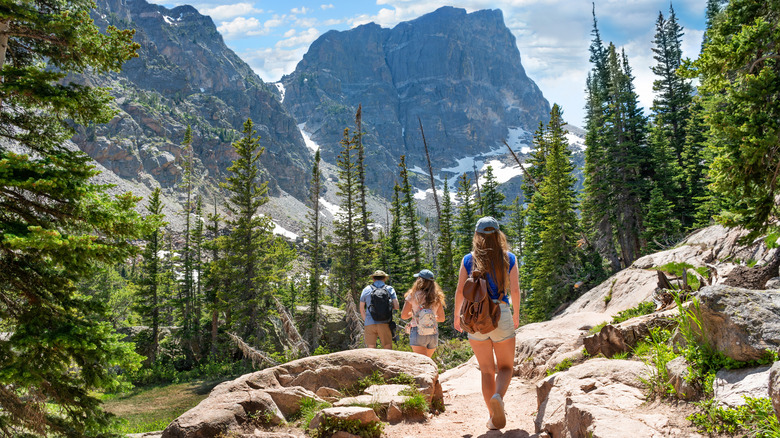 Margaret.Wiktor/Shutterstock
If there's one thing all these van life enthusiasts on YouTube inspire in anyone who watches their videos, it's a deep desire to be nestled amidst trees and an endless expanse of mountains. You're guaranteed all this and more if your choice of destination was any of the mountain peaks that make up Colorado mountains, per Uncover Colorado. 
The state of Colorado — considered the tallest state in the nation — houses over 15 different peak ranges, according to Peak Visor. With 58 mountain peaks that tower over 14,000 feet in height, Colorado mountains are an adventure and nature lover's paradise. The alps over 14,000 feet are referred to as fourteeners, the tallest of which is Mount Elbert.
Regardless of if you're an adventurous traveler or just looking to get away from the bustle of city life, where you stay while in Colorado will add to your experience. Airbnbs are a popular choice of accommodation mainly because of the unique and varied lodging you can find on the platform, as Forbes notes, whether your destination is Nashville or the Colorado mountains. Why not make things interesting by booking one of these out-of-the-ordinary stays? 
Stay in these cute treehouses in the Colorado mountains for a unique experience
Nothing screams mountain-top vacation more like a stay in a treehouse, so why not pick any of these treetop experiences for your stay in the Colorado mountains? 
Sitting on 2 acres of land in Carbondale with Cattle Creek winding beneath it, and mounted on spruce trees 25 feet off the ground, Rocky Mountain Treehouse is both charming and rustic. Peter Pan fans would find it interesting to know that this place is known to look like Captain Hook's ship (via Territory Supply). Built in 1971, this treehouse has a hot tub, offers beautiful views from a large balcony, and an outdoor space for campfires, per My Global Viewpoint. 
Situated in the small town of Lyons in close proximity to the mountains, Little Red Treehouse is another quaint option for a unique stay in the Colorado mountains, according to Trips to Discover. The treehouse is perfect for two, although there is a loft that can be utilized for one more guest if required. There are parking facilities for visitors and an outdoor area with space for picnics, along with a fun swing (via Airbnb). 
Maybe these unique cabins will be more to your liking
Log Cabin on the River, situated in Black Hawk, is a beautiful space offering breathtaking views. Ideal for two people, this cabin nestled amidst trees and close to babbling water, comes with a hot tub and some distinctive architecture. 
The Fortress at Pikes Peak Cripple Creek is a great option for larger crowds and could easily make it to the stunning Airbnb rentals you have to see to believe list. Situated on the western slope of Pike's Peak, The Fortress offers beautiful views from its spacious living room and comes with amenities like a patio, hot tub, pool table, and big screen TVs (via Trips to Discover). 
If luxury isn't really your thing and you're looking for something simple that'll help you better connect with your mountainous surrounding, the stunning yurt property near Creede, Colorado might interest you. The accommodation sleeps 4 guests and is located in the San Juan Mountains, per Airbnb.