Get The Look On A Budget: Kourtney Kardashian's Corset Top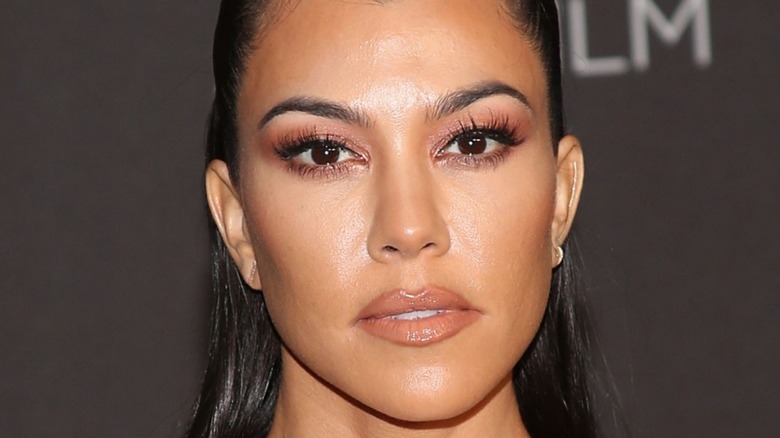 Jesse Grant/Getty Images
It is no secret that the corset top is one of the fashion's most coveted items. Stars from Bella Hadid to Megan Fox have donned the lingerie-turned-wardrobe-staple in the perfect cross between sophisticated and sexy.
But perhaps the reigning queen of the corset top is none other than Kourtney Kardashian, whose goth-garb-meets-California-bombshell aesthetic is definitely not just a phase, but a lifestyle. Many have speculated that Kardashian's style changed when she got together with Travis Barker for the broodier, for example, when she stepped out in a jaw-dropping black, one-strap corset in Las Vegas with her husband and posted the pic on Instagram. The garment, suggested to be a Vivienne Westwood piece (via Star Style), would probably be a splurge for most. A similar style is listed for $1,240 on the Vivienne Westwood website, whereas vintage pieces hover around $2,000 on Etsy. 
Fortunately, for those of us trying to keep our wallets as cool as our looks, it's possible to dress like Kourtney Kardashian on a budget – and that includes her corset top look. 
A clothing item fit for a queen
Corsets have a complicated history — and a fascinating one. Corsets have been present in fashion in one way or another for centuries. Catherine de' Medici, a 16th-century French queen, is said to have been something of a historical fashion influencer, helping to popularize the corset in her court, as noted by V Magazine. Since then, the corset has taken many forms. 
While once primarily an undergarment, the modern corset top reflects a wearer who is self-assured, perhaps appreciative of the garment's historical background, and unafraid of accentuating their curves. According to Vogue, the corsets Vivienne Westwood designed in the 1970s were imagined to "empower women rather than bind them," an idea that seems to be embraced by many wearers of the modern corset top.
Due to the ubiquity of the trend, corset tops are widely available online. In a quest to recreate Kourtney Kardashian's closet, here are a few corset tops that could be added to your collection.
The closest dupe we could find
One of the defining features of Kourtney Kardashian's corset is its dramatic swooping neckline. The closest dupe we could find is this cropped number from Nasty Gal for $25 that comes in four colorways, in case you want options (and we know you do). Sans straps and scooped to a point on either end, the corset has a similar effect to Kardashian's.
Another option is this $35.90 sweetheart neckline corset top from Zara that accentuates a flirtatious feel. The sheer panels on either side are sure to turn heads. And for a little extra sharpness, Zara also offers a faux leather corset top with a straight neckline for $39.90.
Should you be looking for a corset with more of a romantic feel, Cider offers a cropped black corset top with a floral detail that reads both sweet and seductive for $22. Cider also offers a bold black-and-white floral print corset with pleated trim across the bust for $28.
Each a classic piece, we are sure Kardashian would rock them all. The corset trend is here to stay through the ages.