Rihanna's Liquid Lipstick Application Tip Will Change Your Makeup Game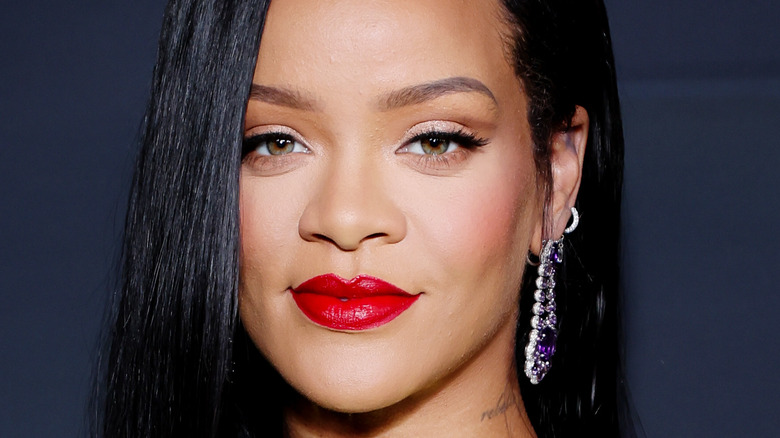 Rich Fury/Getty Images
Rihanna, the queen of makeup and resident beauty guru, is very intentional about what she puts on her face. The fashion and beauty mogul has a long list of celebrities that wear and love her cosmetic line Fenty Beauty, including legendary supermodel Naomi Campbell and Academy Award-nominated actor Taraji P. Henson. There's an even longer line of fans who can't get enough of Rihanna's makeup routine.
The nine-time Grammy-winning singer is widely celebrated for her daring style and bold beauty looks. In December 2019, Rihanna picked up the "Urban Luxe" Award at the Fashion Awards. However, her big win wasn't without controversy since Rihanna's work was notably categorized as "urban" compared to the pop star's white counterparts who did not get the same label, as Essence pointed out at the time. 
Thankfully, it's clear that the critically-acclaimed singer and designer's work transcends labels. As Fenty Beauty's customer base grows exponentially, their official YouTube channel has committed to giving fans an inside look at Rihanna's beauty routine. For instance, one tutorial revealed Rihanna's secret to wearing daring black lipstick. In fact, there's even a clever trick to how she puts on liquid lipstick. 
Rihanna always starts in the center of her lips
Rihanna's beauty look in 2017's "Wild Thoughts" music video (via YouTube) was pure perfection. If you experienced serious makeup envy at her piercing blue eyeshadow and bold red lips, join the club. Luckily, as part of Fenty Beauty's Tutorial Tuesdays on their YouTube channel, Rihanna pulled back the veil on the striking look, so we can replicate it at home. But her gorgeous eye makeup wasn't the only element that made fans' jaws drop.
Fenty Beauty's cult-favorite Stunna Lip Paint regularly takes center stage in Rihanna's beauty routine (via Instagram), and this was no exception. Her fiery red liquid lipstick is its own movement and, thanks to her beauty tutorial, it's also ridiculously easy to copy. The singer's tips for her signature pouty lips are a total game-changer. In the video, Rihanna revealed that she applies her lipstick in the middle in order to get an even application. 
"I usually like to start my lipstick right here, in the middle, no matter if it's lipgloss, lipstick, [or] lip paint," she explained. "There's a certain height to the top of your lip that you always want to be even because if it's not, you always end up going over your lipstick over and over again." Once Rihanna has applied liquid lipstick to her top lip, the beauty icon fills it in for an even coat and then moves on to her bottom lip. Easy! 
How to ensure your lipstick stays put for hours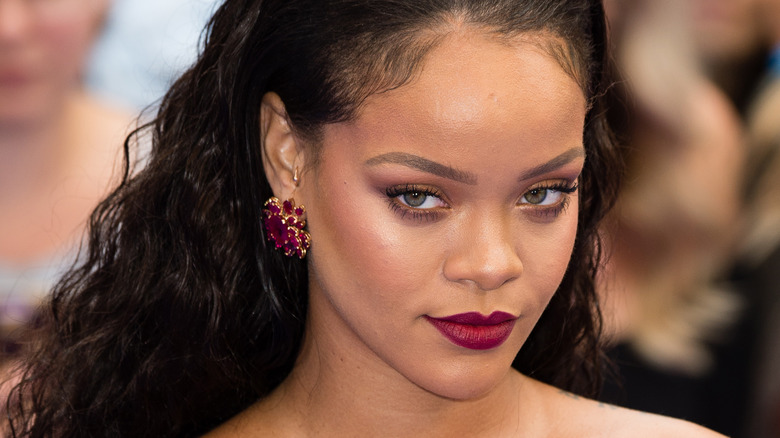 Jeff Spicer/Getty Images
Liquid lipstick can get messy. For a smudge and stress-free look, Fenty Beauty's global makeup artist Priscilla Ono recommends subscribing to the "less is more" mentality, especially when it comes to the cosmetic brand's lip paint line. In a March 2018 Q&A session on Fenty Beauty's official YouTube channel, Ono dished out best practices. 
"Stunna Lip Paint is not actually a matte liquid lipstick, it is just a liquid lipstick that's supposed to be very comfortable and non-drying on the lip [so] that you have a beautiful and smooth texture," she clarified. Likewise, Ono stressed that a small amount "goes a long way" and that layering is unnecessary as the bold lip color will do all of the work. 
Lifestyle outlet StyleCraze suggested using a lip liner and primer for a smoother application and to stop your lipstick from bleeding. They noted liner is generally drier in texture, so it stops the creamier lipstick from moving. Primer, meanwhile, keeps it put from the outset. As John Stapleton, the senior artist of M.A.C. Cosmetics argued: "If you want your paint to stick on the wall flawlessly you need to prime it first."