Rihanna's Secret For Black Lipstick Will Make You Want To Rock The Daring Color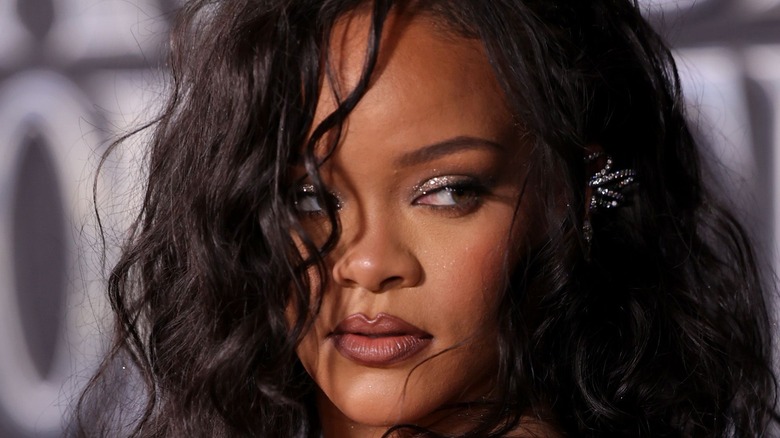 Jesse Grant/Getty Images
Lipstick has an innate ability to make you feel confident, sexy, and more put together. Whether swiping on a seductive and universally flattering red shade or a pinkish nude, lipstick can instantly upgrade any look, especially when you choose a daring and bold color. Speaking of brave and bold –- what about black lipstick? It seems as though many people shy away from it. Perhaps it's because the dark pigment is too intense for some, while others don't think they can pull it off.
And if you fit in either — or both — of those categories, you may want to reconsider because, according to Byrdie, anybody can pull off and absolutely rock black lipstick. And who knows black lipstick better than pop icon and beauty brand owner Rihanna? In fact, her voice went viral on TikTok in 2021 when she said in an interview, "I love black lipstick. I think it's daring, it's bold. There's a way that it can be really, really beautiful. It's one of those colors that people shy away from a lot, but if you do the right balance of makeup, I think black is such a beautiful color. It could be the new red" (via Image).
Several #BeautyTok creators used the sound of her interview snippet while applying black lipstick and showing off its gorgeous gothic-esque finish. And it turns out, according to RiRi, there is a secret to rocking the daring color that can change the minds of even the most skeptical black lipstick critics.
Ensure the black lipstick is full coverage and layer if you have to
Rihanna's cosmetic brand Fenty Beauty delivers fan-favorite products in beauty supply stores like Ulta and Sephora, but that's not all. Active on YouTube, Fenty Beauty has a channel, frequently posting a variety of videos, from tips and tricks to tutorials and more. The channel features a series, "Tutorial Tuesdays," where RiRi shows how she applies some of her favorite makeup products. One video depicts Rihanna giving a tutorial on a gorgeous black lip look paired with a glowy complexion and simple cat eye.
In the video, RIhanna lets us in on a little secret when it comes to black lipstick. "I love black lips, but it only works if it's not sheer." She goes on to apply her Fenty Beauty Stunna Lip Paint in the midnight black shade called Uninvited, which provides a gorgeous layer of product that only needs a single coat. To get the best black lip look, you'll want to ensure the product covers the entire lip without any bits of natural lip color peeking through. So layer it on if you must.
You may also want to line the lips first with a lip liner before applying the dark lipstick to ensure a clean application in case it smudges around your lips (via Bustle). Apply the first layer of black lipstick, and if it's too sheer, apply a second coat as needed. You can also dab a bit of black eyeshadow on top for additional coverage and a matte look.
What makeup looks can you wear with black lipstick?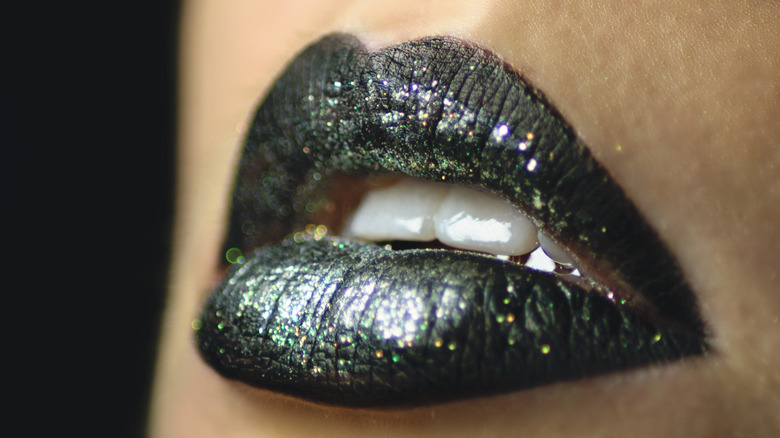 Viktoria Hrekova/Getty Images
With black lipstick being such a bold choice, when it comes to the rest of your makeup look, you may wonder what other products you should pair it with. Do you go all the way, wearing a bold and dark smokey eye? Or do you keep the rest of the look simple and make the lips the focal point? Good news; both are great options (via L'Oréal Paris). You can even meet somewhere in the middle, creating a simple winged eye like Rihanna in her YouTube tutorial.
Also, just because Rihanna's secret to the perfect bold lip recommends you stay away from sheer products doesn't mean you can't add a bit of shine on top. According to Byrdie, topping black lipstick looks with a hydrating lip gloss or fun cosmetic glitter product are great ways to upgrade your look to the next level. Despite its natural ability to look intense, black lipstick doesn't have to be serious business all the time! Play around with different products on top of your full-coverage lipstick for a RiRi-approved look.