NYX Cosmetics Is Launching The Dreamiest Avatar-Inspired Collection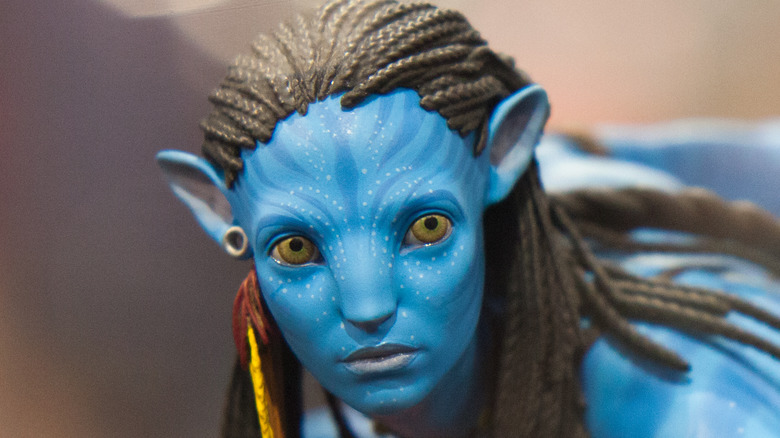 Alex Kay Visuals/Shutterstock
The world of beauty isn't one that solely consists of the same repeated products being released in a loop. It manages to keep its finger on the pulse of what's trending and relevant in the world, and one of every beauty lover's favorite ways it does so is by releasing collaborations or collections inspired by movies. Pop culture continues to find its way into our makeup bags, whether it be through celebrity collaborations with cosmetics brands or the much-funner-themed collections. Who could forget the iconic "Mean Girls" burn book palette released by Storybook Cosmetics that we never knew we needed, per Teen Vogue? 
Over the years, fans have learned to identify when the buzz surrounding a new movie release is buzzing enough to crossover to the beauty world. With the eagerly anticipated release of "Avatar: The Way of Water" upon us, it was pretty clear that the movie everyone's been waiting for for 13 years was going to be sensational. Now, there's a lot to get excited about over here. From seeing how the already impressive CGI effects have gotten even better 13 years later, to exploring what new adventures James Cameron has in store for us, per Yahoo! Movies. But if you're a makeup lover that is most excited to see some "Avatar" themed beauty in your collection, look no further, NYX Cosmetics has you covered. 
Makeup with a message
While everyone eagerly awaits the release of "Avatar: The Way of Water" NYX Cosmetics is building on to its best products in the anticipation of the movie's release. The NYX Cosmetics x "Avatar: The Way of Water" collection is set to launch ahead of the movie's release date of December 16, 2022, and will be available to shop on December 1, 2022, per POPSUGAR.
The collection isn't one that occurred by happenstance, NYX Cosmetics consciously chose to collaborate after being inspired by the movie's messaging. Speaking about the exciting launch, NYX Cosmetics general manager Yasmin Dastmalchi shared with POPSUGAR, "We were incredibly inspired by the artistry in the film, the bioluminescence and vivid colors of the world of Pandora, and the strong focus on diversity. The collection is a proud representation of artistry for all, and we can't wait for everyone to get their hands on it." 
NYX Cosmetics will also be using the collection to support their vegan and cruelty-free mission by using this campaign to raise awareness for the global environmental nonprofit organization: The Nature Conservancy. Yann Joffredo, global brand president of NYX Professional Makeup explained, "[W]e pride ourselves in offering mindful cruelty-free and vegan formulas as part of our pledge to take responsibility and offer conscientious products. We are excited to marry these critical initiatives and support another cause that aligns with our core values."
The Way of Water finds its way into your makeup bag
When a movie is as iconic and vibrant and rich in color as "Avatar: The Way of Water" appears to be, you can only imagine the treasure trove of makeup that could be released inspired by it. The range of vegan makeup will consist of a selection of stunning bioluminescent products reminiscent of the magical luminosity seen in the movie. 
The NYX Cosmetics x "Avatar: The Way of Water" collection offers a wide selection of products ranging from $9-$40. The star of the show is undeniably the 24-pan vegan eyeshadow palette that contains satin, matte, and metallic eyeshadow shades with earthy and water undertones encased in a stunning palette adorned with a photo of Pandora as well as a closeup of Zoe Saldana's character eyes, per NYX Cosmetics. 
There will also be a selection of Luminescent Lip Glosses available in three shades and paper-packaged matte lipsticks in two shades. NYX Cosmetics' fan-favorite Face & Body Paint tubes will also be available in limited edition shades for the collection, and there will also be Bioulume highlighter sticks to play with. The collection also includes a hydrating setting mist: Metkayina Mist Makeup Setting Spray. Lastly, the second star of the show is the Pandoran Paradise Palette, a limited edition face palette that contains 6 pans of blushes, bronzers, and highlighters.