What You Need To Know About The Recall On Toddler Sippy Cups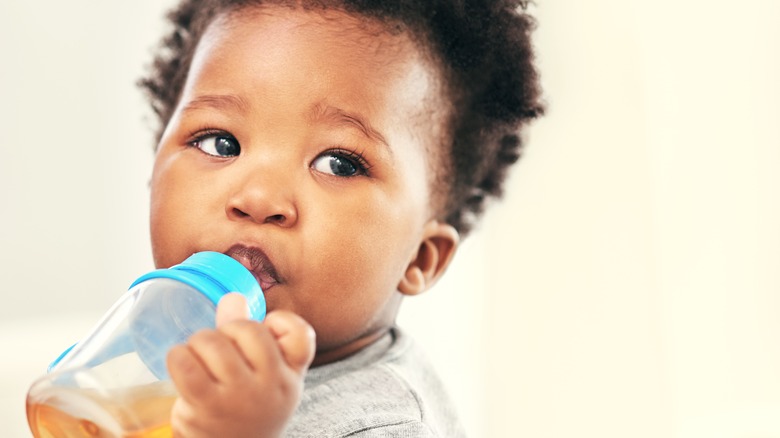 PeopleImages.com - Yuri A/Shutterstock
For all of those who have toddlers at home, there is some important safety information you must know. The baby products brand Green Sprouts is issuing a recall for its Stainless Steel Straw Bottles, Sippy Cups and Sip & Straw Cups. According to the United States Consumer Product Safety Commission (USCPSC), the cups' bottom base has a solder dot containing lead which is known to be a harmful substance for children. The report says that approximately 10,500 units are affected and anyone who has these products would be eligible for a refund. Since the announcement, multiple parents showed their concern on the company's Instagram post about the recall. "Thank you for sharing, but ugh such awful news. I trusted these bottles, loved them, and now will never use them again," wrote one customer.
Sippy cups are a clever parenting hack for toddlers as they transition to grown-up cups, but not when they are a danger to your children. To see if the product you have at home is compromised, look at the bottom of the bottle and check if the tracking number corresponds to one of the following: 29218V06985, 35719V06985, and 33020V06985. These bottles were sold between January 2020 and September 2022 at Buy Buy Baby, Whole Foods, Amazon, and Bed Bath & Beyond, per the USCPSC. 
This is why lead exposure is dangerous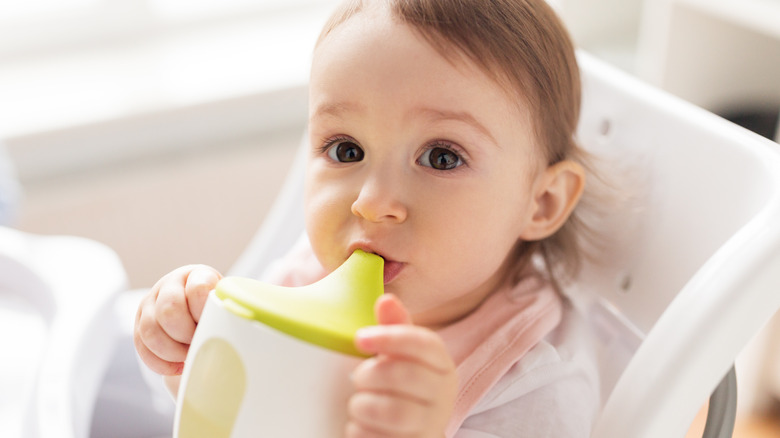 Ground Picture/Shutterstock
Green Sprouts is aware of seven incidents where the lead solder dot was exposed, but so far, there have been no medical issues reported (via the United States Consumer Product Safety Commission). The Centers for Disease Control and Prevention states that lead exposure in children can lead to nervous system damage which can in turn cause learning and communication problems. Most people exposed to lead don't develop symptoms at first, so it's important to test your child for lead in the blood if you believe an exposure has happened.
"As we approach the redesign of these products, whose benefits for keeping drinks cold safely have made them a popular choice for parents, we will ensure that lead is not used as a soldering material, no matter whether it would be accessible," the company said in a statement about the incident. With a recent baby formula recall, you may already have enough stress to deal with. Luckily, Green Sprouts has made requesting a refund easy. All you need to do is fill out an online form with details of the product information, and you can receive either store credit or cash.