Katy Perry Is The Queen Of Camp And Kitsch. Here's How To Dress Like Her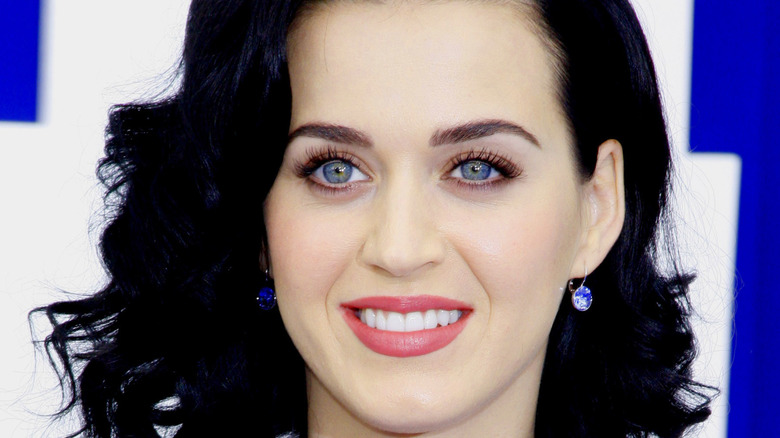 Tinseltown/Shutterstock
If there was an award for the celeb who has the most fun while performing, Katy Perry would undoubtedly be at the top of the list of contenders. Since the beginning of her career, the "Dark Horse" singer has been wowing fans with her ability to always surprise when it comes to her stage performances. Her love of campiness and creative scenery can be seen in so many of her shows, like the time she danced atop a gigantic toilet alongside a piece of poo (via Yahoo! News). Zany? Definitely. And that's why fans love her so much.
When it comes to Perry's fashion, you'll find her kitschy nature still holds true. She's well-known for her over-the-top, offbeat looks onstage and on the red carpet. Per People, she even managed to make plain old denim exciting again by transforming it into gowns worthy of the red carpet.
If you want to mimic Katy's lovable, campy looks, we've got a few tips that will help you dress like her so you can also embrace your love of kitsch.
Wear clothes that stand out from the crowd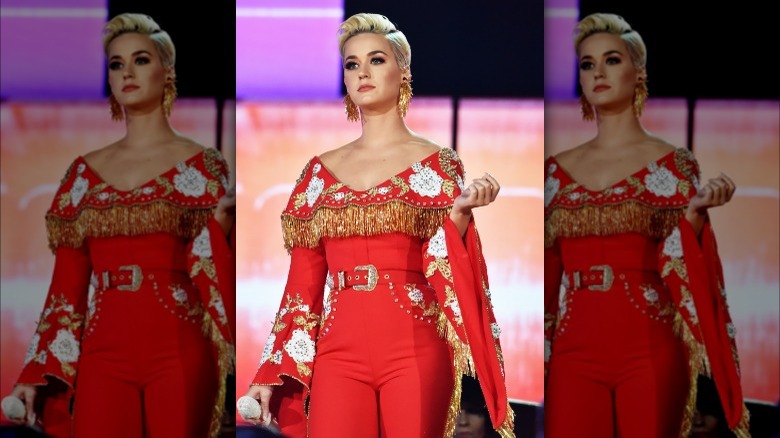 Lester Cohen/Getty Images
Out of all the ways to describe Katy Perry's fashion sense, "boring" is not it. Perry's most iconic looks are the ones where she's unabashedly herself. So let's get started with the first step in dressing like Perry: Banish every single item of clothing that looks even remotely safe or boring. If you own clothes that are only in shades of black, brown, or gray, it's time to banish those colors from your wardrobe and start anew.
Perry is never caught at public events without wearing something bold. The reason this look works so well for her is that she has the bubbly, brave personality to match. Finding out your "style personality," as the clothing consultants at Henry A. Davidsen point out, is the best way to gauge which way your wardrobe should lean. 
If you want to dress like Perry, we know you have the personality to match, so don't shy away from shopping for bold prints, exotic accents, and bright colors. According to Daily Mail, wearing brighter colors can potentially boost your mood, so there's more than one benefit to adding them to your closet.
Be fearless and try new hairstyles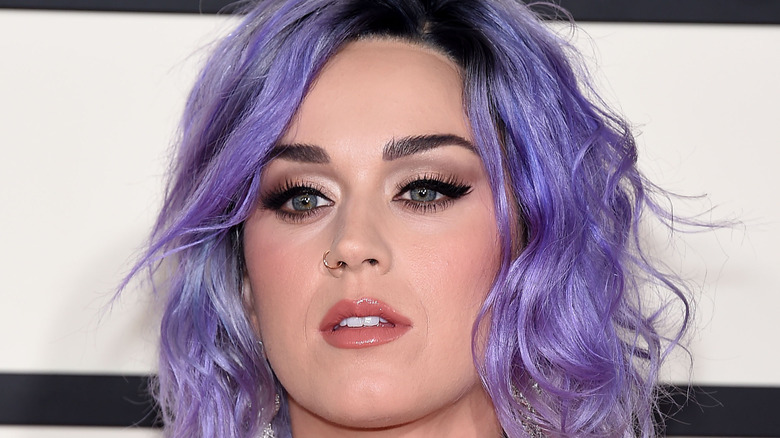 DFree/Shutterstock
Katy Perry's hair evolution over the years has been a sight to behold. The "California Gurls" singer is famous for striking out into the music scene with jet-black, shoulder-length hair. It was a natural bombshell look that she's found her way back to in recent years (via Grazia).
But, between then and now, Perry has been unafraid of trying out any hairstyle she sets her sights on. From vibrant purple waves to flirty pink bobs, there doesn't seem to be a hairstyle Perry hasn't rocked. She even went as far as to go on the opposite side of the spectrum from her first hairstyle, cutting her locks into a platinum blonde pixie cut that had her Instagram fans wondering if it was all an elaborate April Fool's joke (via Allure).
Perry has mastered the art of changing her hair to suit how she feels. For you to do the same, you'll need to get over any fear you have of changing up your hair and simply go for it. Even if it's as simple as adding a few colorful highlights, one small step is all it takes to get you started on your journey toward the unconventional look you seek.