Days Of Our Lives Classic Romance: Neil And Liz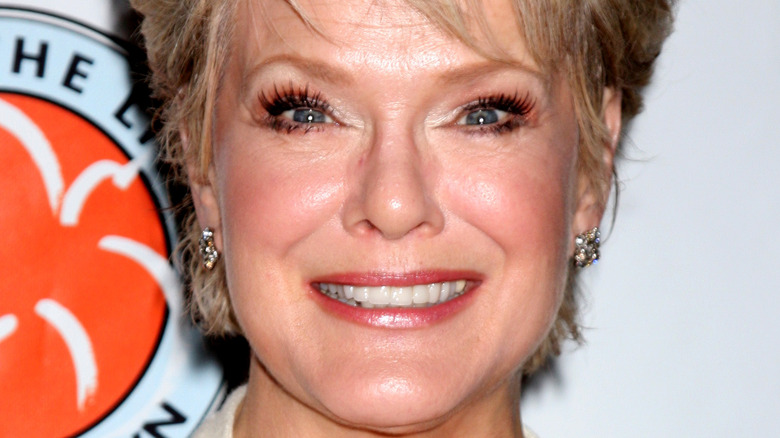 Kathy Hutchins/Shutterstock
When fans think of great "Days of Our Lives" couples, iconic duos such as Bo and Hope Brady, Steve Johnson and Kayla Brady, John Black and Marlena Evans, and many more come to mind. Throughout the decades, the soap opera has given viewers many memorable love stories to swoon over. Epic loves like Tom and Alice Horton and Doug and Julie Williams have warmed viewers' hearts over the years, and it seems that everyone has their favorite pairing, per Fame 10.
Whether it's a longtime couple like Kimberly Brady and Shane Donovan or Justin and Adrienne Kiriakis, or a younger couple like Ciara Brady and Ben Weston, Will Horton and Sonny Kiriakis, or Chad DiMera and Abigail Deveraux, viewers have connected to the couples (via Nine).
While some "Days of Our Lives" romances last for decades, others have burned out. However, that doesn't make them any less powerful. According to Soap Hub, one duo that diehard fans may remember is Neil Curtis and Liz Chandler, who were a source of major entertainment in Salem in the 1980s.
Liz and Neil's relationship had a rocky start
Those who watched "Days of Our Lives" in the 1970s and 1980s will likely remember Dr. Neil Curtis (Joseph Gallison). The character first came to Salem in 1973 as a new doctor at University Hospital. On the outside, Neil appeared to be a handsome doctor who had everything going for him. However, he had a lot of personal struggles, such as a gambling addiction and mountains of debt, per Soap Central. Neil decided that the only way to get out of debt was to marry a wealthy woman. He attempted to wed a woman named Amanda Howard, and when that didn't work out, he moved on to another wealthy Salemite, Phyllis Anderson. However, Neil didn't find real love until he met Liz Chandler (Gloria Loring).
Liz showed up in Salem in 1980 and immediately caught the eye of Don Craig, and the two had an affair and eventually tied the knot. However, Liz was stunned when her first husband, Tony DiMera (Thaao Penghlis), returned to Salem after being presumed dead, per Soap Hub. Liz's marriage to Don was deemed invalid by Tony's presence. Later, Liz's love life became more complicated when she met and fell in love with Neil, whom her father disapproved of.
Although Liz and Neil were madly in love, Liz's father pushed them apart. However, the couple couldn't fight their feelings for each other.
Neil and Liz divorced in 1986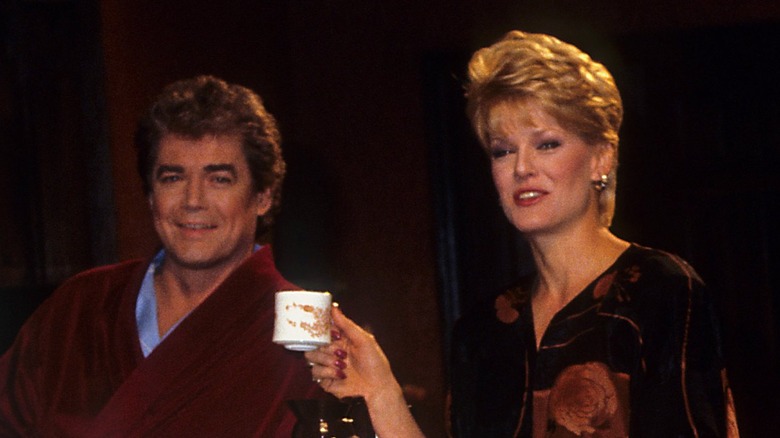 Donaldson Collection/Getty Images
While Liz Chandler was married to Tony DiMera, "Days of Our Lives" viewers watched her love for Neil Curtis grow. Liz was made to be a prisoner in the marriage, and Tony even threatened to have Neil killed if she didn't stay away from him. Eventually, Liz and Neil's emotions took over, and they had an affair which resulted in Liz's pregnancy (via Soap Hub). Tony believed the child to be his at first, but it was soon revealed that Neil was the biological father. The pair welcomed a daughter together, whom they named Noel. After much drama, Liz and Neil were finally free to get married, and the two tied the knot in 1984.
The following year, Liz tried to break into the music business, but trouble followed, per Soap Central. She and Neil were targeted by a crime lord, to who Neil owed money, and later Liz was tricked into smuggling drugs. The situation led to Liz being shot in the throat and losing her beautiful singing voice. Neil tried to cheer her up by buying a nightclub for her, and eventually, her voice returned. However, the couple's marriage was so strained that they couldn't make things work. The pair divorced in 1986, and Liz left Salem for good. The couple shared custody of their daughter until Neil and Noel also left Salem in 1991.
While Neil and Liz may not be one of the most iconic couples in "Days of Our Lives" history, they are surely one of the most memorable.