The Right Way To Style A Mermaid Wedding Dress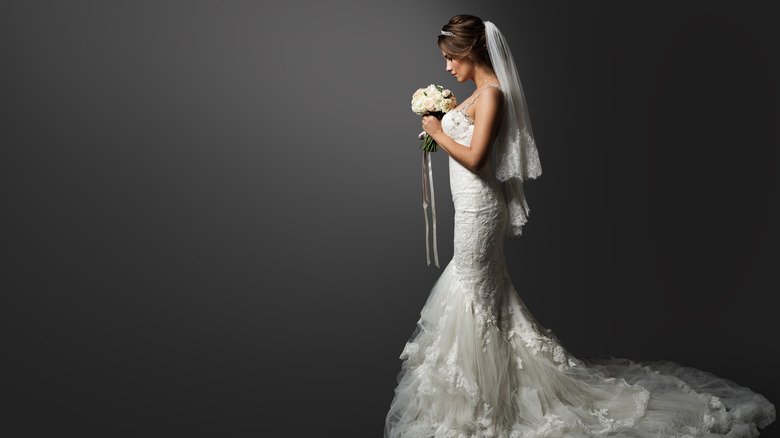 Inara Prusakova/Shutterstock
One piece of what a good wedding ceremony special is the beautiful wedding gown. This remains true if the celebrations are intimate or grand in nature. And when the perfect wedding dress costs you quite a sum, you want to make sure you're getting the dress of your dreams. 
It's easy to get carried away with all the options out there. There really is no end to novelty when it comes to bridal gowns. Through it all, however, the mermaid wedding dress seems to have held its own. First curated in the 1930s by designer Marcel Rochas, this classic style, which is also referred to as the fishtail dress, has seen adaptations since then, but it has retained its original outline that flatters feminine curves, per Today's Bride. The mermaid wedding dress is sought after for a number of reasons. The snug fit of the dress is ideal for those wanting to show off their naturally curvaceous figures on their special day, reports Vines of the Yara Valley. You can pull off sexy and classy in one ensemble. The mermaid wedding dress also appeals to brides who have a contemporary taste. The dress is structured in a way where the form-fitting design travels all the way from your bust to your waist and then your knees before flaring out beautifully thereafter, making it a great choice for brides who want to make a statement.
There is, however, a right way to style a mermaid wedding dress. 
Choosing the right style for you is the first step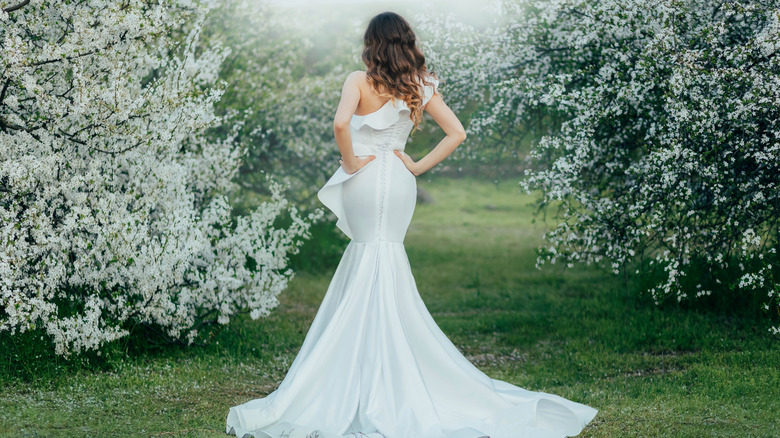 Ironika/Shutterstock
With a fishtail dress, there are a myriad styles to consider. While organza, silk, and satin might be popular choices for material, per Today's Bride, it is not uncommon to see lace, especially on the long train that comes with the gown, via Wedding Forward. 
Choosing between lace embellishment, beadwork in the bodice, an open back look, long sleeves or off-the-shoulder, and a simple strapless gown might be your first style tip. Delicate lace design, especially along the sleeves and long train of the fishtail wedding gown, add a wow factor that's hard to match, while a low back dress might suit a summer wedding, recommends Wedding Forward. If you want a more seductive look, you can opt for thin straps that show off your shoulders or an off-the-shoulder number. A wedding gown with sleeves can have variety too — there are balloon sleeves, long sleeves, and sleeves that come up to your elbows. 
Your body type plays an important role. If you're blessed with natural curves, have broader shoulders, via Fustany, or if you're tall, choosing a mermaid gown might be the way to go, per Curated Taste. But this doesn't mean that the style won't suit more petite frames as well. It's good to try on a few options before choosing a mermaid wedding dress. You'll never know how well a dress flatters you (or not) until you wear it, via Vines of the Yara Valley.
What about shoes, hair, and makeup that go with a mermaid wedding dress?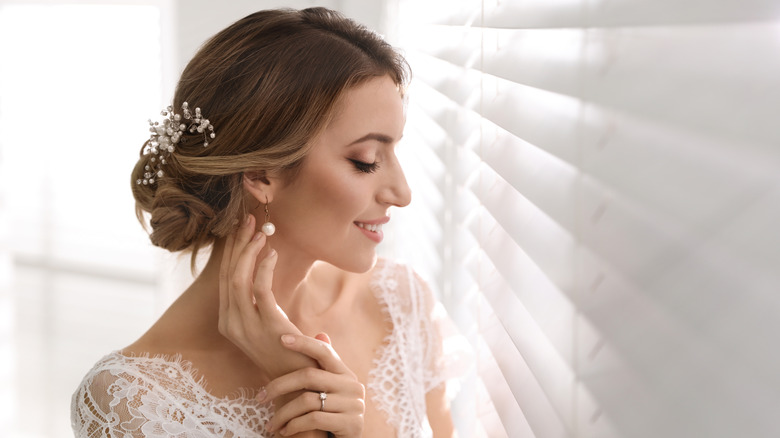 New Africa/Shutterstock
When it comes to shoes, heels remain the most classic choice, but this doesn't mean that you can't prioritize comfort, especially since the mermaid wedding dress elegantly covers your feet most of the time, per Lace and Favor. Strappy peep toes and sandals with wedge heels could work too. A mermaid wedding dress presents a slightly bigger challenge when it comes to movement, via Sass & Grace so stilettos should be reserved for those brides who are naturally confident in high heels. 
How you wear your hair with a fishtail wedding gown might be dependent on the neckline and sleeves you pick, according to Today's Bride. Showing off intricate lace or beadwork might be best achieved with your hair swept up whilst a shoulder-baring tube top gown might look best with your hair down. A classic, understated, and romantic touch with makeup will go well with a mermaid wedding dress, reports Wedding Forward. 
Wedding dress shopping can become stressful, especially if your mind is swimming with ideas. A mermaid wedding gown is a beautiful option to choose. You just have to know how to style it right.