Here's How Much That Perfect Wedding Dress Really Costs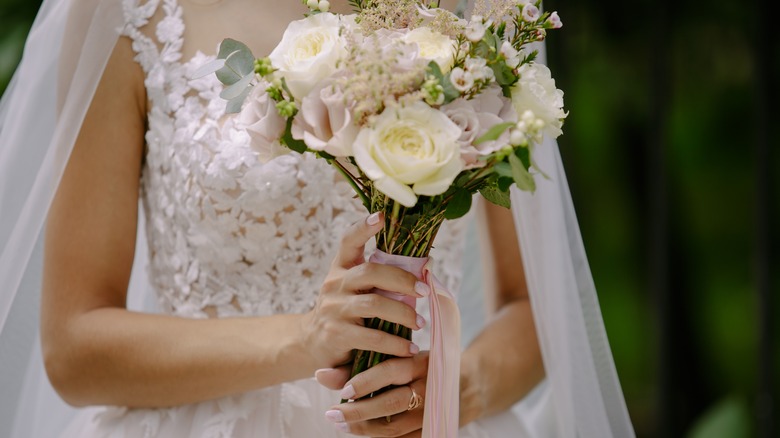 BLGKV/Shutterstock
Planning your wedding can be both a magical and stressful time, and organizing your dream wedding can be difficult when things start to go wrong. On top of the challenges that already exist when planning a wedding, you have rising costs to deal with. According to The Knot, the average wedding cost in 2021 was $34,000. This cost goes up depending on the number of guests, venues, and everything else you provide at the wedding. Sticking to your wedding budget can be challenging, especially when you are looking to create a memorable day filled with magic.
One big part of this wedding budget is usually the wedding dress. K&B Bridals estimates that about 10% of your entire wedding budget will go to attire, which includes your dress. Finding the wedding dress can be one of the most memorable parts of the wedding planning process. However, it can be a costly memory as well. Depending on where you shop, really makes a different and while wedding dress shopping is one of the moments brides look forward to, be prepared to pay for it. 
The cost of a wedding dress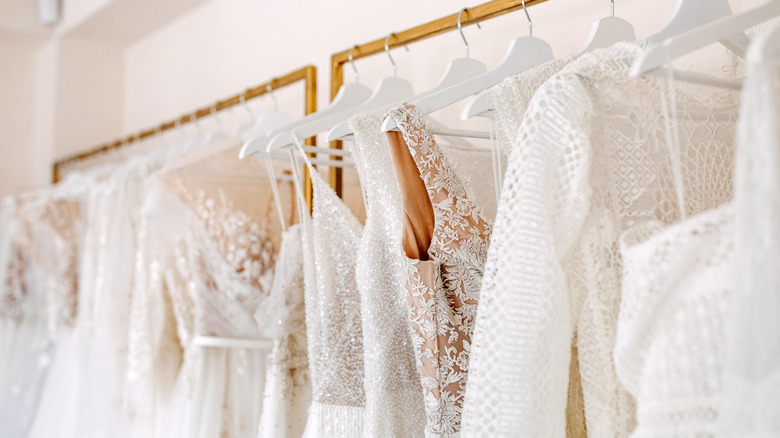 Natalia Bostan/Shutterstock
Every bride will have a different preference for their wedding dress. Some like a more classic style, while others opt for a non-traditional design. Regardless of the various choices, the common thread is that the price is probably high.
According to Brides, in 2020, the average cost of a wedding dress was around $2,439. This cost is the average for your traditional western wedding dress and can vary depending on if you opt for a different style. Another factor that can change the price of your wedding dress can be how much tailoring it needs and the designer of your dress. Couture or luxury-designed dresses will ultimately cost thousands more.
Carats & Cake points out that the average cost of wedding dresses isn't just about how much you're paying for the gown but everything that comes with it. Along with the cost of your wedding dress, consider the shipping costs. Unless you pick up your wedding dress, you will need to pay for a delivery. Another cost you need to keep in mind is the dry cleaning after the wedding. Unless you're tossing your dress into the trash after the wedding, you'll need to get it dry cleaned. The average cost for getting a wedding dress dry cleaned, according to Carats & Cake, is about $240 to $285.
How to save money on your wedding dress
Sergii Sobolevskyi/Shutterstock
While trendy wedding dresses can carry a high price tag, there are ways you can save some significant money. Wedding Wire recommends avoiding any dress that is over budget. Removing that temptation ensures you won't fall in love with a dress you can't afford. Another way you can save money is by going for a simpler gown. The less beading, embroidery, and fabric on a dress, the less it will cost. If you want to add a bit more glam, you can still do so with the right accessories. Invest more in belts, jewelry, and your veil to make your statement. These items cost significantly less and will help keep you under budget.
Just because you are getting married doesn't mean you need to buy a new dress. The Budget Savvy Bride recommends reaching out to the women in your life and seeing if you can use their wedding dress. Not only will it save you money, but it holds emotional value. Whether it's your mother, grandmother, or another woman in your life, this option is much more affordable. Do not worry about wearing a dress from a different era because reworking your wedding dress is cheaper than buying a new gown. Renewing a vintage wedding dress that holds sentimental value is a brilliant way to save significant money and share a bond with someone special in your life by honoring them with their wedding dress.