When You Dye Your Hair With Carrot Juice, Here's What Happens
Inside Creative House/Shutterstock
You don't have to be a bunny to enjoy carrots. Whether you are snacking on raw baby carrots or spooning carrot cake, the orange vegetable is a treat. Carrots are not just delicious but good for you. They are high in vitamins, minerals, fiber, and antioxidants, according to Medical News Today. Adding carrots to your diet can help with several health conditions, including high blood pressure, diabetes, and poor vision. But carrots are not just good for eating.
This root vegetable has made its way into the natural cosmetic industry. You can even dye your hair with carrot juice, according to The Rike. This DIY color change is great for those looking for an alternative to chemical hair dyes. What happens to your hair when you dye it can lead to irreversible damage. So why not give nature's orange treat a try? Here's how you can give your hair a new look with the help of carrots.
How to dye hair with carrots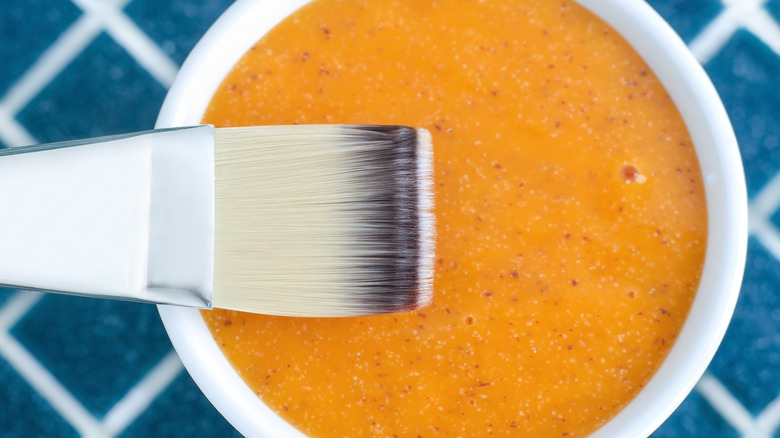 kazmulka/Shutterstock
Dyeing your hair with carrots is fairly simple. According to Healthline, you can use the juice of the carrot with a carrier oil to create a dye that will give your strands an orange or red tint. There are carrier oils great for hair, skin, and nails, like olive and coconut oil. You will have to apply the mixture evenly to your hair and cover it with a plastic cap for a few hours. Rinsing your hair with apple cider vinegar will help strengthen the reddish-orange color.
The beta carotene nutrient in carrots is what gives them the unmistakable orange, according to Treehugger. The carrot juice dye works best with lighter hair colors. On darker strands, the color may not transfer at all or be visible enough. For those trying out this DIY, you can dye your hair with carrot juice as often as you like to achieve your desired vibrancy.
Hair benefits of carrots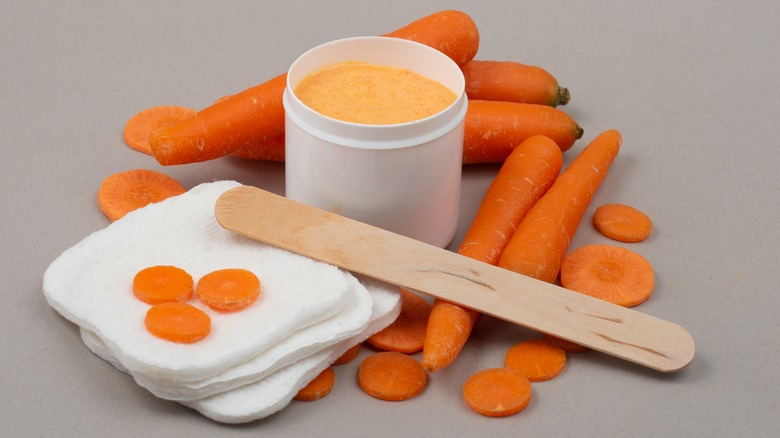 Ausra Barysiene/Shutterstock
With all the health benefits of carrots, it is no surprise it helps with our hair health too. The vitamins C and E in carrots increase blood circulation to the scalp, according to The Health Site. The improved circulation can promote hair growth and stall premature graying. Carrots are also packed with vitamin A. It is said this root vegetable helps to achieve shinier, thicker, and stronger hair. If you don't want to eat carrots every day or drink carrot juice with every meal, there are a few other ways to add it to your hair routine.
StyleCraze suggests mixing equal parts carrot juice with aloe vera juice to create a scalp spray. Apply the mixture to your scalp and massage it in for up to 10 minutes. You can use it as an overnight treatment or wash it off after half an hour. Using carrot oil for hair also unlocks the vegetable's benefits. Whether you're looking for a color change or your hair needs extra shine, you might want to pick up carrots on your next shopping trip.