Can Carrot Oil Really Help With Hair Growth?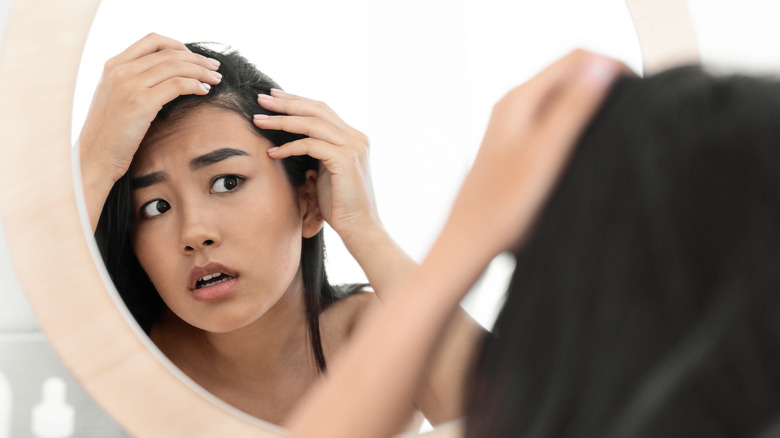 Prostock-studio/Shutterstock
Any person who has given birth and is in the throes of postpartum hair understands the importance of finding a treatment that actually helps with hair growth. And it's not just new moms who experience hair loss. According to the American Academy of Dermatology Association, stress, illness, age, some cancer treatments, and hereditary factors are all reasons a person may develop hair loss.
Even celebrities like "Dancing with the Stars" pro Carrie Ann Inaba deal with thinning, brittle and damaged hair. Not to mention the fact that the pandemic has caused adverse effects on people's hair, such as Alyssa Milano's, who credits her hair loss to COVID-19 (via the Dr. Oz Show).
So the question is, what can you do to make your hair grow back after giving birth or after just dealing with hair loss due to everyday stress? If you've tried various supplements that could actually help your hair grow and they haven't worked, then it's time to jump on the latest hair growth trend that is carrot oil. Can carrot oil really help with hair growth? Let's dive into this.
Carrot oil has several benefits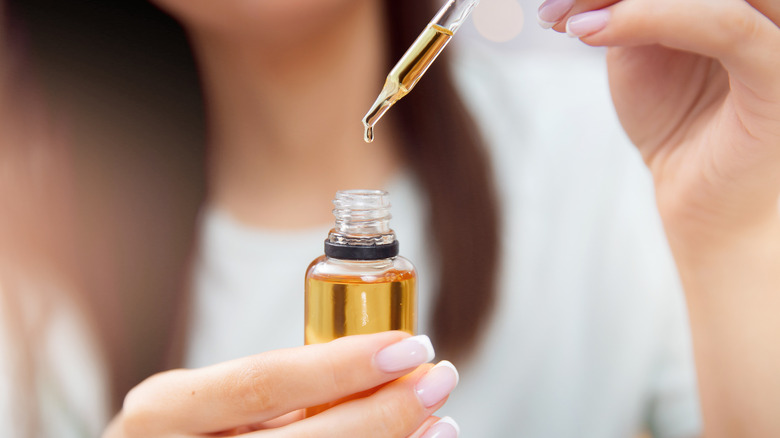 Parilov/Shutterstock
Carrots are known for their nutritional benefits since they are full of vitamin E and vitamin A, which promote healthy vision, per Healthline. It's those same vitamins that are thought to promote hair growth, increase circulation to the scalp, and strengthen brittle strands, according to Be Beautiful. Not to mention it works magic on dandruff.
But these root vegetables do have their limitations. For instance, although carrots are packed with nutrients, carrot oil does not benefit every hair type and can actually stain some. According to Byrdie, carrot oil can stain a person's scalp, cause an allergic reaction, or turn light blonde tresses into another color. This makes doing a patch test especially important when deciding whether to move forward with this trend.
Once you've tested the formulation and decided if you're going to create your own oil (a mixture of carrot oil and other carrier oils) or apply a store-bought product, there's no harm in using them once or twice a week, according to the outlet.
It seems there's no harm in adding carrot oil to your hair routine if you're searching for new ways to boost your hair growth. So grab your favorite carrier oils and start creating your own carrot oil or purchase your favorite brand and start applying this vitamin-packed formulation to your tresses.