Can You Apply Airbrush Makeup At Home?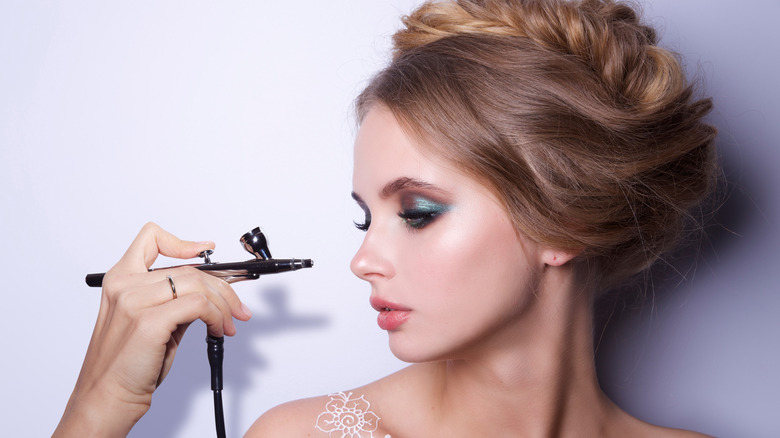 Iuliia Stepashova/Shutterstock
Airbrush makeup is achieved through a hand-held and air-compressed device that mists a specially designed liquid foundation onto the face for an airbrushed appearance, hence the name. It provides buildable coverage and gives a natural, flawless finish that many people love. 
There are a few distinctive differences between airbrush foundations and traditional liquid or cream foundations, from the consistency of the formula to the techniques used to apply the products. However, many people opt for airbrush foundation because of its longevity, according to "The Complete Guide to Make-Up" author Suzanne Le Quesne, who notes the average wear time as being between 12 and 24 hours. And even though traditional foundations that are applied with a brush or sponge can last just as long, many love the ease with which airbrush foundation can be applied.
Used primarily for special occasions like weddings and proms, most people head to a salon or professional makeup artist to get an airbrush makeup application. However, given that many salon services like at-home manicures and lash extensions have made their way into the hands of brave DIYers, it makes you wonder: Can you apply airbrush makeup at home?
Yes, you can apply airbrush makeup at home! Here's how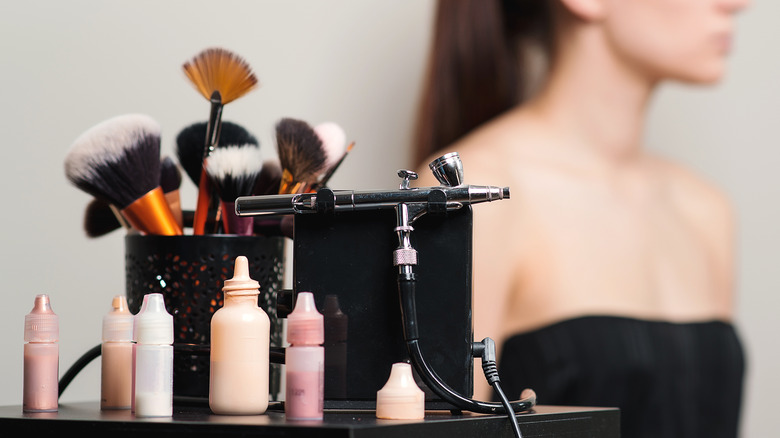 Volurol/Shutterstock
There are many benefits to using airbrush makeup, and YouTube beauty influencer Nicole Guerriero is a big fan of the method. "I truly love this airbrush makeup system," Guerriero says in a video titled "Airbrush Makeup | How To (Easy)," in which she does a tutorial on how to achieve the look at home. "This will wear on your face for, like, 24 hours. It's crazy how long this airbrush makeup lasts." And doing it at home doesn't require a makeup license or costly professional training.
Award-winning airbrush makeup company TEMPTU encourages those who want to use an airbrush system at home to first prime their skin for a hydrated base. Then, hold the gun up to your face, no closer than 4 inches away, and move the gun in small circular motions to mist the product evenly. You can then go in with another layer, or you can stop there, depending on how much coverage you want. However, TEMPTU recommends airbrushing a final layer with a light hand to blend everything evenly.
You can even apply blush and highlighter with your airbrush machine, although this can be tricker when adding additional shades, especially if your airbrush gun is too close to your face upon application. According to airbrush makeup brand Luminess, you want to smile and gently airbrush the blush color in small circular motions on the apples of the cheeks or anywhere else you want a rosy glow. 
More tips for the best airbrush makeup application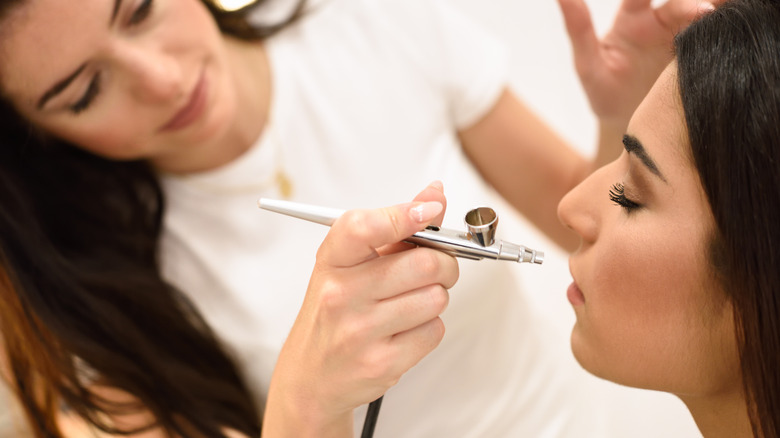 javi_indy/Shutterstock
While it may seem easy to apply at home, airbrush makeup takes some trial and error to master. And for those with dry skin, you may want to avoid it altogether. This is because the airbrush foundation tends to cling to dry skin and hair, so a fresh wax a few days prior may be a good idea, too! If your skin is on the dryer side, and you can't stay away from airbrush makeup, prime your skin really well with a face oil for dewy skin. Otherwise, it might crack or peel. 
Since airbrush makeup doesn't provide intense full coverage, you may find yourself continually misting a large amount of product in thick layers to achieve it. Instead, you should apply the product in sections, according to TEMPTU, allowing time to dry between layers. Going in with a heavy hand and applying too much all at once is a surefire way of making it look blotchy and unnatural. 
If you have areas of concern and want additional coverage, feel free to apply concealer to those spots before going in with your airbrush machine. Keep in mind that once that airbrush foundation is on, applying any concealers afterward will mess with the application. Once your face is dry, you can finish the rest of your beauty routine as normal. Your flawless complexion will have you hauling around an airbrush machine in your makeup bag before you know it!