What Should You Wear To A Boudoir Photoshoot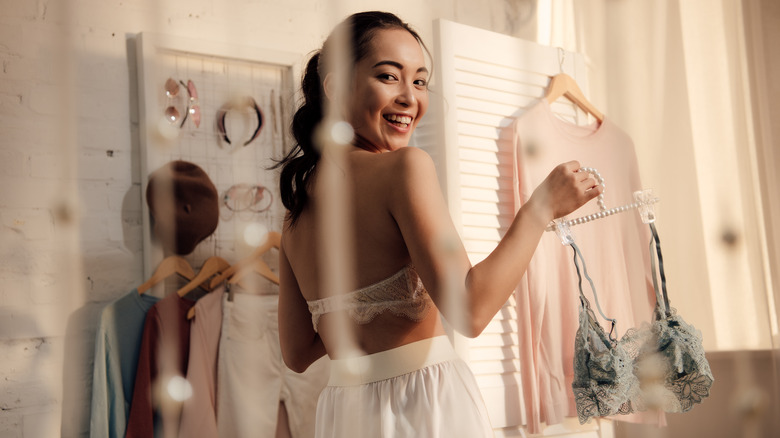 Lightfieldstudios/Getty Images
Boudoir photography has become pretty popular in the 21st century, with the niche industry experiencing a particular boom in business post-quarantine, according to Insider. If you're unfamiliar, boudoir photography is all about capturing people in strong, sensual, and sometimes erotic poses. However, it's never tasteless or tawdry.
The word "boudoir" is derived from the French word meaning a women's private room or salon, which echoes the art's emphasis on intimacy and its typically female focus. Instead of depicting hired models, boudoir photographers are usually employed by clients who want to picture themselves in revealing clothing, specifically lingerie. Albums full of these photos are popular gifts from women to their partners, though sometimes clients decide to have a boudoir photoshoot simply for themselves.
For example, a boudoir photoshoot might catalog a significant moment of change or transformation in a person's life that they want to embrace, such as weight gain, weight loss, or pregnancy. They can also be used to mark milestones like anniversaries or celebrate beating a disease like breast cancer. In these ways, the purpose of boudoir photography is to celebrate bodies tastefully and personally.
So, if you're thinking about scheduling a boudoir photoshoot, it's important that you wear something that makes you feel good about yourself. Really, there is so much room for personalization in your boudoir outfits, but we have a few suggestions that might help you choose.
Explore your lingerie options to decide what you like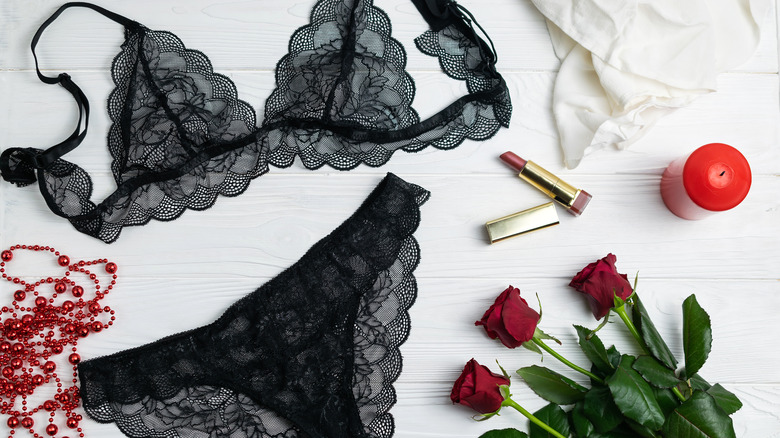 Svitlana Romanenko/Getty Images
If you search "boudoir photography," the first image results you'll get feature women in lacy lingerie sets or revealing bodysuits. In addition to giving you a great opportunity to buy new underwear, lingerie is an excellent option for your boudoir photoshoot because there are so many different types, colors, styles, and textures to choose from.
For example, a matching bra and panties set can lean on the racier side if you choose a lacy duo with a push-up bra, but a classic letter-tape Calvin Klein underwear set is a more casual look that's still sexy. Color and pattern can also influence the look, with black lingerie giving a darker or more mysterious vibe, while something patterned and colorful can be more playful.
From corsets and bustiers to garters and rompers, there are so many other different types of lingerie with which to experiment. You don't have to be totally revealing with your outfit, either, as something timeless like a silky chemise or camisole would work great. In general, it's about choosing something that makes you feel good about yourself.
Some photographers specialize in specific boudoir styles such as pinup or glam. Because of this, it may be worthwhile to consult with a photographer before you book them to ensure you're both on the same page. If you're wanting to achieve a particular look like this, then the right photographer can guide you wardrobe-wise.
Experiment with something more casual and fun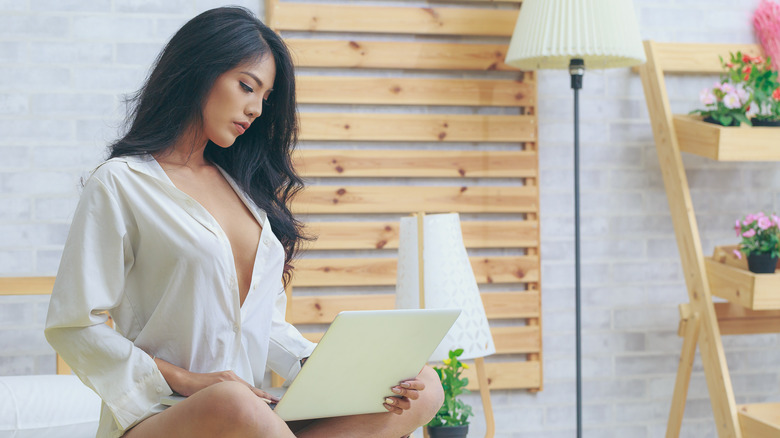 Six_characters/Getty Images
There's no need to worry if you're not much of a lingerie person because there are other directions that you can take with your boudoir outfits. For instance, you might consider wearing your partner's oversized shirt, or maybe even a slouchy sweater and socks. These casual looks are still sexy but can help you feel more confident if you prefer being covered up. Even everyday wear like jeans or a white tank top can work really well for a sexy photoshoot.
If you're still interested in wearing lingerie but want something to balance out the look, Foxlow Photography recommends adding layers. In addition to something oversize or slouchy, you can also wear a leather or denim jacket or go for something like a dressing gown or robe.
Brainstorming for specific looks with your photographer is an important step in this process, as they will instruct you on how many outfits to bring and help you select specific items that will look good in pictures. It should be a collaborative and fun process, above all, so don't hesitate to mold the experience to your own preferences.