Charlotte Tilbury's Makeup Routine Will Change The Way You Do Your Under-Eye Area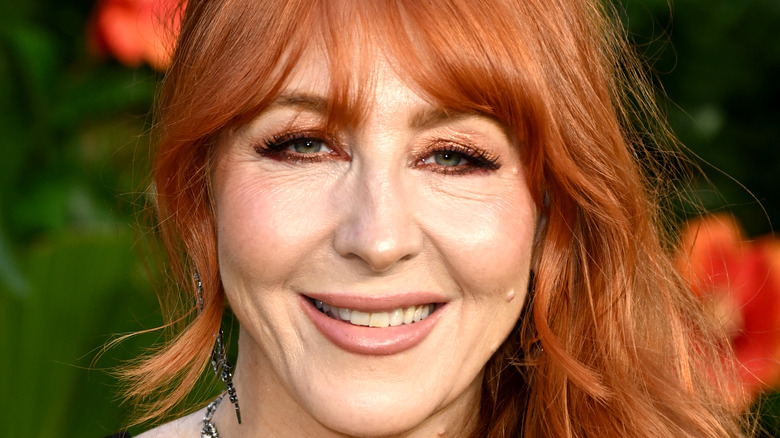 Jeff Spicer/Getty Images
We may receive a commission on purchases made from links.
When it comes to makeup, the under-eye area has to be one of the most difficult spots to master, thanks to its tendency for dark circles, bags, puffiness, fine lines, and wrinkles. Your first instinct may be to slather the area with concealer and set it with heavy powder to mask any flaws, but this skin is thin, sensitive, and delicate — which means it needs an equally delicate makeup application, per London Premier Laser and Skin Clinic. 
However, celebrity makeup artist Charlotte Tilbury, the founder of Charlotte Tilbury Beauty, has the key to mastering your under-eye area. With more than 25 years of experience in the industry, the London-born beauty specialist has made it her business to stay on top of the best makeup trends while adhering to classic, time-tested techniques. 
Now, Tilbury has shared the makeup routine that will make your under-eye area look absolutely flawless. And it's simpler than you'd think.
Give your under-eye area an instant lift with this technique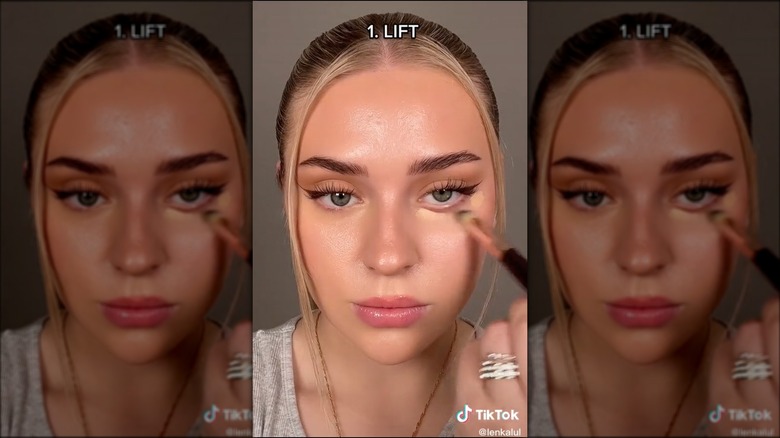 Lenkalul/TikTok
Charlotte Tilbury is known for creating beauty products that give users a perfect camera-ready makeup look in no time flat. This includes makeup that will give you gorgeous eyes, no filter needed. Tilbury dropped a short video tutorial, which was then shared on TikTok by Lenkalul, detailing how she perfects her own under-eye area in just a few simple steps.
First, per her website, Tilbury recommends applying a moisturizing cream to the under-eye area before putting on any makeup to prevent flakey or crepey texture. The skin there is delicate, so it's best to use a light dotting method to blend it in instead of tugging and pulling.
Once your skin is moisturized, it's time to conceal. Tilbury uses her Beautiful Skin Radiant Concealer to "lift" the under-eye area. Less is more here, so forget the half-moon or triangle shape you may have used in the past. Place a bit of concealer near the bottom of your eye and on the outside corner. Then, gently blend the concealer together to cover the entire area.
Use blurring and brightening powder for a photo-worthy finish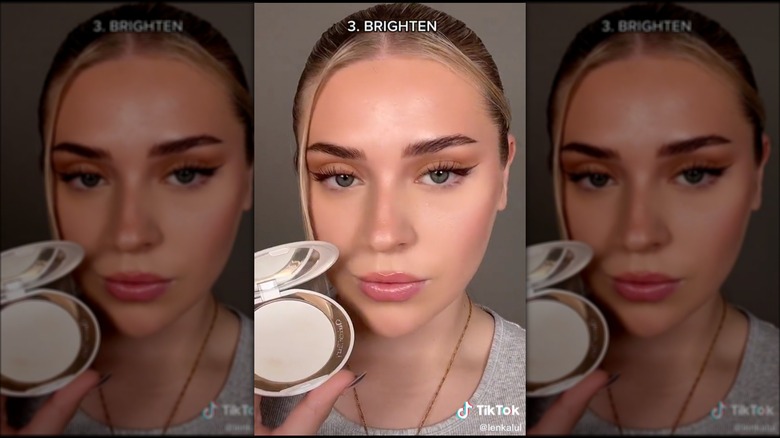 Lenkalul/TikTok
The next step in Charlotte Tilbury's under-eye makeup routine is the all-too-crucial blurring, which can have a dramatic impact on your under-eye area and change the way your skin looks entirely. 
According to StyleCaster, the term "blurring" comes from social media apps that help users filter out imperfections they'd rather not share with their followers. Blurring makeup does the same: It creates a singular matte texture over your skin that makes for the perfect blank canvas when you're layering other makeup on top.
Luckily, Tilbury's Airbrush Brightening Flawless Finish powder blurs and brightens, bringing life and color back to your skin. Apply a light layer with a medium-sized fluffy brush to set and perfect the look.
But, if you pale at the thought of paying nearly $50 for makeup, there are cheaper alternatives, including Well People's Superpowder Brightening Powder, which is $22 from Ulta and has garnered a ton of rave reviews.
The finished result is an under-eye area that is smooth, flawless, and ready for a round of selfies.