Creative Ideas For Christmas Tree Toppers That Aren't Stars Or Angels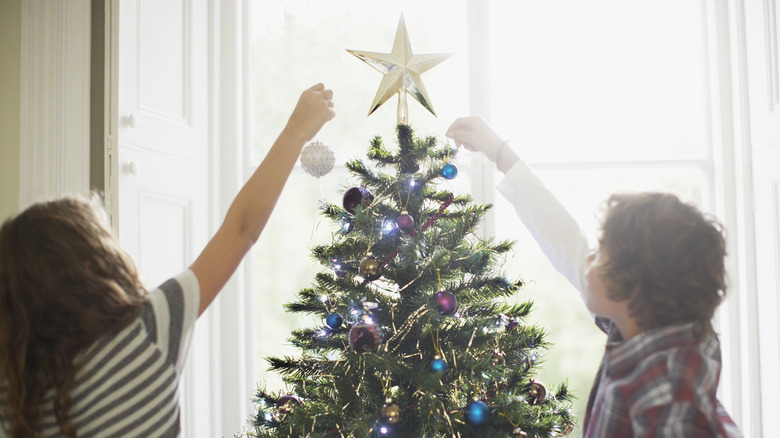 Tom Merton/Getty Images
It's the most wonderful time of the year, and you know what that means. Time to break out the red and green boxes from storage and start decorating for Christmas. From the twinkling icicle lights to the sparkling garland, nothing says Christmas time like holiday decorations. One of the most iconic decorations is the classic Christmas tree full of twinkling lights and ornaments that feel like family heirlooms.
The practice of decorating a Christmas tree dates back to 1605, when pine trees were chopped down, taken indoors, and decorated with fruits, berries, and flowers (via Time). Nowadays, anything can be a Christmas tree decoration; holiday trees both real and fake are covered with garland, tinsel, lights, and trinkets galore. And who can forget the tree topper? When you imagine a Christmas tree, there's probably an angel or a star shining bright on the top. But just like all holiday traditions, putting your personal twist on it makes it even more fun.
Whether you're looking to perfect your monochromatic Christmas tree or just looking to shake up your holiday traditions, we found some of the best Christmas tree topper alternatives that your whole family will fight over for their chance to place it at the top of your tree.
Is that Santa? No, it's a Christmas tree!
He sees you when you're sleeping, he knows when you're awake ... Santa Claus is coming to town this season, and what better way to celebrate his return than with a Santa hat Christmas tree topper? Bring your Christmas tree into the holiday festivities with a Santa-ified makeover. No matter how many gifts are under your tree, this tree topper is sure to steal the  show.
Find this adorable chunky knit Santa hat tree topper from LaurenAstonDesigns on Etsy.
Your tree will be good enough to eat with this gingerbread house topper
Turn your tree into a sweet treat this Christmas by topping it with a beautifully decorated gingerbread house. Don't be surprised if holiday guests try to take a bite out of your delicious tree topper this season. 
Find this adorable gingerbread house topper at Neiman Marcus. Or, turn your tree topper into a DIY project by making your own gingerbread house to top your tree (but be sure to use plenty of icing so it doesn't crumble!) 
Dash away all with this reindeer tree topper
This tree topper give us all the cozy rustic vibes we need this holiday season. Santa works hard, but his reindeer might work harder — celebrate the overnight present delivery service by topping your Christmas tree with a silhouette of your favorite reindeer. Whether it's Dasher or Dancer or Prancer or ... well you know how the song goes. 
Find this furry friend tree topper on Etsy by ScreenDoorGrilles. 
Bring your Christmas tree to life with this adorable top hat
Frosty the Snowman isn't the only one that can rock a top hat. Your tree will be a total gentleman wearing this festive topper that's decorated to the brim (pun intended). And we can't get enough of those precious peppermint details; reviewers on Etsy have nothing but words of holiday cheer to share after finding this adorable tree topper alternative. 
Find this magical top hat on Etsy, sold by partydreams. 
Elevate your tree topper game with a chic bow
Turn your tree into another beautifully wrapped present by topping it with a bow this Christmas. This topper can be completely customized with different colors and styles of ribbon that perfectly match your decor. Find this bow topper complete with shining LED lights on Etsy by Ksproducers, or make your own oversized bow using any ribbon you can get your hands on. The bigger, the better! 
Let's groove tonight with this disco ball tree topper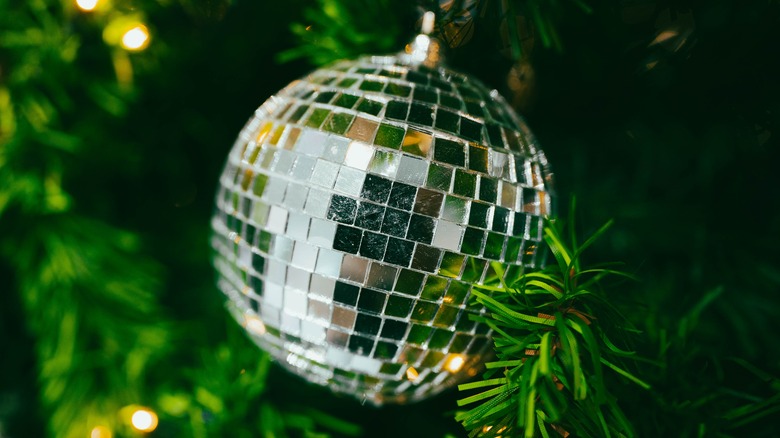 MIA Studio/Shutterstock
Who says your Christmas decor has to be Christmas themed? Make your tree the centerpiece of your holiday party by topping it with a shining disco ball! Incorporating disco balls into home decor has been all the rage this year, so keep the trend going by adding a '70s flare to your Christmas tree. 
You can make your own disco ball topper like this one from Queen's Vein, or find one pre-made at Furbish Studio. 
Get into the holiday spirit with these festive floral toppers
If you're looking for a more chic and natural vibe, try these festive bunches of holiday florals at the top of your tree. From bright poinsettias to whimsical holly, these arrangements scream Christmas time without being too overstated. These tree toppers provide just enough glam while blending beautifully with the branches of your tree. 
Find these stunning floral tree toppers at Balsam Hill. 
The abominable snowman himself
If you're a fan of the classic Christmas claymation movies, then you know exactly who this furry friend is. Let the abominable snowman from "Rudolph the Red-Nosed Reindeer" help decorate your tree this year as he hangs onto the top of your branches and tries to put his own star on top of your tree. We think this is an adorable (or abominable) exception to the "no star topper" rule ... look how cute he is! 
Find this quirky topper on Etsy by Ondeugend. 
Pay homage to your favorite franchises with these tree toppers
Let out your inner nerd this Christmas with a fun reference to your favorite movie or video game! Top your tree with the infamous death star or level up with a power star tree topper. We know these are also "technically" star toppers, but imagine the excited look on your gamer SO's face when they realizes that they get to put the pride of the Galactic Empire on top of your Christmas tree? 
Get the Mario Power Star tree topper from Etsy seller RetroGamingCentre or the Star Wars Death Star topper by Etsy seller Chrisp3Dprints.
Top your tree with a bird in a nest for the ultimate rustic look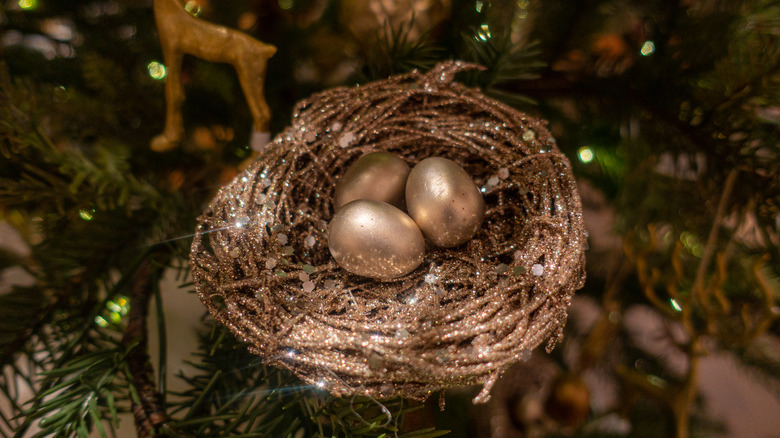 Evgenia Parajanian/Shutterstock
Sometimes the best tree toppers are the simplest ones. Take your Christmas tree back to its natural roots with a sweet songbird in a nest. We guarantee they'll have you whistling Christmas songs all season long!
Martha Stewart provides a step-by-step guide for making your own festive fabric birds, complete with golden eggs in a sparkling twig filled nest. 
Let out your inner royal with a crown tree topper
Remind all your holiday guests that you (and your Christmas tree) reign supreme by topping your tree with a festive crown. Whether you're a princess at heart or you just can't get enough of "The Crown," this adorable accessory is the perfect addition to any Christmas tree. Bedazzle your own crown to your heart's desire, or go a more understated route with a crocheted crown tree topper, like this one by Etsy seller LaurenAstonDesigns. 
Give your tree something to say with a personalized topper
If homemade ornaments and DIY garland aren't enough to give your tree a personalized touch, add a personalized tree topper to your shopping list. From your family's last name to your favorite song lyric, the possibilities are endless with these personalized tree toppers. Opt for a more minimalist look with a wired topper, or pull focus right to your topper with a fabulous felt pennant. 
Find the pennant topper by Etsy seller HouseofHooray, or the personalized wire topper by Etsy seller TheLetterLoftUK.
Nothing says whimsy like a holiday carousel
All aboard this festive carousel ride! If there was a competition for the most unique tree topper of all, we have to say this one might take first place. Let out your inner child with this mesmerizing tree topper, complete with spinning reindeer. With this topper, you'll be transported to an amusement park at Christmas time, without the crowds of people and overpriced cotton candy. 
Find this animated carousel tree topper online at QVC.
We're dreaming of a white Christmas with this dainty snowflake topper
Whether you're making snow angels on Christmas morning or it's only in your dreams, channel your inner winter wonderland with this snowflake tree topper. Every snowflake that falls has a unique pattern of intricate ice crystals, and with a snowflake tree topper your Christmas tree will be unlike any other. One look at this snowflake tree topper and we're sure you'll feel the frosty chill of a white Christmas, no matter where you live! 
Find this beautifully bedazzled snowflake tree topper at Target. 
Maybe the perfect topper is no topper at all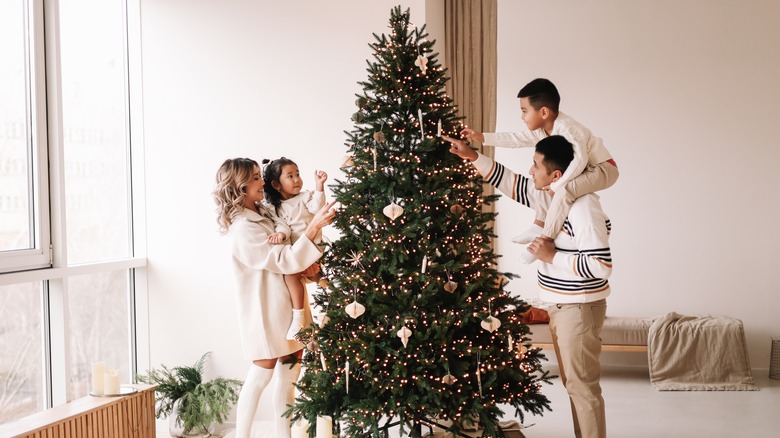 Elizaveta Starkova/Shutterstock
Who says a Christmas tree needs a tree topper? Whether you can't decide on the perfect one, or maybe you can't quite reach the tippy top of your tree, there are no rules when it comes to decorating for Christmas. If you don't want a topper, you don't need one! Fill your tree to the brim with ornaments form christmases past, or let it stand alone with just a simple strand of lights. The most important part of a Christmas tree is the people that gather around it to celebrate their unique holiday traditions.