Jill Duggar Dillard Has A Special Message For Would-Be Parents This Christmas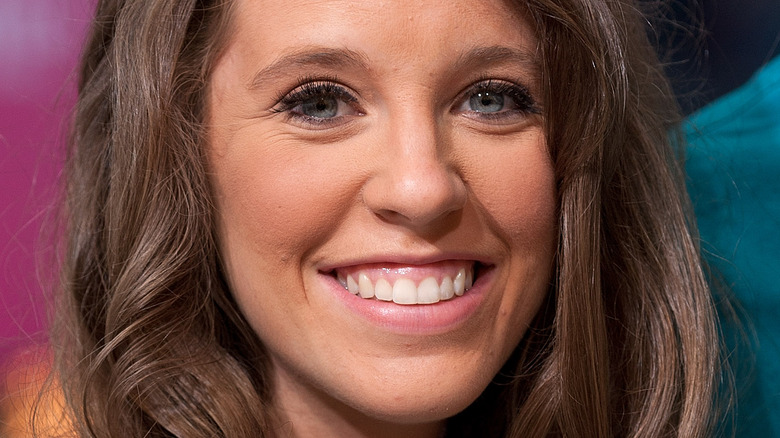 D Dipasupil/Getty Images
The year 2022 saw the former "19 Kids & Counting" star, Jill Duggar Dillard, experiencing some tough times — such as gallbladder surgery, a bout with COVID-19, and the continuing scandalous saga of her older brother Josh. However, there were also plenty of good times. She and her husband Derick moved to a bigger house after he was licensed as an attorney and got a new job (via their family blog). Jill also became an aunt yet again when her brothers John-David and Jedidiah had babies, and she'll do it twice again next year, courtesy of brother Jeremiah and sister Joy Duggar Forsyth. 
Best of all, Jill added to her own family with the birth of little Frederick Michael on July 7. The newest Dillard joins big brothers Israel, 7, and Samuel, 5. As thrilled as she is to be a mom of three, however, Jill still carries the pain of having lost another child to miscarriage in 2021. She marked the heartbreaking anniversary in October with a message of remembrance, in which she admitted to "missing the moments we never had with River." As Jill knows all too well, the Christmas season can be an especially difficult time for families who have experienced a loss like hers. In a lovely and heartfelt gesture, she shared a special holiday wish in her most recent Instagram post. 
Moms related to Jill's message of support
Jill Duggar Dillard shared the first of her 2022 Christmas photos to her Instagram account on December 1. As seen here, the pic shows the Dillards' living-room Christmas tree, all decorated, lit, and looking festive. Seen from the rear are her three sons; Israel and Samuel are wearing matching buffalo-plaid robes and putting a steadying hand on their baby brother, Freddy. 
"These are a few of my favorite things," Jill quoted in the caption. "We are so thankful for our extra little gift this year!" she went on, adding the hashtag #rainbowbaby. Then Jill offered her support to fellow moms who have experienced miscarriage or stillbirth. "My heart goes out to anyone still hoping for a Christmas miracle and anyone experiencing loss this season. I pray you feel loved."
The message hit home with many fans. One expectant mom told Jill that the post made her thankful for her own pregnancy, yet grief-stricken over her two "angel babies, including the one that was due the 15th of this month," she wrote. "Man, the holidays bring up ALL the emotions! Thank you for sharing your journey and letting other angel mamas know we are not alone in our struggle and grief." Another response came from a fan who, tragically, may be about to experience her fifth miscarriage. "I absolutely hate how much my heart wants to be a mom and my body just won't let me," she wrote.