How To Use Sunflower Oil For Soothed, Hydrated Skin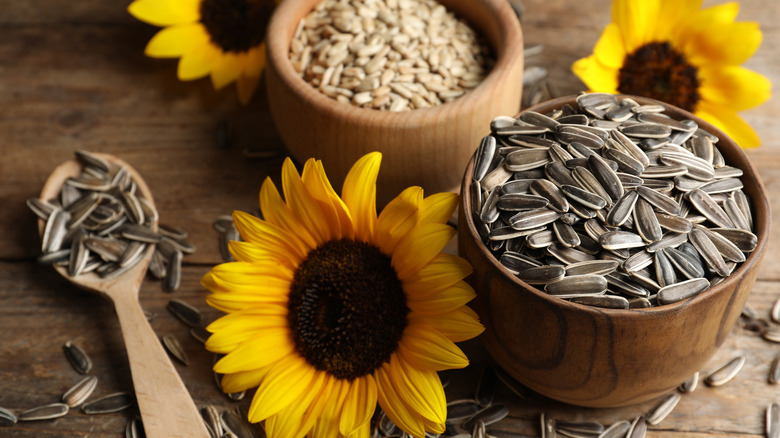 New Africa/Shutterstock
When our skin is buttery-smooth and soft to the touch, it's the best feeling in the world. Not only does having soft skin look great, making sure your skin stays moisturized is one way to keep it in good health (via Mayo Clinic.)
But as the weather turns colder, it seems like maintaining our skin's condition becomes nearly impossible. The difficulty in skin's upkeep during this time of the year isn't just your imagination. When winter rolls around, your skin actually does become harder to keep hydrated, for a variety of reasons. According to Medical News Today, cold weather means more people turning up their heaters and layering their clothes, both of which sap moisture away from your skin, leaving it dry, flaky, and itchy.
To combat dry skin, many people are turning to a yellow flower that has flown below the beauty radar for far too long. Sunflowers, or more specifically the oil that comes from them, are changing the game when it comes to soothing and hydrating your skin.  
What makes sunflower oil so good for our skin?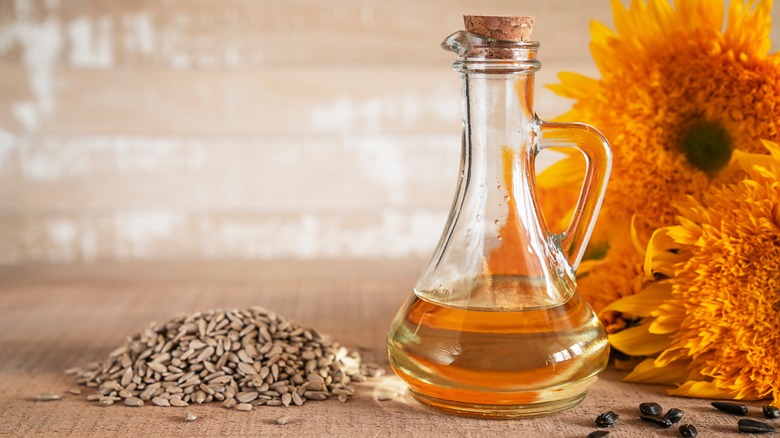 marseus/Shutterstock
Sunflowers can do a lot more than just look pretty and wave in the wind. The oil derived from their seeds is actually an incredibly powerful tool that has all kinds of uses for your body. Sunflowers contain vitamin E, linoleic, and oleic acids, three powerful agents that work together to provide you with a load of benefits (via WebMD.)
Oleic acid is a omega fatty acid, and high-oleic acid sunflower oil makes for a healthy and tasty substitute for cooking because it can lower cholesterol levels. Per Healthline, besides being good for the heart, oleic acid gives skin an extra boost of hydration and moisture retention. More moisture means your skin will stay fresh-looking and dewy throughout the day.
Sunflower oil is a non-comedogenic carrier oil, so it's lightweight and non-greasy. Oils like this can be used on any type of skin, and you won't have to worry about it clogging up your pores.
Use sunflower oil like this daily for visible results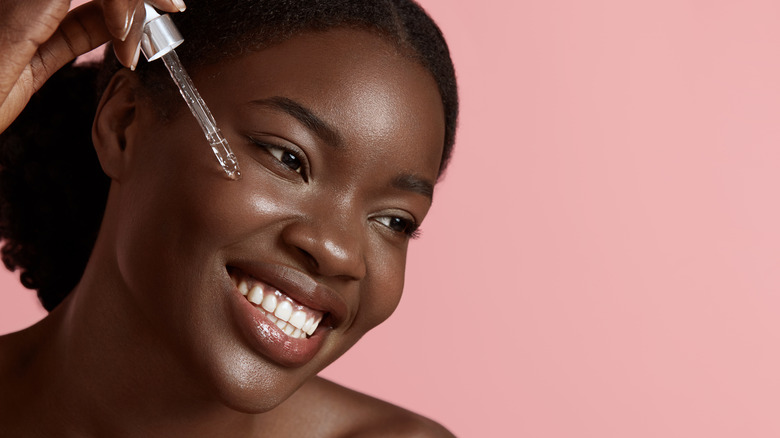 puhhha/Shutterstock
If you're part of the growing natural skincare movement, then should consider giving sunflower oil a try. It's organic, healthy for you, and you can pick it up from your local grocery store without spending a ton of cash. Plus, it can be used in many different ways when it comes to skincare.
In an interview with Byrdie, dermatologist Joshua Zeichner, MD recommends using sunflower oil daily after bathing and before moisturizing so that the oil is on clean skin and will be locked in beneath your moisturizer. Another way to include sunflower oil in your beauty routine is to check ingredient labels to see if a product contains sunflower oil, says world-famous skincare brand Kiehl's. Sunflower oil can be found in a variety of beauty products, including facial creams, body wash, body oils, and even haircare products. This is the perfect alternative for someone who wants access to the benefits of sunflower oil without having to buy it separately.