What Can You Wear When The Dress Code Is Business Formal?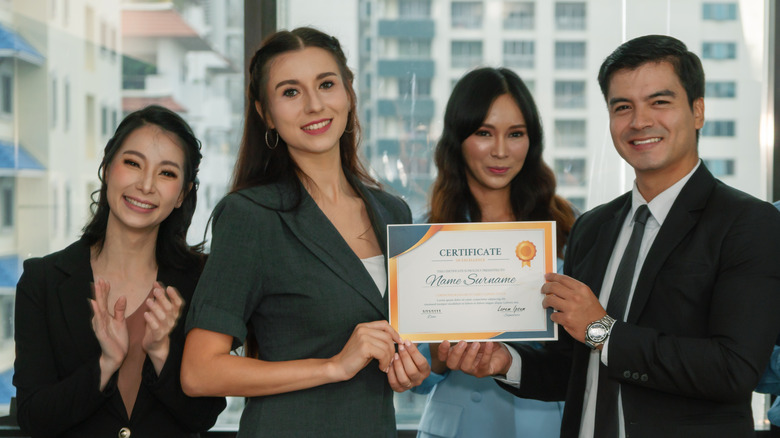 Mongkolchon Akesin/Shutterstock
No wonder the boss' instructions have caught you by surprise. If you've been dressing for work in casual clothes, the words "business formal" must have stood out like flashing lights, triggering question marks and maybe even some trepidation. In fact, once the element of surprise fades, you might be glad to know that of the four office dress codes, business formal is the most clear-cut and the easiest to describe, right down to the polished dress shoes. Business formal is what Kisi calls "the highest level of professional dress attire." Following it are, in descending order, the dress codes known as business professional, business casual, and casual (per Money Crashers).
Even if COVID-19 has changed your office dress code, if your boss has asked you to dress in business formal clothes, something special must be in the wind. The attire is usually most appropriate for work parties, award ceremonies, important presentations, and client meetings, Glassdoor says. Some employers may also require job applicants to dress in business formal attire for job interviews, especially if their corporate culture is formal, too.
It's always best to clarify any questions you may have about exactly what you're expected to wear to a business formal event. To prepare, gain a basic understanding of how to dress yourself, from head to those polished dress shoes.
What business formal looks like, head to toe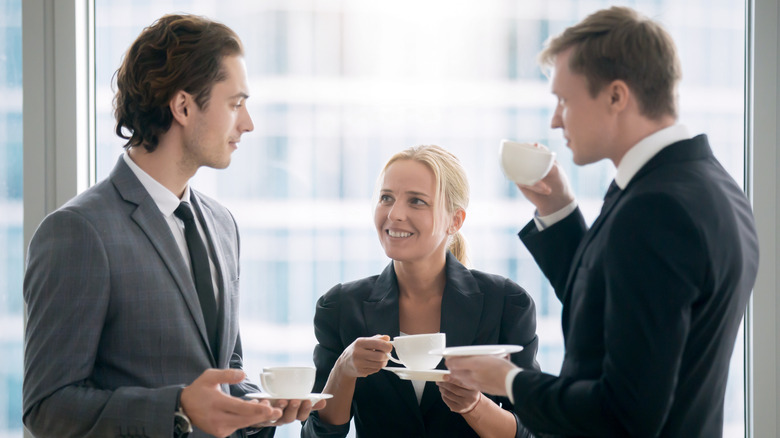 fizkes/Shutterstock
If you're trying to draw a mental picture of business formal, think of the TV series "Mad Men." It depicts a prestigious Manhattan ad agency during the 1960s. It was an era when Americans reserved their jeans and khakis for the weekends while men favored suits and women wore dresses or skirts to the office. The formal attire reflected a more formal time, when people dressed up not only to go to work, but also to go to movies and restaurants, to worship services, and even to travel on airplanes, per The Atlantic. 
Although time has passed, the business formal dress code has remained remarkably similar to what was depicted at the fictional Sterling Cooper agency. Sometimes called "boardroom attire," business formal calls for men to wear a tailored suit in a solid color, preferably in navy or gray, a light-colored shirt, and a conservative tie, per Money Crashers. Leather shoes are expected to be conservative, too, meaning oxfords, which have laces, and not loafers, which are laceless and slide on, according to The Shoe Stopper.
Predictably, suits offer women a few more choices, including a skirt suit, suit dress, or pants suit. The look is best complemented by a classic button-down blouse or shirt and closed-toe shoes in the form of low heels or flats, according to Glassdoor. There is no doubt that business formal can make an impression, but the details can improve or impugn the look.
Details matter with business formal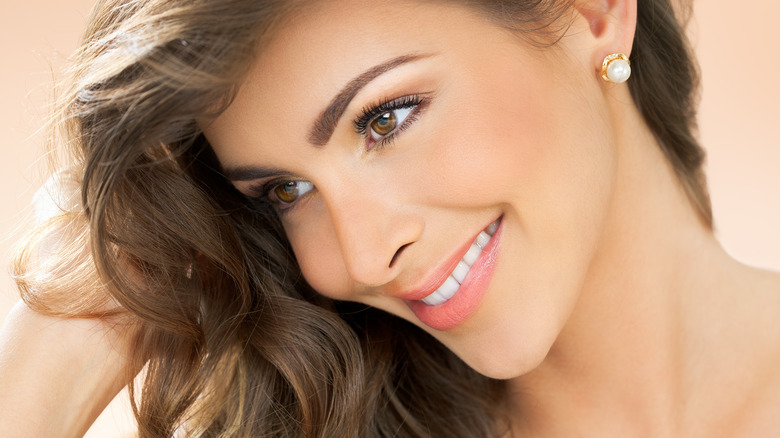 iconogenic/Shutterstock
The right accessories can ensure that the business formal look remains professional. Aside from the things you should never wear to work, belts and jewelry should be kept to a minimum for people of both genders. And as much as some women may dislike pantyhose, they're a must with a skirt or dress, Glassdoor says. Bare legs are a no-no. For men, socks should match the dominant color of the suit, with dark colors like black and navy blue being the surest bets, followed by dark brown.
One wrong move may man ruin an otherwise well put-together business formal look, but it will call undue attention to it. This is why it's smart to avoid bold colors, heavy makeup, and large and flashy accessories and jewelry. Understatement counts, which is why no more than a pearl stud or cluster (not drop or hoop) earrings and a traditional watch should suffice (per Robert Half). As Glassdoor says, the business formal dress code exudes professionalism; it's not about self-expression.
If you have time, take the ultimate step of ensuring that the clothes you choose to wear fit you well. This is especially important if you haven't worn business formal clothes in a while. You may have outgrown them — or they may have outgrown you. A tailor can loosen or take in ill-fitting clothes — a move many people thought Meghan Markle should have taken with her loose-fitting wedding dress (via Marie Claire). And her formal attire cost probably a little more than yours, or about $265,000, Insider reports.