Reed Diffuser Scents That Work For Every Room In Your House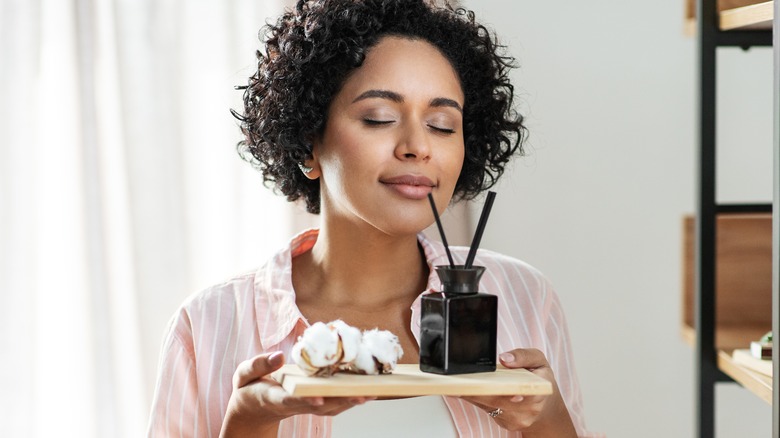 Ground Picture/Shutterstock
Diffusers vs. candles? Whilst they both do the same thing — diffuse scent around a room — most people prefer one or the other. The warm, flickering light of a candle and the heat it gives out are all part of the ambiance for some, but you may be worried about accidents if you have pets and children. On the other hand, while reed diffusers can be knocked over, the fact they don't need a lit flame to diffuse scent is a major plus. Additionally, candles require matches to do their job, whereas a reed diffuser is self-sufficient and low maintenance with no wick-trimming required.
If you don't want to worry about trying to make your candles last longer, a reed diffuser is the pick for you. There's a reed diffuser scent for every room, from your master bedroom to your open plan kitchen/dining space, and you're sure to find a new favorite from the picks below.
The look of a reed diffuser is as important as its scent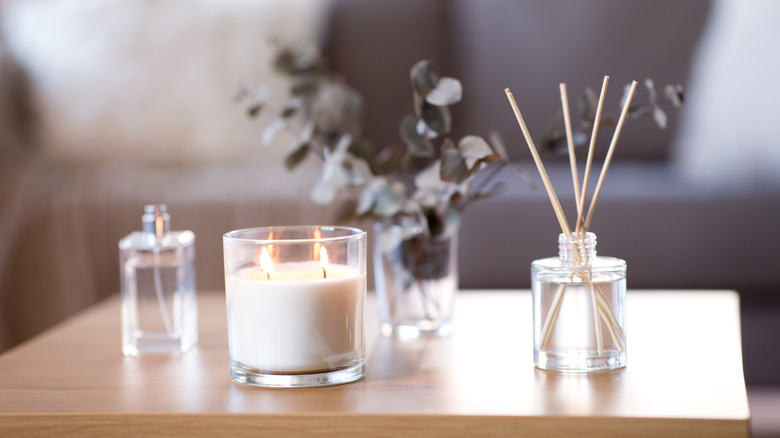 Ground Picture/Shutterstock
For your living room, you'll want a relaxing scent and an attractive diffuser, and the Nest New York Reed Diffuser has both. Per The Spruce, the Nest reed diffuser comes with 8.5 ounces of fragrance oil and eight reed sticks. Its classy look is an accent piece in itself, and it will diffuse the scent into a room for up to three months. Moreover, you can select your perfect scent match due to the 21 different fragrances, whether you're a fan of birchwood pine or prefer refreshing grapefruit. 
If you think there's nothing better than a fresh and citrusy smell, the Jo Malone Lime Basil & Mandarin Scent Surround Diffuser has your back. This diffuser delivers the scent of a "cool tropical breeze", and will infuse your space with the zesty scent of basil and white thyme. It will bring a fresh vibe to any room, meaning it's great for a space that picks up smells easily like the kitchen. Fresh smells were top-rated in a survey of favorite scents, meaning guests will love your diffuser, too. Plus, the bottle is extremely elegant — this is definitely one for a treat-yourself day.
You'll need to keep in mind the size of your room when searching for the best reed diffuser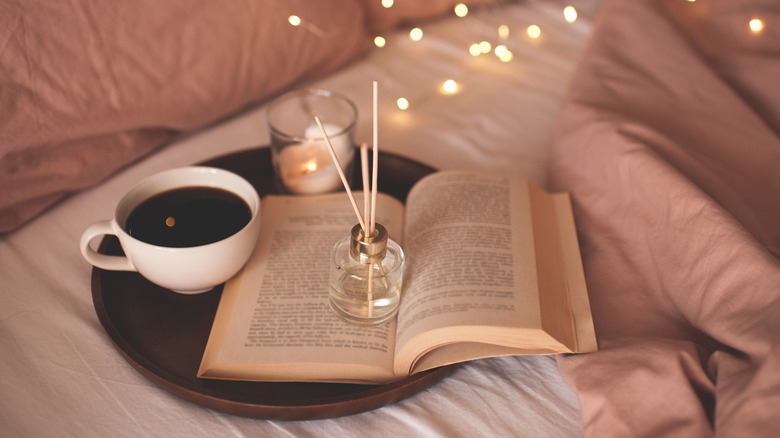 morrowlight/Shutterstock
If you want your home to smell like a dream, opt for a Rituals reed diffuser. There are many different scents available, each of which embodies a different "ritual" that will transport you to another place. One of the best amongst the group is The Ritual of Sakura (per Ideal Home). Affordably priced, the smaller sticks are designed for smaller rooms like an ensuite or cozy bedroom nook. The chic and stylish bottle design will fit in a cramped space due to its slim size. Moreover, the gorgeous scent of rice milk and cherry blossom symbolizes hope and joy in feng shui, so you'll instantly feel more refreshed.
Got a habit of feeling homesick? On an extended vacation? If so, the Homesick Premium Reed Diffuser is the pick-me-up you need (via The Spruce). Homesick's range of scents are super creative and will make that homesickness easier to get through. You can opt for a specific state diffuser, such as Texas or California, or go more holiday-themed with scents that will remind you of your favorite season (via Homesick).