Team Nina Or Team Carly: General Hospital Fans Take Sides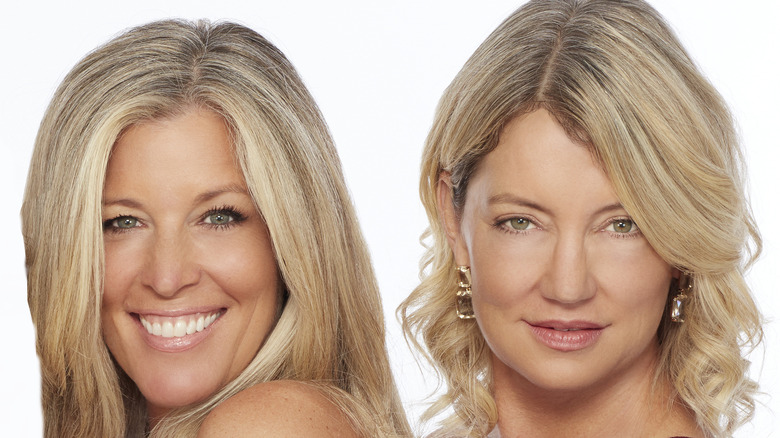 Craig Sjodin/ABC
As one of only four daytime serials left on the major networks, "General Hospital" continues to keep fans on the edge of their seats on a weekly basis. Rivalries and disputes between characters have fans abuzz, and the feud between Carly Corinthos (Laura Wright) and Nina Reeves (Cynthia Watros) always sparks conversation. While both have dubious scruples, neither is innocent.
When Nina discovered that Carly's husband, Sonny Corinthos (Maurice Benard), had been stranded in a town called Nixon Falls with amnesia, she kept that information to herself for the better part of a year, and the feud between her and Carly began (via Soaps). 
As Celeb Dirty Laundry reported, Carly kept secret the fact that the late criminal, Nelle Benson (Chloe Lanier), was Nina's daughter, and Nina was destroyed when the truth came out because she never got to be a mother to Nelle. 
Carly also discovered that Nelle had a twin, Willow Tait (Katelyn MacMullen), and has yet to reveal this information. Willow has Leukemia, but only her doctors and her husband, Michael Corinthos (Chad Duell), know this. When Nina and Willow had an argument recently, Willow passed out, per Soap Central.
Carly happened upon the scene, and much to fans' surprise, she and Nina worked together in a civilized manner to help the ailing young woman.
Fans took sides between Carly and Nina
The battle lines are drawn for fans of Nina Reeves and Carly Corinthos on "General Hospital." When Willow Tait passed out after screaming at Nina, viewers were shocked when Carly — who had been skulking outside the door — rushed in and worked with Nina to help Willow (via Soap Hub). The show posted on Twitter, "Carly can't help but have some compassion for Nina, West Coast. Can they work together to help Willow?"
Fans on both sides defended their favorite characters. Team Carly was vocal, with one fan replying, "Please! Carly should have zero anything for the homewrecking tramp Nina! I am still waiting for her to pay for all she has done," while another replied, "Absolutely Team Carly and her kids. Forever and always." 
Team Nina fans were also outspoken with such posts as, "[Carly] does compassion almost as good as she does staying out of other peoples business," and "That's not compassion, that is guilt. She [Carly] knows it is wrong to keep Nina from her daughter so she didn't yell at her for once." 
Some were in the middle, with one fan stating, "Yes they definitely can and Willow will definitely be ready to find out the fact that Nina is her own biological mother." Another neutral viewer countered, "Not once it's revealed that Carly knew all along that Nina was/is Willow's mother." One fan added levity with, "Secret Santa buddies!"
Only time will tell what happens between the two.