Days Of Our Lives Star Mary Beth Evans' Heartbreaking Family News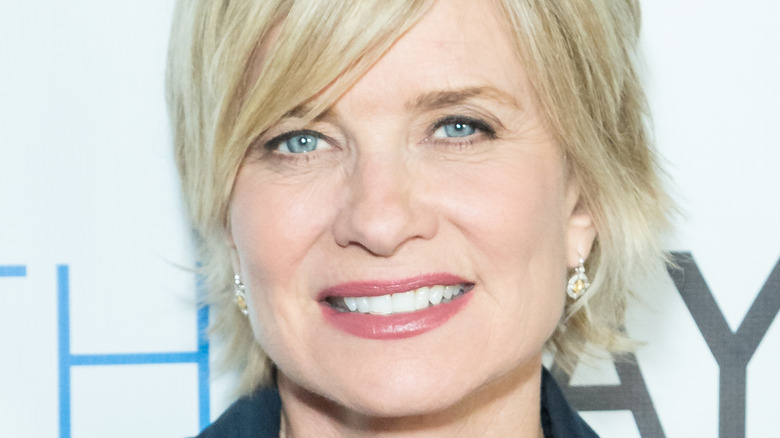 Greg Doherty/Getty Images
Soap opera star Mary Beth Evans is well-known to fans of the genre, having acted in such shows as "The Bay," "As the World Turns," "General Hospital," and "Days of Our Lives," on which she's played Dr. Kayla Johnson since 1986. Kayla's relationship with Steve "Patch" Johnson (Stephen Nichols) has been considered a supercouple for decades. Over the years, Evans has brought depth to Kayla, who has been poisoned, attacked by a knife-wielding killer, accused of murder, and held hostage, among various other soap tropes, per Soap Central.
Soap Opera Spy shared how fans have loved Evans' portrayal of Kayla since the beginning, citing her medical skills, which include curing various ailments, performing surgeries, and delivering babies, among other fantastic feats. She's gone undercover several times to help Steve solve various crimes, as well as being a good mother to her own kids and a mother figure to others.
A five-time Daytime Emmy winner, Evans has evolved as an actress over the years. She's worked on other shows such as "Knight Rider," "Nip/Tuck," and "Criminal Minds." Outside of acting, she has even started an apple pie-making company, posting her recipe on the Hallmark Channel's "Home & Family" page and uploading a how-to video on YouTube. 
The beloved actress recently shared devastating family news with her loyal fanbase on social media.
Mary Beth Evans opened up about her mother
"Days of Our Lives" star Mary Beth Evans recently posted sad news on Instagram, writing, "On Friday, Dec. 2nd, my mother Dianne passed away. Although my parents were divorced when I was six years old, she had already laid a strong foundation of love and discipline that has carried us through our lives." The post was accompanied by a picture of her and her mother enjoying a party. She continued, "She was a lover and a nurturer by nature and having married seven times, she never feared trying again. My three siblings and I, along with our spouses, made sure her life was as comfortable as we possibly could; and just in August, she told me she was happy and content."
Evans described her mother as "unconventional" and a "butterfly" whose enduring impact was felt by all she met. Evans explained that during her mother's declining health, the family was there for her, ultimately writing, "We will keep her in our hearts forever." Co-star Stephen Nichols replied, saying, "So sorry for your loss, sweetheart. Dianne was one of a kind. I have many fond memories of the times we spent over the years when she came to see us. She is at peace. Love to you and the entire family."
Amidst the heartbreak and fan condolences, Soaps reported that Evans continues to post heartwarming photos of her grandson, and the fans are happy to share in her joy during this difficult time.