The Time Megan Hathaway Claimed To Be The Mother Of Bo Brady's Son On Days Of Our Lives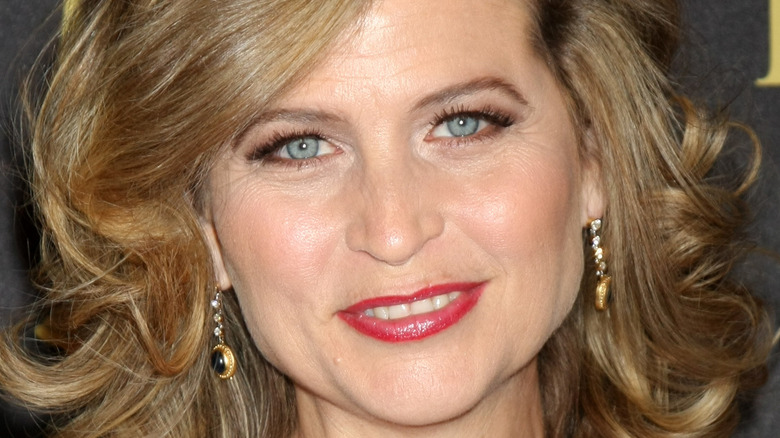 Kathy Hutchins/Shutterstock
Megan Hathaway is a name that longtime "Days of Our Lives" characters know well. The character — played by Miranda Wilson — was first introduced in 1984 when she came to Salem with her adoptive father Maxwell Hathaway (via Soap Central). Megan had previously been madly in love with Bo Brady (Peter Reckell) when they were in high school and had hoped to rekindle the spark between them. However, it was too late for Megan as Bo had already found the love of his life in Hope Williams (Kristian Alfonso).
During her time in Salem, Megan found out that her biological father was none other than the notorious villain Stefano DiMera. Megan and Stefan grew close, and it wasn't long until she began to work closely with her father to help with his evil schemes. In the 80s, one of Megan's biggest storylines included her helping Stefano track down the elusive three prisms, which held incredible medical technology, per Soap Dirt.
However, Megan's feelings for Bo continued to be an obstacle when it came to helping Stefano carry out his devious plans. Megan became obsessed with getting Bo back into her life and even planned to kill Hope. However, her plan didn't work out and it was Megan who ended up dead after being murdered by Larry Welch and she was dumped into a scorching hot tub (via Soap Spoiler). Of course, Megan's murder plot wasn't the only time she schemed to get Bo back.
Megan is a true DiMera
Megan Hathaway is just one of Stefano DiMera's many children. The "Days of Our Lives" bad guy has a complicated family tree as he's the father of three biological daughters, including Megan, Lexie Carver, and Renee DuMonde (via Soaps). Stefano also had many sons during his life, including Andre DiMera, Benjy Hawk, Chad DiMera, EJ DiMera, Stefan DiMera, and Jake DiMera. He also took three adopted children under his wing, Kristen DiMera, Peter Blake, and Tony DiMera.
At different times, each of Stefano's children has shown off their DiMera side by engaging in less-than-favorable behavior. Megan seemed to prove that the apple doesn't fall far from the tree when she plotted to kill Hope. However, that wasn't her only shocking scheme in Salem. Upon arriving in town with her sights set on Bo Brady, Megan made up a story about getting pregnant with Bo's son during their previous relationship and giving the boy up for adoption, per Soap Central. Of course, Bo believed Megan, and the two spent time together trying to figure out what happened to their imaginary child.
Of course, after Bo learned the truth he wanted nothing more to do with Megan and the scheme blew up in her face (via Soap Spoiler). Meanwhile, Megan never forgot about Bo, and the character shockingly returned from the dead to carry out another unbelievable plan during the "Days of Our Lives" spin-off series "Beyond Salem."
Megan brought Bo back to life during Beyond Salem Season 2
Many "Days of Our Lives" fans were shocked to see Megan Hathaway return from the dead in Season 2 of "Beyond Salem." The character revealed that she had been brought back to life using the technology and information from the three prisms, per Soap Dirt. During "Beyond Salem," Megan was looking to track down the prisms again to bring another character back to life, which some fans believed might be her father Stefano DiMera.
After getting her hands on all three prisms, Megan was thrilled and got to work with her team of doctors and scientists to resurrect her loved one. At the end of the series, it was revealed that Megan had obtained Bo Brady's body and was keeping it cryogenically frozen. She then used the prisms to bring Bo back to life, and it worked (via TVLine). Bo opened his eyes and drew breath in the final moments of the season finale.
Thanks to Megan's scheming and her undying love for Bo, the character of Bo is alive and well and returning to "Days of Our Lives" in 2023. So, while Megan and Bo never did have a child together, she did give him the gift of life in a very unconventional way.