Is La Prairie's Caviar Eye Cream Worth It?
Vitamin C, sunscreen, and leaving your pimples alone can fix hyperpigmentation. Ceramides, hyaluronic acid, and a moisturizing facial oil can help soothe dry skin. But, what can get rid of dark circles and puffy eye bags? There's an age-old debate in the skincare industry about the usefulness of eye creams. Some dermatologists and estheticians say that your daily moisturizer provides enough hydration under your eyes, while others claim that eye creams are necessary.
Each individual can assess the state of their eyes and wallet and determine whether or not they want or need an eye cream in their skincare routine. If you're looking to prevent wrinkles rather than solve them, there are many dermatologists that maintain that sunscreen is the best option (via The New York Times).
However, people with prominent eye bags and dark circles are probably just on the hunt for an eye cream that will actually work to get rid of their puffiness and dark circles. These stubborn eye bags and dark rings can come from a lack of sleep, stress, aging, or genetics. Thankfully, there's one eye cream that has been heralded as the key to getting rid of them altogether.
Is the La Prairie Eye Cream worth the hype?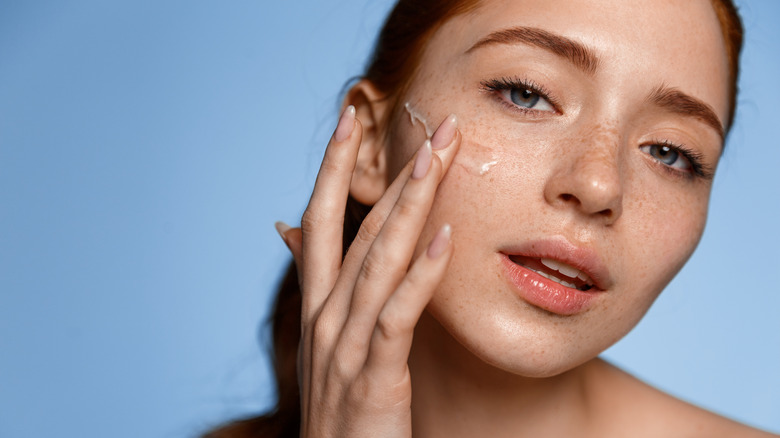 Lyubov Levitskaya/Shutterstock
The La Prairie White Caviar Eye Extraordinaire Illuminating Eye Cream claims to get rid of puffiness and dark circles under the eyes, all while deeply moisturizing and nourishing them. It also comes with a ceramic pearl for depuffing. While correcting darkness and increasing moisture are common missions of eye creams, the La Prairie one targets grayness caused by pollution, brown spots, yellowness, and red and violet tints that are behind undereye darkness.
According to La Prairie, this is all thanks to a star ingredient called Lumidose. The illuminating molecule is the most powerful inhibitor of tyrosinase, which helps create melanin. It was developed and patented by La Prairie itself, so it's not found anywhere else.
The White Caviar Eye Extraordinaire cream works to reflect light, brightening the eye and refining its shape using the other star ingredient, caviar. According to clinical trials, La Prairie accomplished what it set out to do — wrinkles, fine lines, and dullness had decreased by 74% within the span of four weeks, per Vanity Fair.
While the eye cream has potent ingredients that have been proven to work along with many glowing reviews, it also costs $600. If you're willing to use Afterpay, bust out a credit card, or see your under-eye area as a solid investment, the price seems to be worth it based on the research. If you don't belong to any of those three categories, the La Prairie White Caviar Eye Extraordinaire Eye Cream probably isn't for you.
Eye creams that get rid of dark circles, puffiness, and wrinkles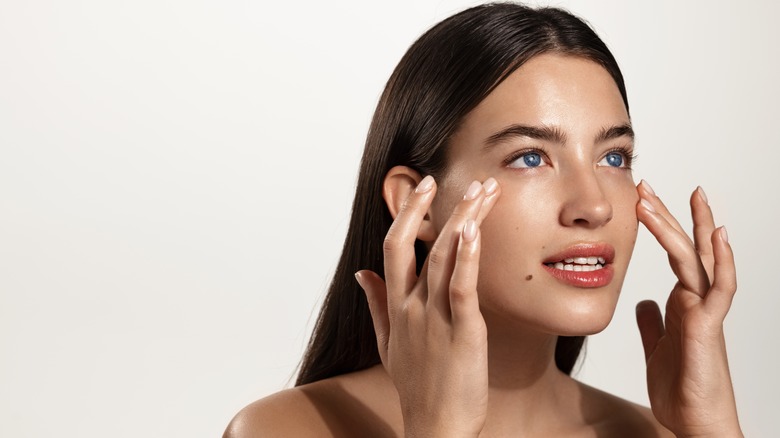 Lyubov Levitskaya/Shutterstock
Formulated with caviar for a tenth of the price, the Savor Beauty Caviar Eye Cream promises to reduce fine lines, dark circles, and puffiness under the eyes. For $68, the cream also features caffeine, which helps to reduce darkness, and CoQ-10, which boosts collagen production. The lightweight cream also has aloe vera and evening primrose oil, delivering hydration. It's rich in antioxidants, thanks to the addition of white truffle extract, which fades dark spots and signs of aging.
For puffy, dry eyes, try the Drunk Elephant Ceramighty AF Eye Cream. The ceramide blend in the cream works to maintain the moisture balance of the under-eye area while oat extract soothes. The cream targets the loss of firmness in the under-eye area using fatty acids and antioxidants that restore the smoothness of the skin. A whopping 91% of consumer testing participants said that the cream improved the look of wrinkles, while 94% said their skin felt smoother and softer after usage.
The SkinCeuticals A.G.E. Eye Complex for Dark Circles is an ideal eye cream for mature skin and dark circles thanks to its blend of wrinkle and dark circle-fighting ingredients. The A.G.E. Complex has blueberry extract, a powerful antioxidant that protects the skin from the damage of blue light, according to Paula's Choice. It also has optical diffusers to reduce dark circles, and peptides to firm and tone the skin.