The Easiest Style For Bodysuit Beginners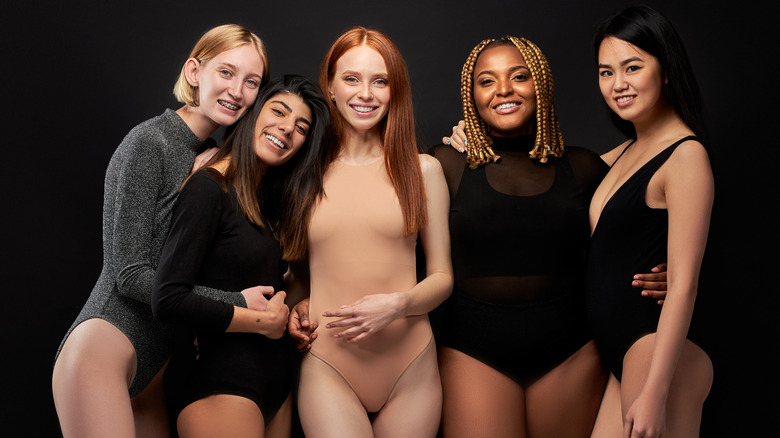 Roman Chazov/Shutterstock
We may receive a commission on purchases made from links.
From lip injections to luxury athleisure, the KarJenner family has popularized dozens of fashion and beauty trends throughout the last decade. Kim Kardashian, specifically, is known for one thing in particular: body con fits (via Vogue). In 2019, she launched her own underwear, loungewear, and (yes) shapewear brand, Skims, one of the Time100's "Most Influential Companies of 2022." Skims' "Fits Everybody" bodysuits are one of the website's bestsellers, revolutionizing the idea of shapewear as outerwear.
Though bodysuits were previously popular among gymnasts and fictional comic book characters — we're looking at you, Catwoman — they're now a closet staple for civilians and superheroes alike. They're seamless, supportive, and, perhaps best of all, they stay tucked in all day. However, as noted by Star & Stare co-founder Katie Lopes (via Byrdie), "It has to be lightweight and super soft for something that is close to the skin." So when searching for a new bodysuit, comfort is a must, especially if you're not used to Kardashian-style, form-fitting shapewear, the styling process can be intimidating. When in doubt, start by pairing it with your favorite pair of loose-fitting jeans. (Don't worry, you can graduate to tight leather later.)
Pair your bodysuit with high-waisted jeans for a classic look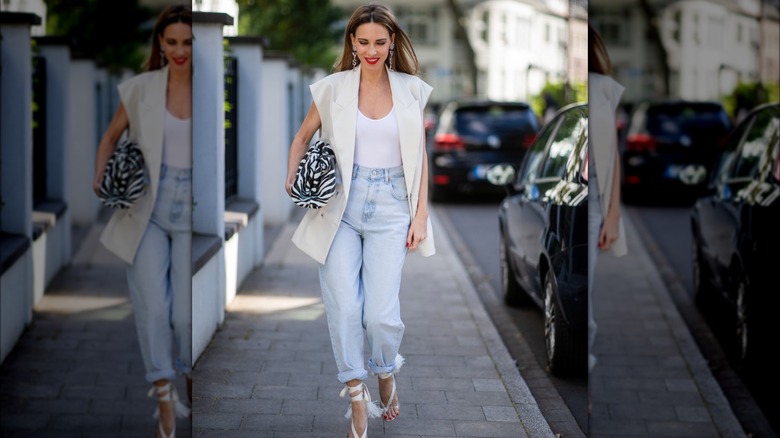 Christian Vierig/Getty Images
According to Vogue, American fashion designer Donna Karan has been recommending bodysuits as a closet staple since the mid '80s. Ultimately, as solidified by Kim Kardashian three decades later, it's a simple base off of which to construct an outfit. If you are new to styling form-fitting pieces, Grazia recommends pairing your bodysuit with loose-fitting bottoms — ideally, wide-legged "mom" jeans. You can rely on the comfort of roomy pants, while simultaneously showing off your curves. 
In that vein, Stitch Fix notes that high-waisted bottoms will cinch-in your waist, giving you that coveted hourglass look. For a classy, contrasting fit, pair light wash jeans with a simple, black bodysuit — check out this seamless design from Abercrombie & Fitch. Alternatively, if you're looking for a top to add to your wintertime rotation, Elle recommends Madewell's turtleneck bodysuit. "This is the perfect turtleneck bodysuit that goes with any outfit," writes one reviewer. And, speaking of Kim K, Byrdie lists Skims' "Fits Everybody" square neck bodysuit as the "best overall" choice for 2022, making it the ideal option for newbies. 
Ultimately, layering is your friend. Pair your new bodysuit (and jeans) with a cropped leather jacket — an element which will come in handy during the colder seasons.
Graduate to bold bodysuit fits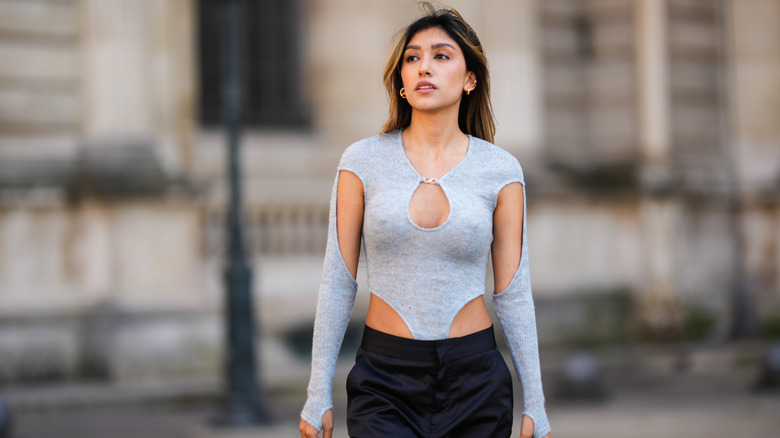 Edward Berthelot/Getty Images
Once you've gotten comfortable with the bodysuit and high-waisted pant pairing — and mastered the art of the snap crotch — it's time to diversify your bodysuit repertoire. For starters, not all suits are form-fitting, contrary to comic book canon. Some are wrapped, ruched, and puffy-sleeved. InStyle recommends pairing a buttoned bodysuit — something like Revolve's classic collared style — with tailored slacks and flats. Dress it up with jewelry and a clutch to complete your classy going-out look. Or pair a structured, ruched suit with a maxi skirt for an enviable rehearsal dinner fit.
As low-rise jeans officially cycle back into fashion, per Vox, cater to your adventurous side: wear a high-cut bodysuit — check out this style from alo — with low-waisted pants, per Seventeen. Finally, you're ready to graduate to the Kardashian-worthy super-cinched look: accentuate your figure by coupling a form-fitting bodysuit with tight, leather pants or even a body con skirt.