Holiday Gifts You Should Definitely Not Buy For Your Child's Teacher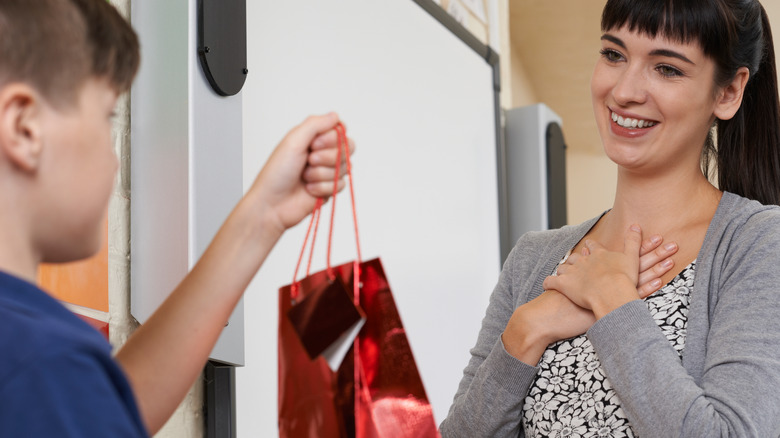 Highwaystarz-photography/Getty Images
We may receive a commission on purchases made from links.
Chances are, you're among the millions of people who did their holiday shopping earlier than ever this year. Per NBC News, two out of three Americans actually started hitting the stores and Amazon well before Black Friday. But while you may have taken care of your spouse and other family members, you might still be looking for a gift for the people a little further down on the list.
Falling into that category are teachers. Even though you may not see them on a daily basis, they're indirectly a huge part of your life as they work to educate, enlighten, and inspire your children. In the case of preschool and kindergarten teachers, you can also factor in all the time they spend coping with meltdowns and bodily fluids. Talk about superheroes.
What can you get for the person (or people) who introduced your child to "Charlotte's Web" or helped them master three-digit subtraction? There are many ways to show your gratitude, but there are also tokens of appreciation that an educator might not, well, appreciate. While there are always exceptions, these are the items to avoid if you want to get top marks in the subject of teacher gifts.
Coffee mugs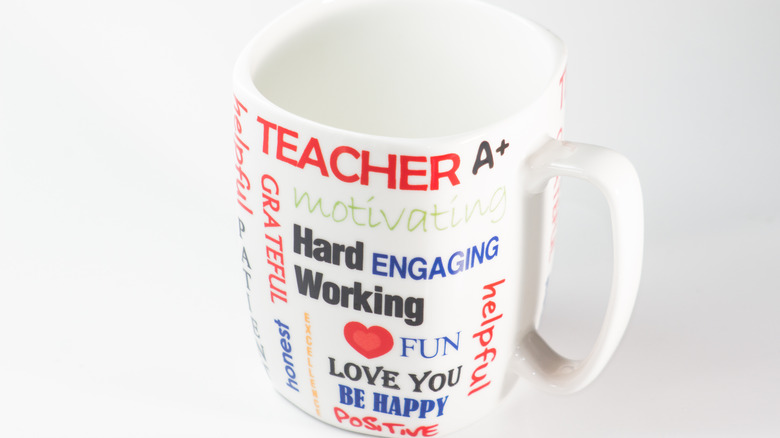 Azabdull/Shutterstock
Topping the list of no-nos for teacher gifts is a coffee mug, even if it does have a sweet teacher-related message. The average teacher already owns at least 10 cups given by generous parents, and there's only so much space they have at their desk or in their pantry at home. More to the point, a mug pretty much screams, "I forgot all about a teacher gift, so I just ran into CVS on the way to school and grabbed the first thing I could find."
If you know your child's teacher loves their caffeine, a better option is a gift card to Dunkin' Donuts, Starbucks, or your local craft roaster. Or, if you simply can't resist buying a mug — because the one saying "Silently Correcting Your Grammar" is just too cute — then jazz it up a little by filling it with chocolates, pens, or the aforementioned gift card. 
Flowers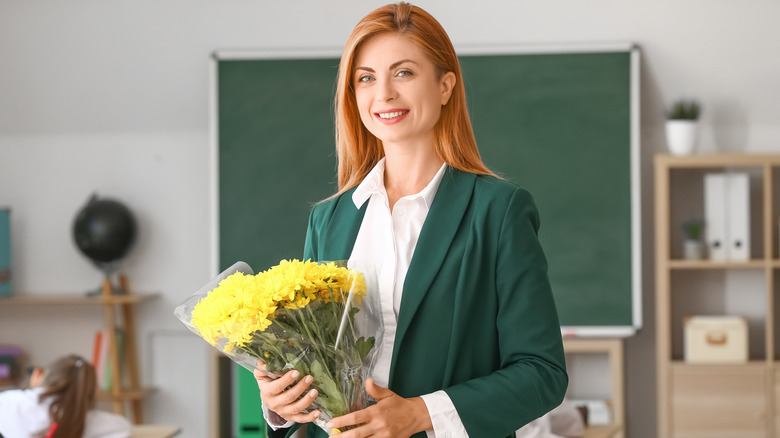 Pixel-Shot/Shutterstock
Flowers are lovely if you're actually bringing them to the recipient's house, but not so much if you're thrusting a bunch of posies into a teacher's arms at school. The teacher now has to get the bouquet home safely — probably while juggling gift bags and their own totes — and then find a vase, unwrap the flowers, cut the stems, and dump in the little packet of plant food: all before the daisies wilt and the roses drop their petals everywhere.
If you're botanically inclined, a potted plant is a better teacher gift option. Try a succulent that doesn't need much water. An even better idea: gift them an assortment of seeds to plant in a garden or pot in the spring. You can also order personalized seed packets on Etsy with a message such as, "Thank you for helping me grow."
Wine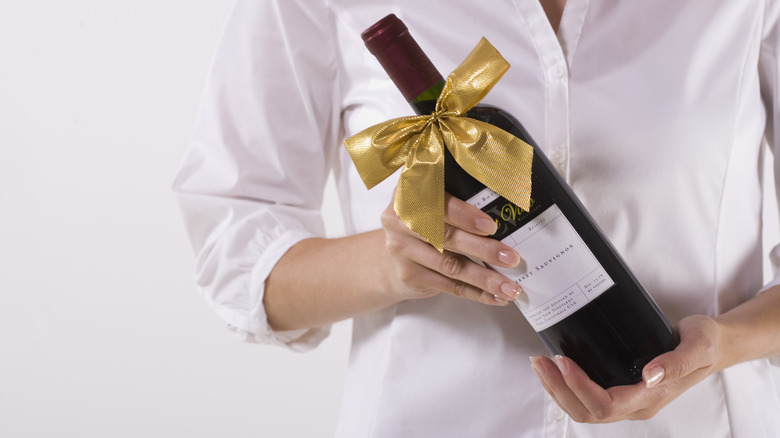 Jupiterimages/Getty Images
A nice bottle of prosecco or Pinot Grigio makes a wonderful bring-along to a holiday party or a gift for the sister-in-law who posts lots of "Mommy's juice box" memes to their Instagram feed. As a teacher present, however, it's iffy. Your school may have rules against bringing alcohol on campus to begin with. Plus, the teacher may not drink because they're trying a Dry January, or maintaining sobriety, or just not into booze, period. Compromise by giving a wine-scented product instead, like the Bath & Body Works Black Cherry Merlot candle.
Food baskets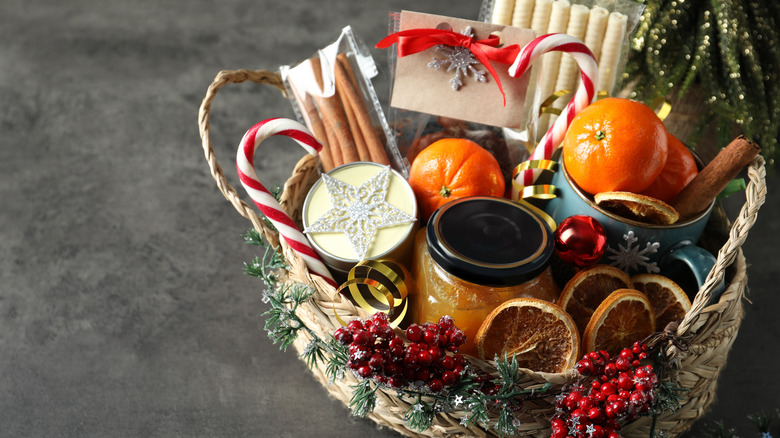 New Africa/Shutterstock
We all have fond memories of the scene in "A Christmas Story" where Ralphie Parker puts a giant fruit basket on his teacher's desk in hopes of getting an A++++++++ on his "What I Want for Christmas" theme. These days, however, a gift like that might earn you an F. The teacher might have food allergies or specific dietary needs, or they might be going away for the holidays and not be able to eat the goodies before they spoil.
You don't have to rule out food gifts altogether for a teacher, though. A box of chocolates or gourmet cookies is usually a good bet. Other nonperishable options include an assortment of jams, a variety pack of herb teas, or a jar of local honey. 
Perfume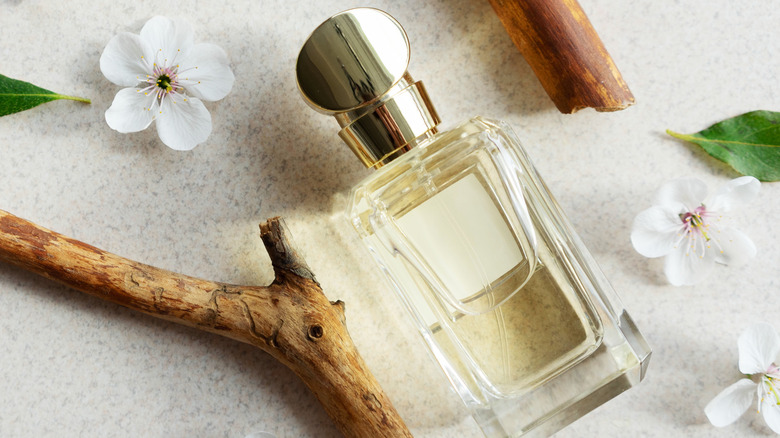 KaterynaTkachenko/Shutterstock
Perfume might seem like a classy choice, but it's just too personal for a teacher. People's scent preferences tend to be very specific; you may love fresh flowers, but your child's teacher may be more of a citrus or beachy person. They may also be sensitive or allergic to strong scents — or live with someone who is — so your well-meaning gift could end up triggering a headache or asthma attack. Unless you've actually seen the teacher reaching for a spritz of vanilla or cherry blossom, better to play it safe and avoid colognes and sprays. 
A better choice for a teacher would be a good-quality hand cream like this one from Burt's Bees. They'll think of you gratefully as they use your present to combat winter-roughened skin. 
Clothes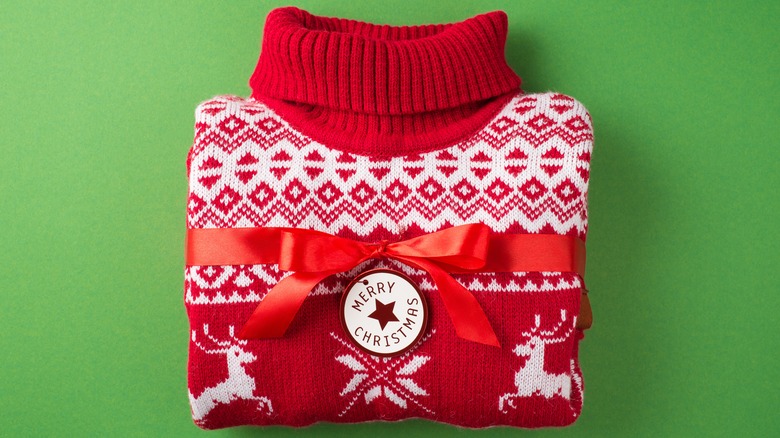 Inspiration GP/Shutterstock
Like perfume, clothing style is a highly personal preference. You may spend half your life in boyfriend shirts, hoodies, or leggings, but that doesn't mean your child's teacher does. Plus, you may not know their size, favorite colors, or even if they already own something similar. If you're actually friendly with the teacher and know they wear an oversized cardigan or a striped tie every day, you can pick out something you think they'd like. Otherwise, a better option for a clothing gift would be a beanie hat or a scarf and gloves set. 
Pajamas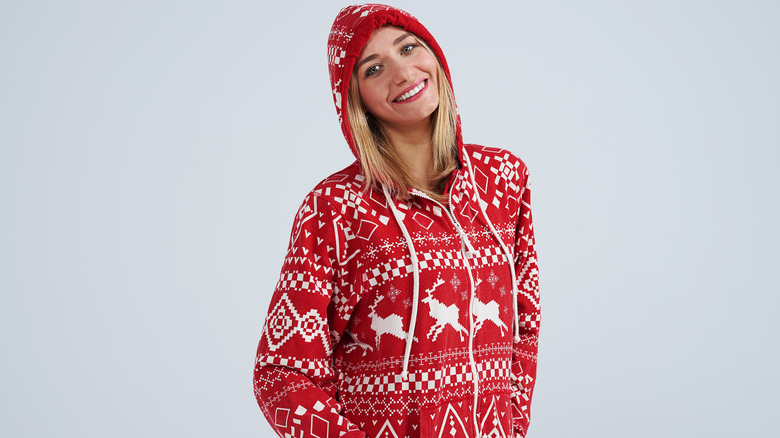 Konstantynov/Getty Images
As comfy and useful as they are, pajamas and nightgowns are an inappropriate gift for a teacher. It crosses the fine line between their professional and personal lives and can make them feel awkward around you. It might seem obvious, but the same goes for any kind of underwear or lingerie. Boxers, briefs, bra sets, camisoles, teddies, flannels, silks, satins — no, no, no, and no. Simply put, don't give a teacher any kind of clothing that needs to be covered up at work.
Desk plaques and gadgets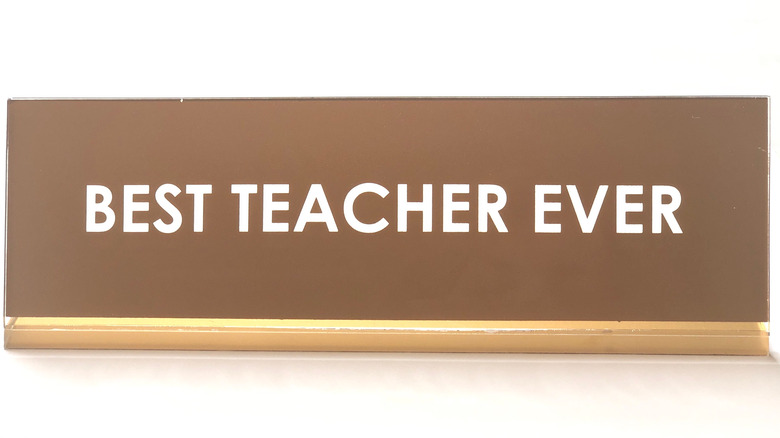 Miko Martin/Shutterstock
You see them all the time in drugstores, craft stores, and souvenir shops: teacher-themed wall plaques, figurines, guardian angel car visor clips, and picture frames trimmed with apples and pencils. They're adorable, appropriate ... and your child's teacher probably has a dozen of them already. Since they're purely decorative, items like these don't do much except take up space and collect dust. A better alternative is to pick out a useful gift with a teacher-themed touch, such as a water bottle or tote bag that reads "Teaching Is a Work of Heart."
Religious gifts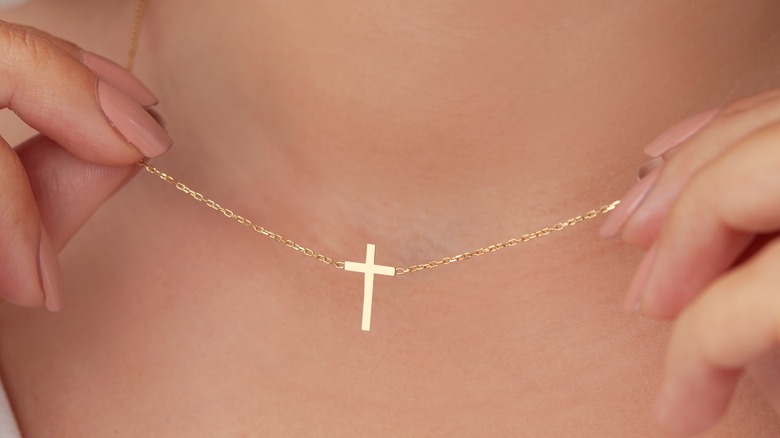 1jewelry/Shutterstock
Another tricky theme for any kind of gift-giving is religion. Even if your child attends a parochial school, the teachers may not all belong to that faith, or they may not be practicing members. Unless you know for sure a religious gift would be appreciated, play it safe and go for something more neutral. After all, even if you're completely sure of the teacher's faith, odds are they'll still be delighted with a box of tea or tube of hand lotion.
Home décor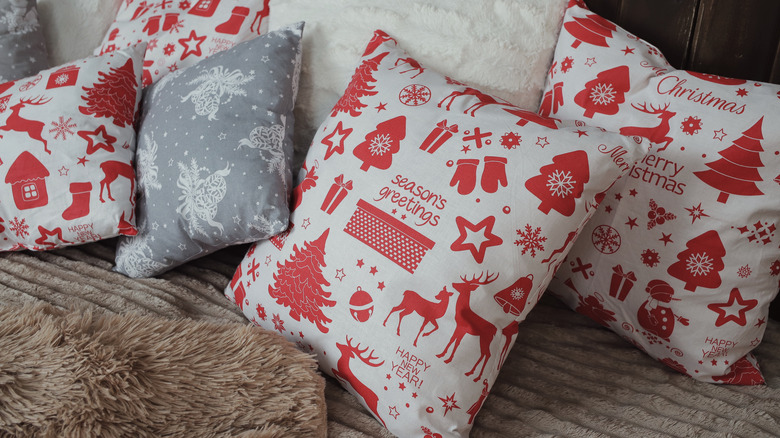 PALINKASH81/Shutterstock
Unless you've actually been inside the home of your child's teacher, say no to accessories such as throw pillows, suncatchers, vases and decorative bowls. You wouldn't want to give them an industrial-chic accent lamp if they're into cottagecore, or a throw blanket in a color that would clash with their living-room furnishings. A better alternative in the home category would be something small and practical, such as a set of guest hand towels in a snowflake pattern.
Teacher Christmas ornaments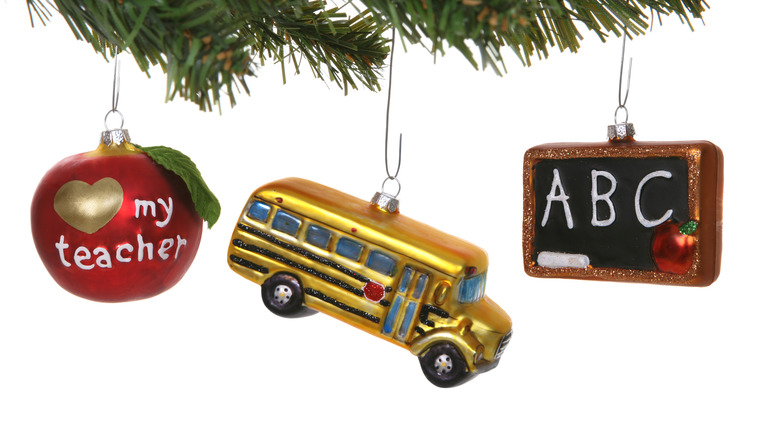 Stephen Coburn/Shutterstock
If coffee mugs are the least popular teacher gift, teacher ornaments come a close second. There isn't much variety in this category, so teachers quickly accumulate a large collection of little plastic and glass apples, blackboards, pencils, and school buses, all of which have to be packed away after the holidays are over. Your child's teacher may also be the type who prefers a strictly red-and-gold globe ornament aesthetic, or they may not celebrate Christmas at all. Whatever the case, avoid the tree trimmings when you're gift-hunting.
Gag gifts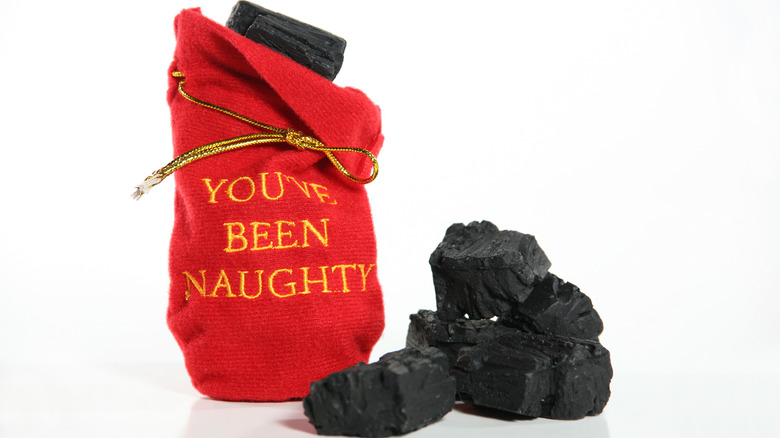 Gianna Stadelmyer/Shutterstock
Humorous gifts like a llama stress toy, bag of toy coal, or a yodeling pickle — yes, it's a thing — are fun to give as a family stocking stuffer or to a friend with a quirky sense of humor. For a teacher, it can send the message that you don't respect their job. A teacher gift should reflect your gratitude for their skills and for the profession in general, and an office axolotl just doesn't do it, except perhaps for a science teacher.
Bottom line: If you really want to show your appreciation for your child's teacher, give them something you know they can use. Gift cards are always a good choice — and, surprisingly, so is money, according to We Are Teachers. A little extra cash could be just what they need to pay a bill or buy their own holiday presents. Put it inside a card created by your child, and the teacher will appreciate your thoughtfulness that much more.