The Real Story Behind Meghan And Harry's Cries For Privacy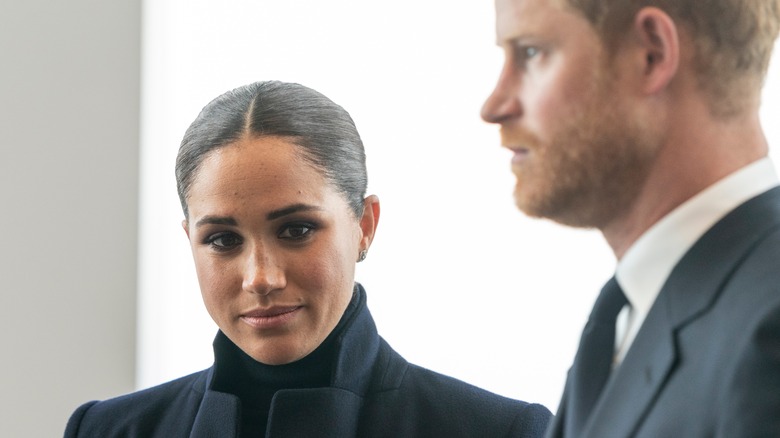 lev radin/Shutterstock
If there's one thing everyone knows about Prince Harry and Meghan Markle, it's that the couple will do anything to protect their family. They've left royal duties, titles, and benefits behind in England to live in California. In a new Netflix six-part docuseries, "Harry & Meghan," the couple invites fans and foes into their lives, giving an intimate look at their side of their story.
In the wake of not just the "Harry & Meghan" documentary but Meghan's podcast and Harry's upcoming memoir, "Spare," critics are wondering why, if privacy is so vital to the Sussexes that they left the royal family, the couple is going public with so much private information. "Imagine bleating about privacy then doing a kiss-and-tell reality series about private lives?" Piers Morgan wrote on Twitter after the first trailer for the Netflix series dropped.
This isn't the first time the couple has gone public with their story, either. Following an explosive 2021 interview with Oprah, the Duke and Duchess of Sussex decided to not only step down from official royal duties, but they also left Britain behind, moving their family to California. In the "Cult of the Royal Family" episode of the podcast "Sounds Like a Cult," linguist and cult expert Amanda Montell said that for her, Meghan's portrayal of royal life sounded like a cult survivor story; the life may be one of privilege, but privilege is no buffer against frenzied tabloid reporters or racism. Especially when royal protocol demands you stay silent.
Here's what Harry and Meghan actually wanted from the public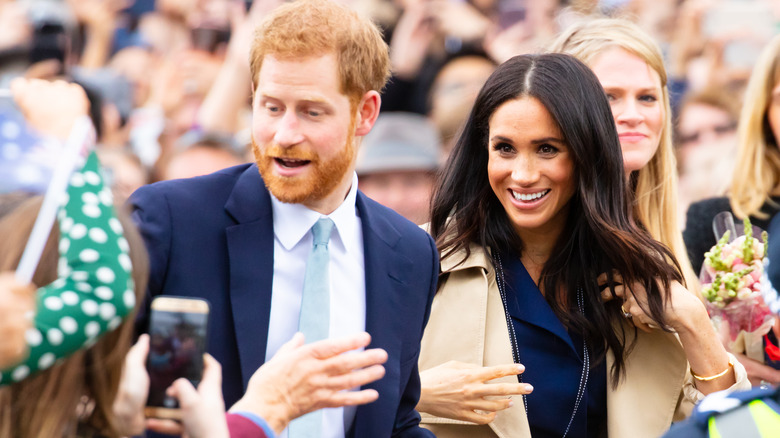 FiledIMAGE/Shutterstock
Why people who supposedly wanted privacy are speaking so publicly isn't just confusing for Piers Morgan. Dan Wooton shared similar sentiments after the first three episodes of "Harry & Meghan" dropped on Netflix, tweeting: "For a couple who claim they care about their privacy, in less than a half an hour [Prince] Harry and Meghan [Markle] have already shared with the world "private" text message exchanges, "private" photos from dates, "private video diaries, and "private" clips of their son #HarryandMeghanNetflix."
The narrative that Prince Harry and Meghan Markle left the royal family for "privacy" is a familiar one that's decidedly untrue. In January 2020, when the Duke and Duchess of Sussex announced through their official @SussexRoyal Instagram that they'd be stepping back from official royal duties, they didn't say they were doing it for more privacy.
Even Meghan and Harry's website laid out a now-rejected plan where they wanted to continue working in the public as self-funded royals, understanding the large amount of public interest in their lives: "[The Sussexes] recognise that their roles as members of the royal family are subject to interest, and they welcome accurate and honest media reporting as well as being held to account if appropriate. Equally, like every member of society, they also value privacy as individuals and as a family."
Even Queen Elizabeth II's official statement reflected that the Sussexes wanted a more independent, peaceful life—not a private one.
Harry and Meghan wanted control of their narrative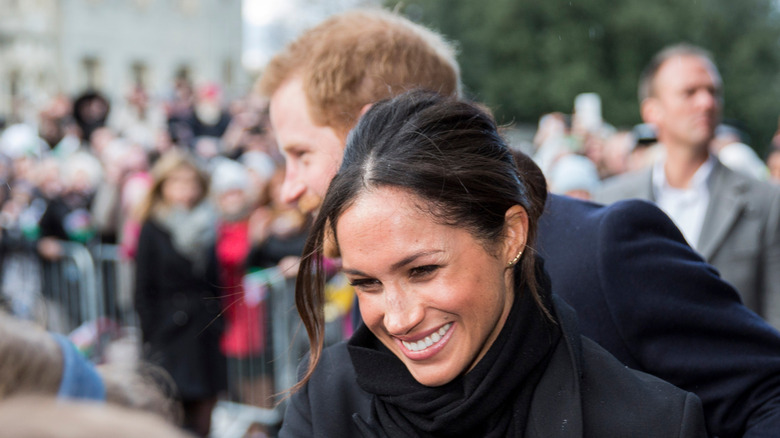 ComposedPix/Shutterstock
During their interview with Oprah, Prince Harry and Meghan Markle admitted what they were allowed to share with the public—and how they were able to share the information—was regulated by palace protocol. Some parts of their lives, they explained, they had been obligated to share to meet the expectations of a hungry "royal rota" — the royal journalist pool. Anything they wanted to do or share outside of royal tradition had to be approved to ensure attention remained on more important royals, per Buzzfeed News.
Their new Netflix series, "Harry & Meghan," is their latest offering into the public discussion about their lives. Produced by the couple, there's a reasonable assumption that they had the final say over every detail shared in the docuseries and how it is shared.
So when Prince Harry and Meghan talk about the details of the beginning of their relationship, they're able to include private Instagram accounts and pieces of e-mails or text messages it's because they can—and because they want to (via Cosmopolitan). Not because they're being forced to or not because a tabloid has decided what parts of their lives should be shared.
Like Meghan asks in the docuseries trailer: "When the stakes are this high, doesn't it make more sense to hear our story from us?"