How Julia Lemigova And Her Wife Joined The Real Housewives Of Miami - Exclusive Interview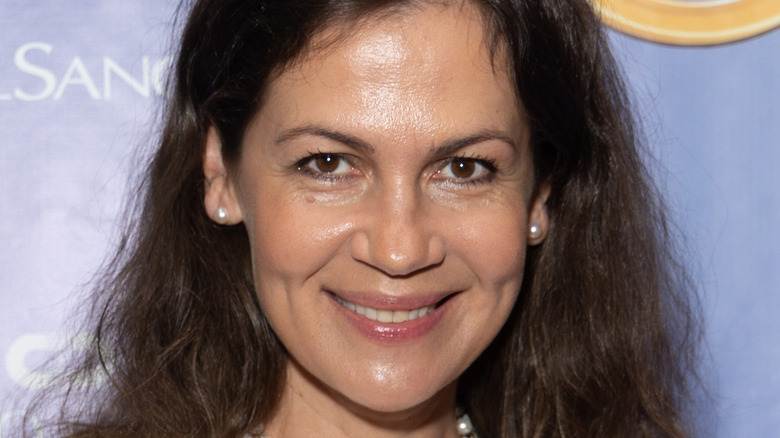 Rodrigo Varela/Getty Images
The housewife feels supported by the Bravo family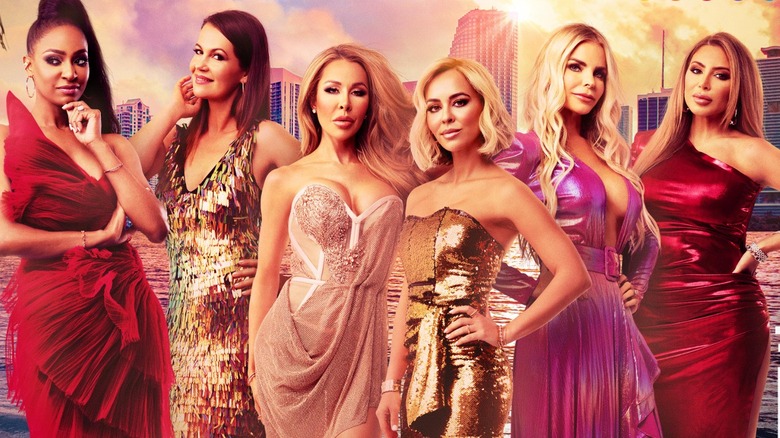 Bravo/NBC Universal
You joined "The Real Housewives of Miami" in Season 4, and that was its first season since 2013. What did it feel like joining a reboot that featured some of the original cast? Did it still feel like a new show, or did it feel more like a callback?
Believe me or not, before joining the cast, I never watched the show, so for me, it was a 100% new adventure. I jumped into it headfirst without any expectations. I watched in three days the first three seasons because Adriana [de Moura] invited me to be a friend on the show. I was still with this fire in me, like, "Let's go; let's do it. It's fantastic." It felt new. I didn't feel it was a reboot. It's something iconic — which probably should have never stopped — [and] is like a continuation of an amazing story, and I hope that I'm going to add some different flavor to it.
Absolutely — you add so much energy to the show. You're the first housewife in a same-sex marriage. Speaking for myself as a Bravo fan and a member of the LGBTQ+ community, it's huge to see you and Martina living your lives together on TV. Did you feel additional pressure when you joined the cast in representing the LGBT community?
I wouldn't say pressure, no. It was just responsibility because I knew people will be watching [and] people will relate, and I had to make sure that I will not disappoint them. The responsibility to do my best was my biggest motivation and worry, but [it] also gave me so much joy because I have so many messages now. On Instagram, people write to me and ask me something personal. They ask me my advice — they want to know how I lived this particular situation, which is very similar to theirs. I share it with them, and they write back to say that it helped them, which is great.
I want to show that our family with Martina is like any other family — doesn't matter whether gay or straight. Love is love. Love has no gender. That's why I have absolutely no taboo to show how we live. It's the opposite — please see! For those who are still somewhere in the world [that is] not accepting, hopefully, they will change their minds eventually.
Have you been able to settle into the role as a groundbreaking housewife? Do you think Bravo's going to include more same-sex couples within the franchise? Could you see that happening?
Absolutely. Bravo gave me the opportunity to show my life, and I'm sure I'm not going to be the last one. Maybe I was the first one, but I'm so sure that I'm not the last, because that's how [the] world is now. We are who we are — we are open, we are [our]selves. I have absolutely no restrictions, no guidelines from the network. They're 100% letting me be me. That's why I love them so much, and that's why I want to be with them, because that's an amazing ... They call themselves the "Bravo family." I feel a part of the Bravo family now and am so happy to be.
She isn't holding anything back this season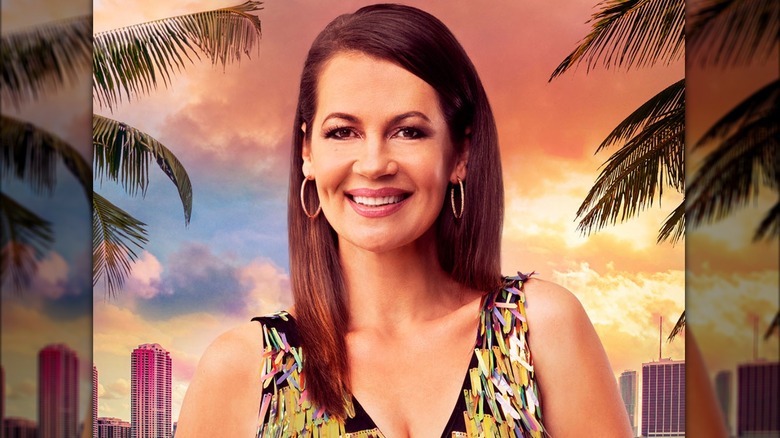 Bravo/NBC Universal
It looks like you stay out of the central drama at the beginning of Season 5. Did you get to take a breather this season, or were there still stressful situations that affected you?
Well, it's not so much stress, but a lot of drama. You have not seen anything yet. Trust me; there will be. I don't like drama, but I will always defend myself and my friends. In the first season, I was more held back because you need to take time. I'm not a fake person; I'm not going to bark up just any tree. There has to be a reason for me to get mad. But once I get mad, I will not step back until we resolve the situation. This season, there's a lot of it and a lot of opinions, a lot of drama, and a lot of very unexpected things.
That's a great teaser. I'm excited for the rest.
In the cast in general, but [also] in my life, whether it's personal things that you will see throughout the season or whether it's some conflict with some of the ladies that are very ... [It's] not a small little conflict, but there is a reason behind it. That's where I say what I say. I am not shy; I just don't like conflicts. But when something is wrong, you got to say it.
Sounds like you don't have any regrets from the season about speaking up for yourself.
No. I never, ever have regrets about speaking up for myself. You can only have regrets if you don't. You say, "I wish I would've reacted; I wish I said something." The first year on the show actually helped me — even off camera — to be more focused and more direct and more daring, because in my life, I was not shy on the camera. Even when I was modeling, it was more like in my private life, [I was] more quiet. Now, being on the show, I totally feel unleashed — 100% unleashed, no taboos, 100% unleashed and going for it when I have to go for it.
Well, you're living your best life. Are you at your farm right now?
Yes. Actually, I chose to make my interview day here. Here is the barn door. As you see, I have my dog, Zora, my sidekick — busy chasing a fly. At home in Miami, we have our parrots and dog and cats — so many inside the house. There is always background noise. Here, I have way more animals, but they're outside, so it's quieter than the house.
What's it been like prioritizing life more outside of the city? Have you found a balance between those two lives?
Still struggling. In my mind, it's so easy, but in practice, because I also have to take into consideration Martina and my other things in Miami ... I wake up and I want to come here on the farm because there's so many things to do and so many animals, and you take care of them and it's so much fun. It's my retreat. It's a complete getaway sanctuary. That's how I would call it — a total sanctuary.
Farm life has never been better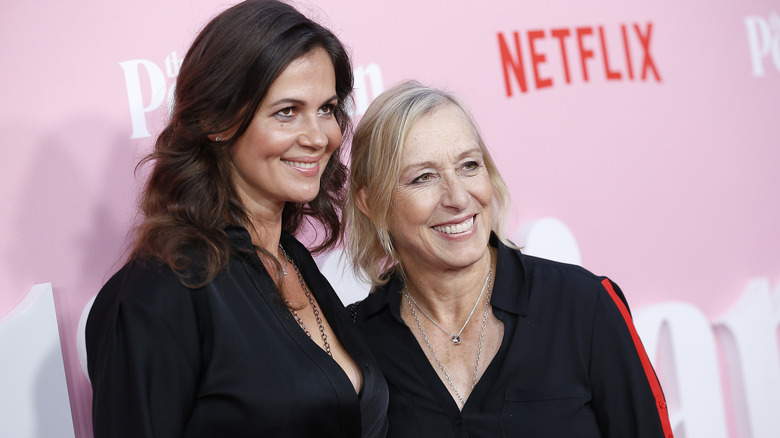 John Lamparski/Getty Images
In the first few episodes of this season, you talk about feeling like you and Martina are a little bit on different paths at the moment because she's staying in the city more and you're on the farm more. Did the issue come up more throughout the season? Has anything changed since you guys stopped filming?
I'm trying to lure Martina to my farm world, doing some changes here and there, trying to make her like here more. It's not that she doesn't like it, but she's more of a ... She loves water; she likes her water sports, and I like looking at water. But I like to get my hands dirty at the farm and so we have to find ... [We're] working on the balance. Actually, during the season of the show, we're talking about it and trying to find solutions and ways to have that balance. It's a work in progress.
Absolutely. Maybe she needs a favorite pet at the farm or something.
I know. She does. She has [one] she loves ... But I would need to come up with something very different in order to lure her. Maybe it's not going to be a pet; maybe it's going to be some occupation for her — something to do, something that she would ... For me, it's my office. I have an excuse: "I'm going to the office."
Because you sell your eggs at the farmer's market?
The eggs, I sell fruits ... I planted so many. Name a tropical fruit tree; I have it here, and I planted it myself. Some of them were here in the new ranch, but a lot of them I brought from my old farm because they didn't care about those trees. I brought them all. They're my babies, and now they're here in the ground. We have 15, 20 varieties of mango. It's incredible. Florida is so cool — the lushness and all these fruits we can have. Martina loves fruit. That's a good idea — I'll lure her with mango pudding or something.
You can pick the fruits together. 20 — wow. That's a lot of different varieties of mango.
I've got Indian mangoes, Florida mangoes, all kinds.
I know this farm is bigger than the last one. How big is this current farm?
This one, the size of the land is almost three times bigger, and it used to be a professional equestrian facility, so it was a ranch. There was this massive horse jumping arena in the middle, which I shrunk a little bit and planted fruit trees in a row and left [a place] for the future horse — maybe — a space to ride. There is a cow field [and] goat field.
I'm building things. I'm changing [it], and I love the feeling of the old farm that was very cozy. I'm trying to bring some things here, but the other place was more a house for people and less things for the animals. This is the other way around. It's a way smaller house, but super cute. But the animals have a blast.
Julia Lemigova is reentering the modeling world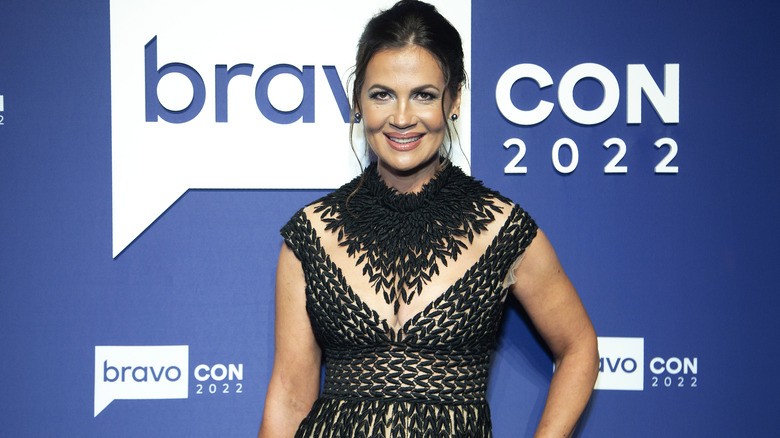 Santiago Felipe/Getty Images
Part of your narrative this season is also getting back into modeling. How does it feel to reenter the industry and be a part of breaking taboos that you've addressed surrounding age and sexuality?
I was very shy in the beginning because as people, we tend to be self-conscious a lot — doesn't matter how old you are. Imagine, at my age, going back to modeling ... But after thinking about it, I realized how much it could even help me to overcome my fears. If it's going to help me to overcome my fears, it probably will help somebody else. It doesn't have to be necessarily modeling — it can be in anything. It can be doing what you think you can or what you dream of doing.
Thank God, we're living now more and more in the era of acceptance and diversity. I know [the] fashion world, and at my time in the '90s, you couldn't come back at my age to fashion. But now you can, and you don't have to be that skinny anymore, so that's great. I am now back in the gym doing sport, doing boxing. All of that is a part of it, which is cool, and it's healthy for the mind and body.

You had shared that being in the closet earlier in your career felt like living a double life. The modeling world feels completely transformed to you now?
The modeling world was always open. Even when I was back in Paris in the '90s modeling, I was open about my sexuality with my model friends [and] the agency. That was actually where I felt the safest about my sexuality. The safe zone was my fashion world; [the] not safe zone was the rest of the people and the rest of the world.
In terms of everything else — like how your body looks, how skinny you had to be then — that was difficult because of so much pressure [and] the standards where, "If you're a model, you have to be this way." Now there are catalogs and there are beauty brands; there [are] so many. After my conversation with the agency, now I'm doing it full-time. I'm so happy to see how the industry changed. It's incredible. [The] world is becoming kinder, and I'm optimistic for that, which is great.
Do you see your daughters getting into modeling? Have they expressed interest?
They actually were modeling when they were younger, since they were babies. But I'm happy that they chose studying. My older daughter, Victoria, who's 21 now, did modeling when she was 15, 16. Then she's like, "Mom, I know how much modeling is ... It's a full-time, serious job, but you have to be in a certain place." She's studying and she's going to live in Washington. She chose her studies over that. My daughter Emma, who is now in Paris, is thinking about it. But I'm saying, "You study first." School there is also tough, so maybe she won't have time for it. Who knows?
The first four episodes of "The Real Housewives of Miami" Season 5 premiere on Peacock on December 8.

This interview has been edited for clarity.