Body Language Expert Unpacks Awkward Curtsy Scene In Meghan And Harry Netflix Doc - Exclusive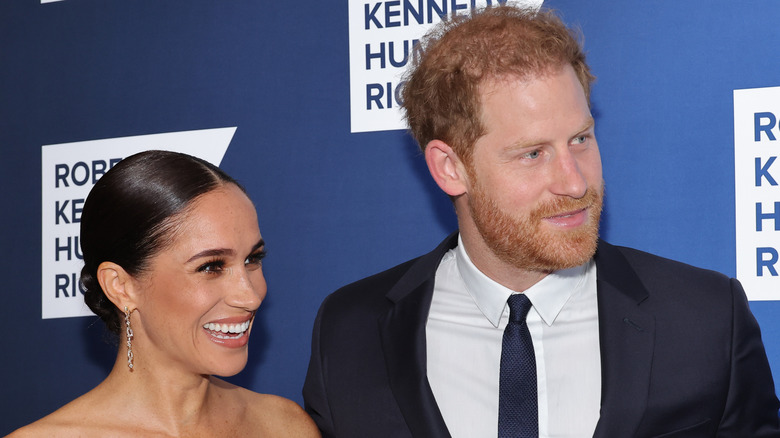 Mike Coppola/Getty Images
In their new Netflix docuseries, "Harry & Meghan," Prince Harry finally confirmed our suspicions about the royal family's attitude toward Meghan Markle's career. During the course of their conversation, which occurred in the second episode, the celebrity couple also looked back on how much of a culture shock it was for the former "Suits" star when she first joined The Firm. In particular, Meghan admitted she thought Harry was kidding about curtsying to the queen. 
"I remember we were in the car and we were driving up and he's like 'You know how to curtsy right?' And I just thought it was a joke," the Duchess of Sussex recalled. It's widely known that she found it incredibly tough to acclimate to life as a royal, which was part of what ultimately led Meghan and Harry to step down from their roles. As royal author Andrew Morton told podcast ToDiForDaily (via Express), "She just couldn't hack it. She didn't anticipate that it was difficult."
Morton even described it as "like trying to climb [Mount] Everest in flip-flops." There were plenty of surprising revelations from Netflix's "Harry & Meghan," but one of the biggest talking points surrounds Meghan playfully re-enacting a curtsy, which unsurprisingly has royal watchers up in arms (via Twitter). Body language expert Nicole Moore, who is the host of "Reality of Love" on BSpokeTV, exclusively revealed to The List what this moment really tells us about the royal defectors. 
Was the Duke of Sussex embarrassed by his wife's behavior?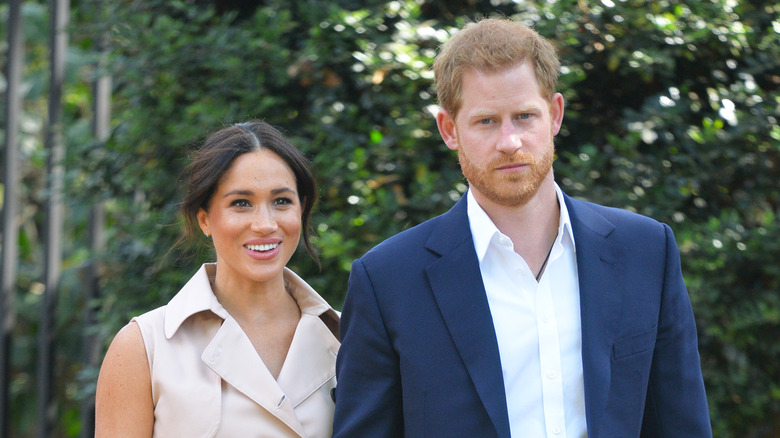 Pool/Getty Images
According to body language expert Nicole Moore, "Meghan [Markle]'s grand re-enactment of meeting the queen offers a rare moment where we see [Prince] Harry not fawning over Meghan." As Moore explained, when she starts doing the bit, the Duke of Sussex is initially supportive, watching his wife "unwaveringly" and "showing the steady stream of pro-Meghan support that we are accustomed to seeing from him."
But, the longer it goes on, the less enthused Harry seems by it. "As Meghan stays in a bowed position for a potentially cringe-worthy amount of time, we see a glimpse of Harry's true feelings at that moment," the host of "Reality of Love" on BSpokeTV noted. She added, "Harry darts his eyes upward and he smirks slightly but with tense lips. His face here indicates embarrassment, almost as if he wants to cringe on the inside a little bit." 
Although Harry warms up as Meghan finishes doing her curtsy, and even smiles at her with "genuine emotion and amusement," it's still somewhat forced and crucially his gaze shoots down once again. Moore argued, "His body language here shows a mixture of being slightly embarrassed but also slightly entertained. He is equal parts amused by Meghan while also at times, feeling like he needs to pull inward out of embarrassment."
As The Independent reported, viewers weren't impressed with Meghan's display either, with many deeming it to be in bad taste.
Meghan accused of mocking Queen Elizabeth II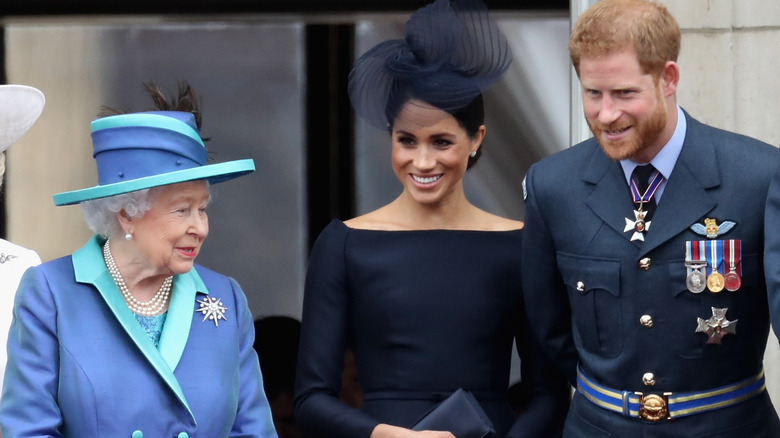 Chris Jackson/Getty Images
As viewers dissected the awkward curtsy moment, Markle Markle has actually been accused of "mocking" the late queen. Royal expert Gyles Brandreth, via Chronicle Live, called it "embarrassing," saying, "It is mocking — and nobody curtsies to the Queen like that, and nobody would have advised her to do it that way." He recalls the moment as "uncomfortable" but does explain that it is most likely due to a "cultural difference."
Blame it on their different upbringings, the intense propriety of the royal family, or even the editing, but one thing is for sure — "Harry & Meghan" definitely has some mixed reviews. The awkward curtsy moment isn't the only thing viewers have criticized the Sussexes for since their documentary was released. 
The couple has been accused of premeditating their criticisms of the royal family once it was revealed that they had begun recording themselves before they officially announced their separation, per the New York Post. On Twitter, one user called them "so cringe" for recording themselves, while another person tweeted a clip of Meghan's video diary with the caption, "Check out Meghan's terrible acting!"