Here's How To Start A Career As An Interior Designer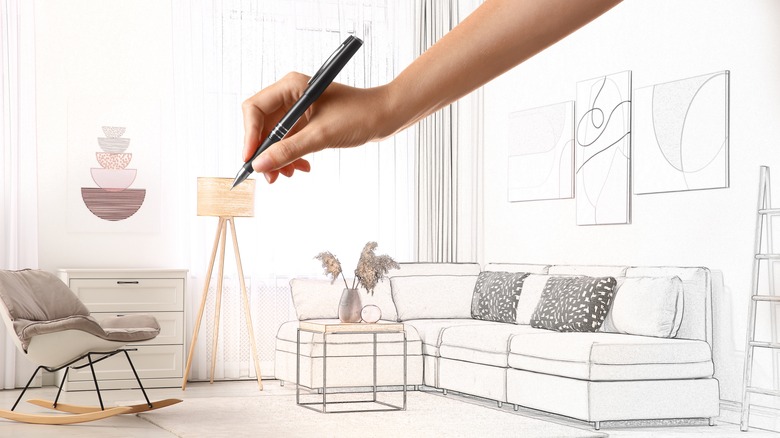 New Africa/Shutterstock
If you love sitting back on the couch and ogling at the finished dream homes on Extreme Makeover: Home Edition, or the thought of helping someone find matching color schemes and eclectic furniture for their new home excites you, it seems you have a passion for design and would likely enjoy a career as an interior designer.
A career in interior design can be very rewarding, both in helping your clients achieve their dream homes and financially. In 2021, Indeed reported that the average base salary for interior designers was $53,444.
But be ready to put in the work. Per the Society of British Interior Designers, picking out paint and sofas is just one part of the job description. Interior designers are also in charge of adhering to building codes, providing helpful and accurate advice to the homeowner, placing time-sensitive orders, and much more. It can be hard work, but when you love what you're doing, is it really considered work? 
So if this sounds like the job for you, you'll be pleased to know that starting a career as an interior designer is achievable for any passionate artist.
Most interior designers land their first job with a bachelor's degree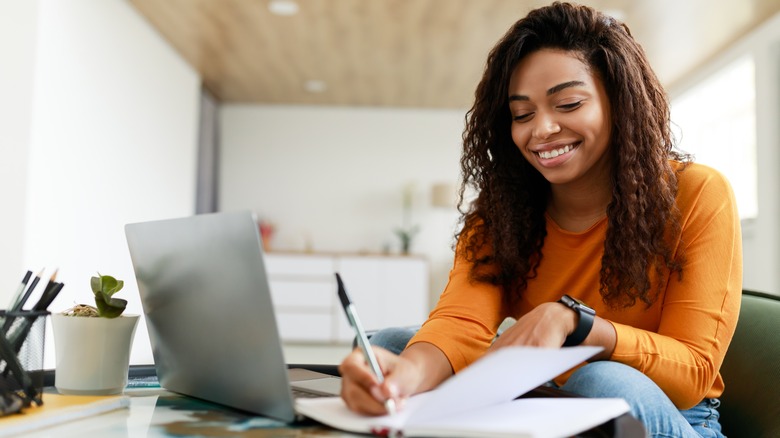 Prostock-studio/Shutterstock
If you want to become an interior designer, be prepared to hit the books. As reported by the U.S. Bureau of Labor Statistics, most entry-level interior designers land their first job with at least a bachelor's degree on record, with the most typical field of study being fine arts. You'll want to get as much experience as possible during your studies. Choosing fine arts as your major will get you access to courses that relate closely to the work you'll be doing as an interior designer.
While licensing requirements can vary from state to state, obtaining your interior design license is something you should consider. NCIDQ Interior Design Certification signals to potential employers that you are knowledgeable of the things you need to know to successfully complete a project, plus it places you in a select community of professional interior designers — which looks great on your resume.
Once you complete your degree, it's time to start looking for a job in the field.
Gain experience by joining a design firm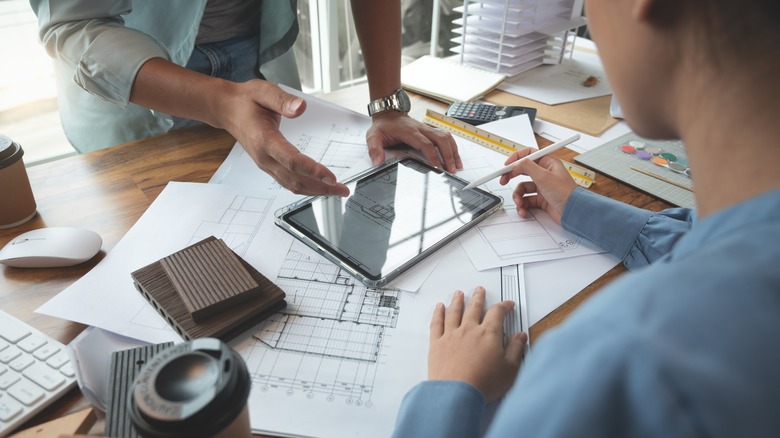 Sorn340 Studio Images/Shutterstock
Even though you have the proper education, there is another step you need to take before you become the next Joanna Gaines. You'll need to start gaining experience in the field and building your clientele. After all, you can't start designing someone's dream home without customers knowing you're available for work and that the work you do will exceed their expectations.
One way to start getting your name out there is by joining a design firm (via HowToBecome). This is an excellent way to jumpstart your career because you'll get to work with a team of more experienced interior designers who will be there to support you as you learn the ropes. You'll not only get experience, but you'll also get insider knowledge from your superiors. Searching through your favorite job boards will help you find a company that's the right fit for you.
One final thing you can do to prepare for your career as an interior designer is to brush up on the industry software. Per the New York Institute of Art and Design, AutoCAD and SketchUp are two of the more popular programs used in the interior design business. You can get a leg up on your competition by learning the software now before you start your job hunt.