Types Of Looks You Can Create Using The ColourPop X High School Musical Collaboration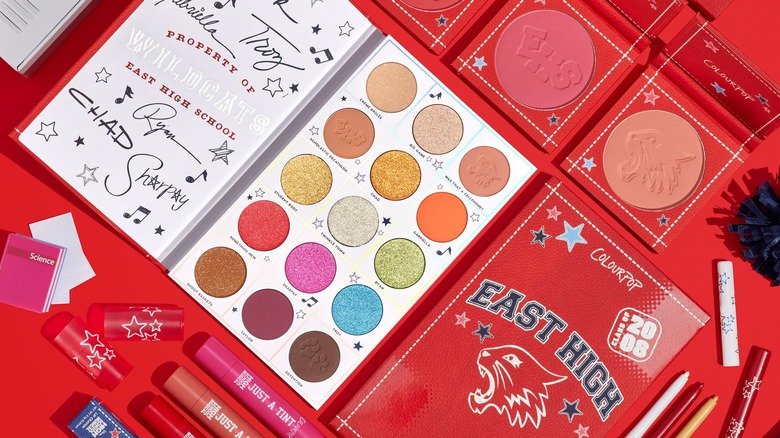 ColourPop
Founded in 2014, ColourPop describes itself as a makeup brand recognized for being cruelty-free and budget-friendly. As explained by Fashionista, the company became popular through social media, with beauty gurus and makeup artists raving about the colorful products on Instagram and YouTube.
According to fans of the products, ColourPop is not only well-priced but high-quality, an often hard-to-find combination (via The Talko). Though the brand is generally well-liked, they have had several controversies as well, many of which concerned alleged racism or racial insensitivity. However, the company still thrives and is known for its many collaborations, working with celebrities, influencers, and brands to create custom and limited-edition makeup items. ColourPop has often collaborated with Disney, releasing several title-specific lines such as TinkerBell x ColourPop, Lizzie McGuire x ColourPop, Winnie the Pooh x ColourPop, and Hocus Pocus 2 x ColourPop.
In August 2022, ColourPop also released a super nostalgic line of products, working again with Disney to release High School Musical x ColourPop. The entire line consists of three Just A Tint Lip Crayons, three shades of Pressed Powder Blush, a trio of Show Biz Crème Gel Liners, and a 15-shade Pressed Powder Palette, all inspired by the 2006 film. With so many bright and shimmery colors in the palette, the line has the potential for so many great makeup looks. If you're searching for inspiration, you've come to the right place. 
The 'High School Musical' ColourPop palette is perfect for colorful looks
Out of the 15 shades in the High School Musical x ColourPop palette, 10 are shimmery swatches, including colors of bright blue, hot pink, golden orange, and bronze. Paired with the Wild Cat-themed gel pencils, which come in red, gold, and white, the line lends itself well to colorful makeup looks.
Some creative examples are featured on the official ColourPop TikTok page in a video from user @sourandnasty. Consisting of three looks, the video shows how you can utilize the shades "Gabriella," "Sharpay," and "Taylor." Though all three designs really shine, our favorite has to be the Gabriella look because of its clever use of white space in the winged eyeshadow.
If you want a more in-depth tutorial for your makeup inspiration, check out the YouTube video from Breyonna Faye, who creates two distinct eyeshadow looks that could be worn separately or together. The pink design definitely uses the hot pink Sharpay color well, but the blue and green combination is totally eye-catching. Makeupbytreenz has a great tutorial and review for an all-pink, Sharpay-inspired look. This design also uses the red crème liner, called "Spring Musical," the "Playoffs" blush, and the "Pop and Lock" lip tint, creating an overall fun and pink design.
The HSM palette can also be used for everyday makeup looks
While the bright and colorful shades of the High School Musical x ColourPop makeup line are great for bold eyeshadow looks, you can also create some more toned-down designs for everyday wear.
TikTok user @saraagodshall shares a super cute look that features the iconic "Sharpay" pink but in a more wearable and simple style. This eyeshadow combination would also work really well paired with either the "Status Quo" or "Pop and Lock" lip tints and whatever powder blush best suits your skin tone.
YouTuber Marissa Estrella also shares a very wearable look in her try-on video, pairing peachy matte tones with the shimmery swatch "Twinkle Town." The look is finished off with the white gel eyeliner and the "Status Quo" lip tint, which really brings it all together. While this is a more subtle look than the previously mentioned, it still features that Wild Cat shine.