How To Prevent Your Favorite Gold-Plated Jewelry From Tarnishing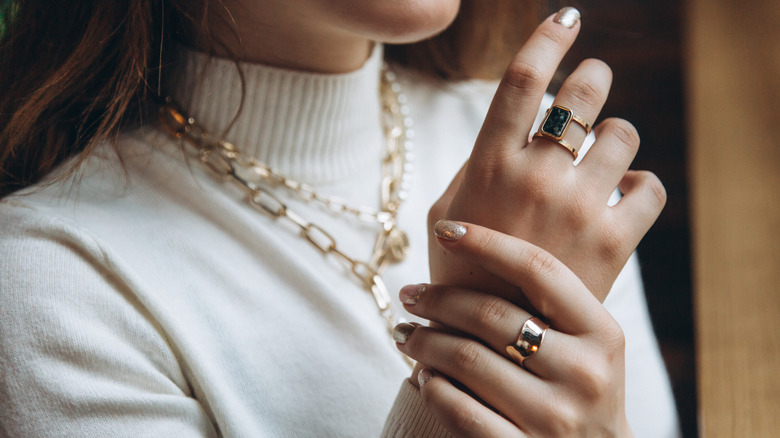 Kristina Holovach/Shutterstock
Let's face it, gold-plated jewelry comes in handy. For instance, shopping for gold-plated jewelry is an inexpensive approach to expanding your jewelry collection. This way, you can keep up with all the latest jewelry trends without breaking the bank. While its budget-friendly price tag is a plus, the downside of gold-plated jewelry is that it tends to tarnish easily. Without the proper care, your gold can become bronze rather quickly. However, Byrdie assures your jewelry can last for years with regular maintenance.
Gold on its own does not tarnish, according to Moon Magic. Solid gold, however, is soft, making it too delicate for practical wear. With plated jewelry, it is the base metal covered with gold that causes the gold layer to fade. Luckily, there are ways to maintain your gold-plated jewelry. We are here with the best way for cleaning your jewelry and preventive methods to keep your fashion statements from tarnishing.
Tips for cleaning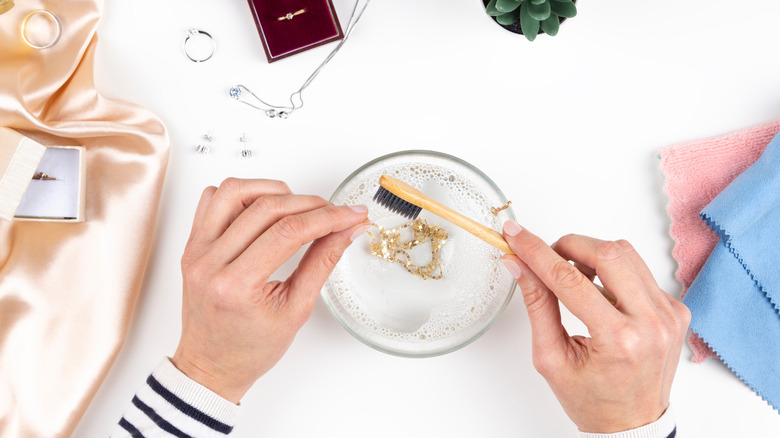 Veja/Shutterstock
There are a few simple ways to maintain your gold-plated pieces. The first is cleaning your jewelry after every wear. Byrdie suggests using a microfiber cloth with your cleaning solution. This will prevent any scratching. You will also have to deep clean your jewelry from time to time. Luckily, it will only take a few minutes. In a mixture of gentle soap and warm water, give your bling a short bath. This will remove any stuck dirt and grime, and with your trusty microfiber cloth, dry off your jewelry.
If your jewelry has gems, The Spruce suggests opting for an alternative to soaks. With inexpensive jewelry, stones are typically glued on. Soaking these pieces can wear away that glue. Instead, soak a cotton ball in dish soap and warm water before using it to remove any oils or debris. Cleaning your jewelry will help to maintain the layer of plated gold. There are things you should avoid to prevent that layer of gold from wearing away as well.
Ways to stop tarnishing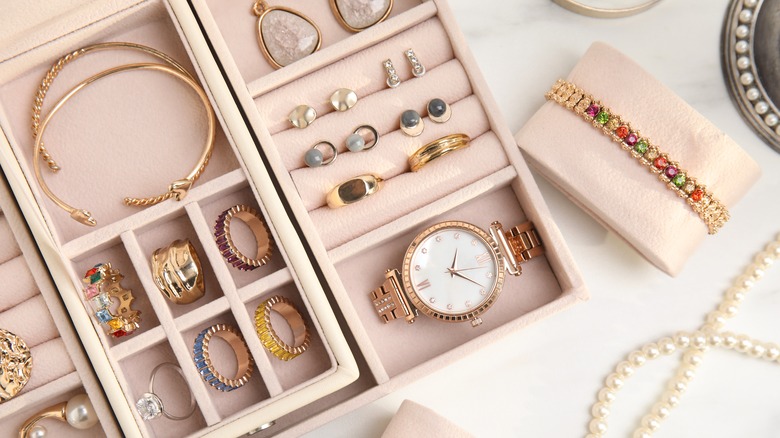 New Africa/Shutterstock
Base metals of your plated jewelry are reactive to things like salt water and acids, according to Moon Magic. Even inescapable stuff, like your body's pH levels or pollutants in the air, can contribute to the discoloring of your jewelry. To avoid this as best as possible, Byrdie recommends keeping your jewelry away from lotions, perfumes, water, and sweat. That doesn't mean you'll have to sacrifice your favorite fragrance for a bracelet. Simply lather on your lotions and perfumes with enough time to dry before layering on your jewelry. When it comes to showering, swimming, and exercising, you'll have to skip the gold-plated pieces. However, there is workout-approved jewelry to exercise in style.
After a long day of protecting your jewelry from sweat and lotion, then cleaning it, you'll have to be sure to store it properly. Real Simple suggests individually wrapping your pieces before placing them away. You want to avoid your jewelry from rubbing against each other. It may take some work, but it'll be worth it when your jewelry holds up and still shines like new. For those who are team silver, check out the best way to clean your silver jewelry, too.