Here's How Jessica Biel Stays In Shape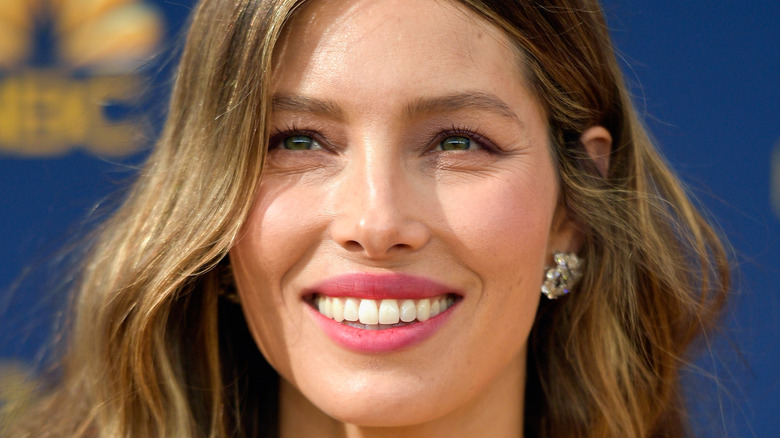 Matt Winkelmeyer/Getty Images
There are a few famous Jessicas; Jessica Alba, Jessica Simpson, and of course, Jessica Biel. Biel is a well-known actor whose role as the super sporty Mary Camden, in the TV series "7th Heaven," was her breakout, according to the LA Times. However, it may surprise you to learn that Biel's athletic capabilities weren't faked for the show. In an interview with ESPN, the actor shared: "Playing sports helps me de-stress. When I run, play soccer or volleyball, or take a swim, it helps me maintain a calm, peaceful lifestyle in a very crazy, manic world." 
Perhaps that's partly what inspired Biel to start her wellness brand. Even when she's working on big-time projects such as "Candy," "Total Recall," and "The Texas Chainsaw Massacre," she is staying fit. Biel revealed her training for "Blade: Trinity," for instance, was incredibly intense. "I was learning martial arts and learning to shoot a crossbow and going to a gym to work with a trainer. Those three activities pretty much every day," as she recalled. At work and at play, Biel loves to break a sweat. And we have the latest on her exercise routine. 
Jessica Biel's workout routine is super challenging
If you want to mimic the stunning star's fitness lifestyle, be prepared for the sweat and pain. According to Women's Health magazine, plyometrics is a key part of Jessica Biel's workout routine. Jump squats are one way the movie star gets in her strength training. The exercise consists of starting with regular squats, but instead of simply lifting up to the starting position, you engage in a jump. Jump exercises are an efficient way of burning a large number of calories and improving athleticism, too.
Along with the high intensity of plyometrics, Biel incorporates yoga into her routine, too. As the actor shared with Shape: "I like that yoga is just me with myself, my practice, and wherever my practice is in that moment on that day, then that's where it is." In fact, Biel admitted: "Sometimes if I want to sit still and lie in Savasana for 20 minutes, then that's my practice for the day." Savasana is one yoga pose every beginner should know. For Biel, yoga connects her to her body while getting her ligaments and joints moving.
Elsewhere, the "Candy" star also loves hiking outdoors so she can get some fresh air while still challenging her body. 
There are many benefits to yoga and plyometrics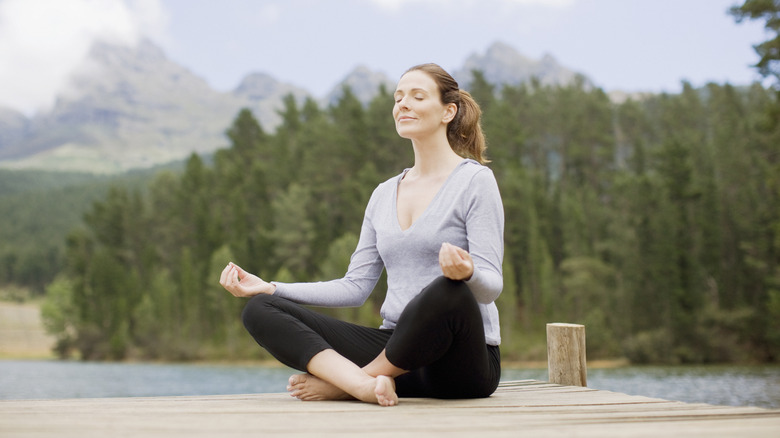 Sam Edwards/Getty Images
The ancient practice of yoga has many benefits. According to Harvard Health, yoga aids in heart health and increases flexibility, muscle strength, and endurance. The advantages of partaking in yoga are more than just physical, too. Yoga helps to connect the body and the mind. People who regularly practice yoga, like Jessica Biel, can create a more mindful relationship with their bodies. This can lead to improved eating habits which can help with maintaining a healthy weight. Likewise, the workout also decreases tension and anxiety.
Funnily enough, plyometrics is almost the opposite of yoga. It's a high-intensity exercise much like the EMOM workouts. Plyometric exercises are geared toward muscle training to increase strength and efficiency, per Medical News Today. Workouts like these are likely what gets Biel ready for intense action roles. Plyometrics can help you attain greater power output with less energy consumption, leading to improved agility, speed, bodily focus, and control. And, with Biel's yoga and plyometrics, you get the best of both worlds.