Jonathan Bennett Says The Holiday Sitter Is The Gay Version Of This '80s Classic - Exclusive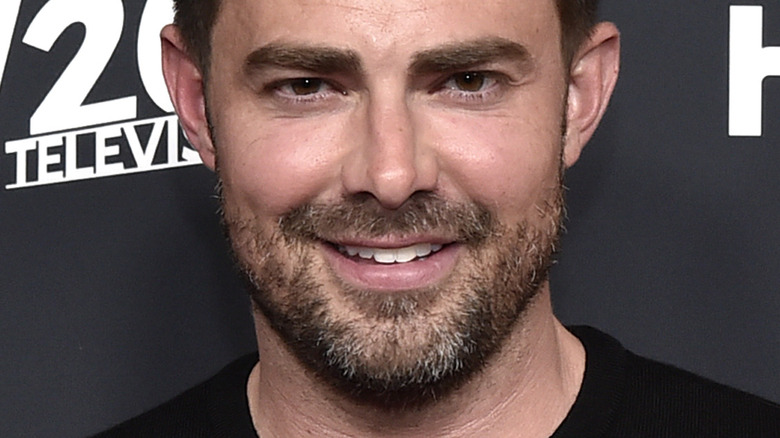 Rodin Eckenroth/Getty Images
Jonathan Bennett has the honor of starring in and producing Hallmark's first LGBTQ+ Christmas rom-con, "The Holiday Sitter," and he had a specific vision going into the project. Everyone has a handful of movies they watched at a young age that stick with them, and the same can be said for actors. Those films can even help inform their vision when they have creative control over a project.
Bennett is a Christmas movie legend, as well as an LGBTQ+ icon. LGBTQ+ projects are always more powerful when a member of the community is helming them, and Hallmark kicked off the channel's very first LGBTQ+ Christmas rom-com with that in mind. Meanwhile, Bennett thought of another Christmas classic when approaching this movie. The List spoke to Bennett during an exclusive interview, where the actor discussed which '80s movie helped inspire "The Holiday Sitter" and why he keeps coming back to Christmas movies and the Hallmark Channel. 
Gay Uncle Buck
At the request to describe "The Holiday Sitter" with three words, Jonathan Bennett said, "Gay 'Uncle Buck.'" For those who've yet to see "Uncle Buck," the film centers around the titular Uncle Buck (John Candy), a childless and immature uncle, having to look after his nieces and nephew. In the process, he has to grow up. Now, add a meet-cute between two men, and viewers have the barebones of "The Holiday Sitter."
Along with this inspiration, Bennett reflected on why he keeps coming back to Hallmark Christmas movies, and if you ask him, one of the biggest reasons is that Christmas movies are for everyone. "What keeps me coming back to Hallmark Channel is their support and their love in the way they support their talent and help their talent tell stories," Bennett said. "For 'The Holiday Sitter,' it was important for me to tell a story of a guy that felt and looked like me."
For the first time ever, so many people are able to see themselves on screen, and that's an incredibly powerful thing. "My character is Sam, and he's a gay man living in New York City, who doesn't come home for the holidays that much," Bennet said, "but he ends up having to come home for the holidays [to] babysit his niece and nephew. Through doing that, he learns what it's like to have a family and be part of a family at the holidays, and [it] changes his heart and mind."
Christmas and Hallmark are for everyone
Along with showing an LGBTQ+ story on screen, Jonathan Bennett also looks forward to the impact a story like this will have for members of the community. "It was important to tell a story of someone that looked like me on screen doing that. I think so many people are going to watch this movie and feel the same way," Bennet said. "What's different about 'The Holiday Sitter' is that there are two men [who] fall in love, and we make history on Hallmark Channel because [it's] the first time there's been an LGBTQ+ meet-cute Christmas rom-com with a leading gay storyline. That's never happened before." 
While there has been progress in regard to LGBTQ+ representation during the holidays, like with Hulu's "Happiest Season" (a rom-com about a woman meeting her girlfriend's family), LGBTQ+ stories are not a monolith, and they are still underrepresented in media. "The Holiday Sitter" is the first of its kind for Hallmark, and being the first of anything can be daunting. Despite the pressure, Bennett couldn't be more excited. "We're going to make history, but it's also important that this movie is made and that the stories are told, but it's not a movie made just for the LGBTQ+ audience," Bennet said. "It's a movie made for everybody. 'The Holiday Sitter' is for everyone, just like Hallmark Channel is for everyone, and Christmas is for everyone."
"The Holiday Sitter" premieres Sunday, December 11 at 8:00 p.m. ET (7:00 p.m. CT) on Hallmark.