Jonathan Bennett On Starring In Hallmark's First LGBTQ+ Christmas Rom-Com - Exclusive Interview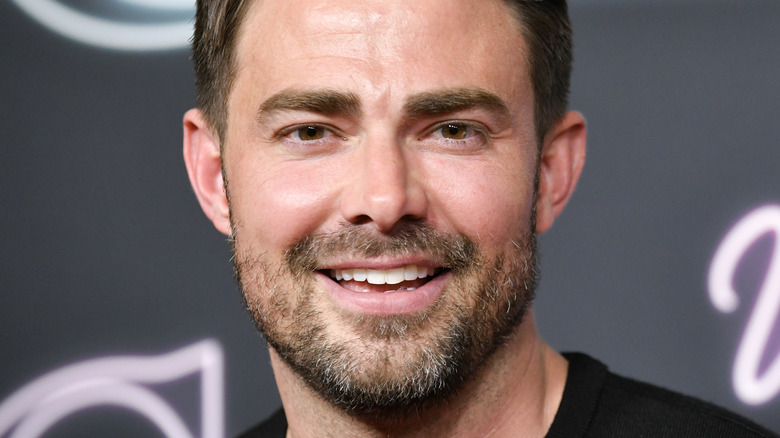 Rodin Eckenroth/Getty Images
It's a new era for Christmas movies, and the genre is finally becoming as diverse as its audience. Hallmark has made great strides recently to showcase different voices, religions, LGBTQ+ identities, and races in its popular slate of Christmas movies and beyond. The latest installment in this endeavor is the LGBTQ+ rom-com "The Holiday Sitter."
Actor Jonathan Bennett (Sam) stars alongside George Krissa (Jason) in this family-focused gay meet-cute movie. Fans likely watched Bennett star in "Mean Girls" as Aaron Samuels — the romantic love interest of Lindsay Lohan's character, Cady Heron. But Bennett is anything but a Christmas movie newbie. He's done movies like "The Christmas House" and its sequel, "Christmas Made to Order," "A Christmas Kiss II," and "A Dogwalker's Christmas Tale." He also scored roles in films like "Cheaper By the Dozen 2" and "The Assistants." In addition to his film roles, Bennett has appeared on shows like "Smallville," "Veronica Mars," "Awkward," and "Supergirl."
The List spoke to Bennett for an exclusive interview, where he discussed starring in and producing "The Holiday Sitter," making LGBTQ+ history on Hallmark, and the joys of taking on these projects compared to his hefty body of work. He also pitched an epic "Mean Girls" Hallmark movie starring Lindsay Lohan and Lacey Chabert.
Making LGBTQ+ history on Hallmark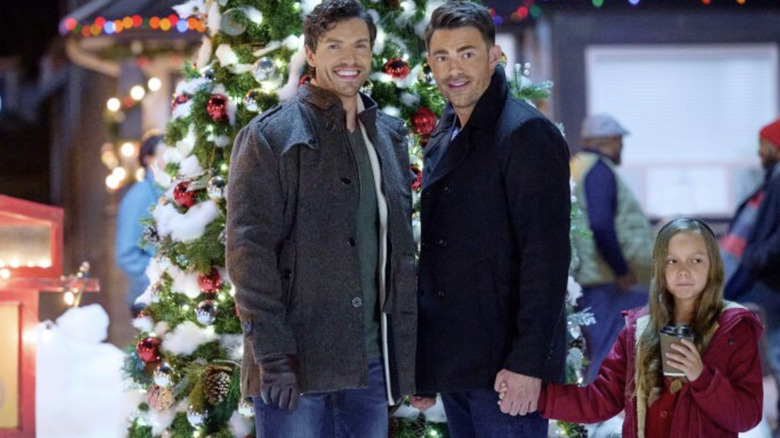 Hallmark
Can you describe The Holiday Sitter with three words?
Gay "Uncle Buck."
Interesting, okay.
Do you know what "Uncle Buck" is?
I have no idea.
Oh my God, I am so old. "Uncle Buck" is a very funny movie with John Candy from the late '80s, early '90s.
What keeps you coming back to the Christmas genre, and what are you most excited for fans to see in "The Holiday Sitter"?
What keeps me coming back to Hallmark Channel is their support and their love in the way they support their talent and help their talent tell stories. For "The Holiday Sitter," it was important for me to tell a story of a guy that felt and looked like me. My character is Sam, and he's a gay man living in New York City who doesn't come home for the holidays that much, but he ends up having to come home for the holidays [to] babysit his niece and nephew. Through doing that, he learns what it's like to have a family and be part of a family at the holidays, and [it] changes his heart and mind.
It was important to tell a story of someone that looked like me on screen doing that. I think so many people are going to watch this movie and feel the same way. What's different about "The Holiday Sitter" is that there are two men that fall in love and we make history on Hallmark Channel, because [it's] the first time there's ever been an LGBTQ+ meet cute Christmas rom-com with a leading gay storyline.
That's never happened before. We're going to make history, but it's also important that this movie is made and that the stories are told, but it's not a movie made just for the LGBTQ+ audience. It's a movie made for everybody. "The Holiday Sitter" is for everyone, just like Hallmark Channel is for everyone and Christmas is for everyone.
Wanted: A Mean Girls holiday reunion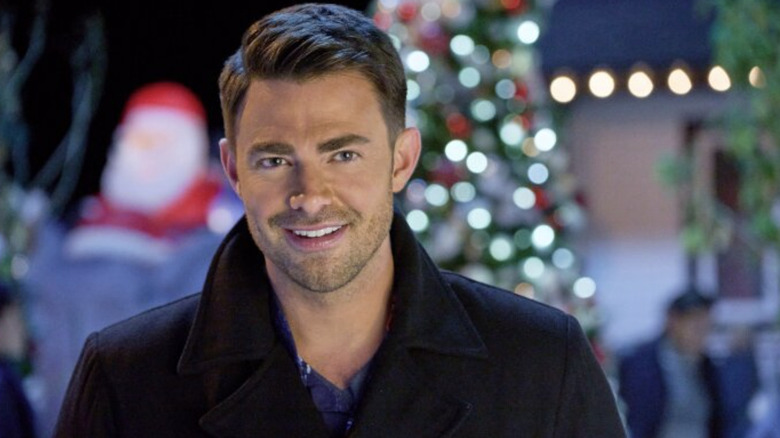 Hallmark
There was a pretty big holiday element to "Mean Girls," and Lindsay Lohan just did a Christmas movie. Would you ever want to do a Hallmark Christmas movie with her or any of the other "Mean Girls" cast?
I am 100% down to do a Christmas movie with anyone from "Mean Girls." I'm praying and waiting for the day that Lacey Chabert and I get to reunite on camera in a Christmas movie. I keep putting it out there to the network to find the right project for that, but I would always love to do a movie with Lindsay Lohan. There's never a time I don't want to do a movie with Lindsay Lohan.
What kind of plot would you like for that?
What's funny is that I wouldn't want to fall in love [with Lohan's character], because the world's seen us do that. It would be different — maybe we play brother and sister, best friends, something different than us falling in love because they've already watched us [do that]. Maybe I fall in love with Lacey Chabert on camera, because she was a friend on "Mean Girls," and we flip it. I don't know.
That would be amazing. What are some of the biggest differences between movies like "The Holiday Sitter" and "Mean Girls," or shows like "Awkward"? What are some of the joys of all of those different [projects]?
Oh my gosh, "Awkward." Well, the biggest difference between some of the projects I've done like "Mean Girls" and "Awkward" is that Hallmark Channel does something very unique and special that's different than everyone else, and that is [that] Hallmark Channel tells stories that lead with love. They're based in love, and they're based in family, and they're based in joy. That's what makes this network so special, and that's why everyone wants to watch them at the holidays, because you can't have Christmas anymore without Hallmark Channel. It's not possible.
To be able to be involved in storytelling ... I got to executive produce "The Holiday Sitter" and come up with a story and take it from its conception, when I said, "Hey, I want to do gay 'Uncle Buck,'" to the movie we have on screen — which is a completely different movie than that, but it's adapted. To be able to tell these stories that bring joy to so many people, it's the best feeling in the world.
Congratulations on bringing such an important story to the forefront.
Hey, first LGBTQ+-led Christmas movie [on Hallmark]. That's the headline.
"The Holiday Sitter" premieres Sunday, December 11 at 8:00 p.m. ET (7:00 p.m. CT) on Hallmark.
This interview has been edited for clarity.