Get The Perfect Winged Eyeliner With This TikTok Makeup Tip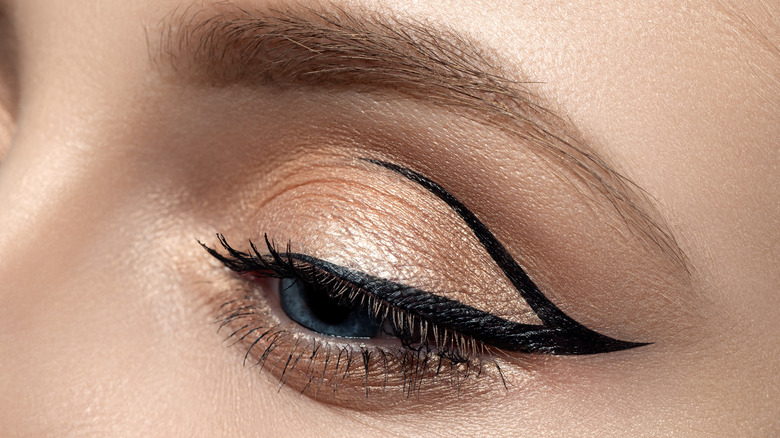 ldutko/Shutterstock
The perfect balance between sexy and elegant, winged eyeliner is one of the easiest ways to make a dramatic statement on a night out while still looking like you didn't try too hard. There's a reason that many celebrities have chosen a cat-eye as their go-to red carpet look, including stars as varied and wide-ranging as Audrey Hepburn, Adele, and Ariana Grande (via Glamour). That said, while rocking a flawless cat eye may seem simple conceptually, executing it is anything but. 
Perfecting the cat eye takes confidence, skill, lots of practice, and the steady hands of a surgeon — there's even a MasterClass dedicated to it. Thankfully, while crafting an impeccable cat eye is challenging, it's not impossible. Make-up artists and beauty gurus alike have offered hacks to make this skill more attainable for people with less eyeliner experience. One TikTok user even shared a game-changing trick that will make nailing your cat eye easier and more efficient than ever. 
Starting your feline flick from below your lid may resolve your eyeliner woes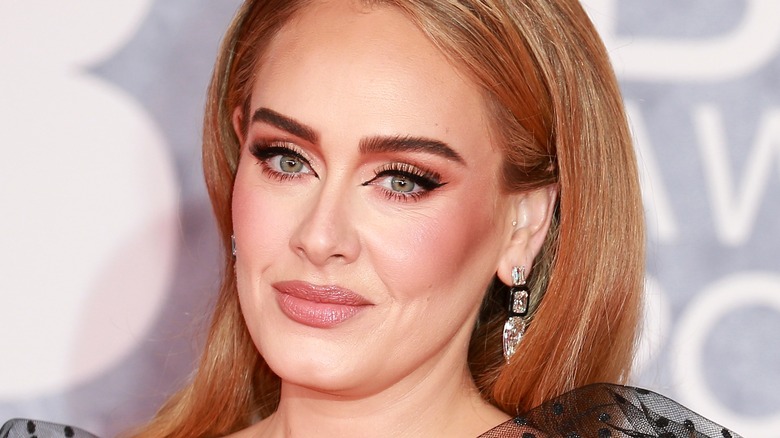 Fred Duval/Shutterstock
Picture this. You're sitting in front of your mirror, feeling a little nervous. You draw your shaking hand across the top of your lid, doing your best to recreate the feline flick that you've seen Adele rocking on countless occasions (via Us Weekly). But every time you attempt winged eyeliner, you never quite nail the look, and you can't figure out where you're going wrong. First off, as weird as it sounds, one of the eyeliner mistakes you're probably making is starting your cat eye from the wrong part of your lid.
User @lenkalul took to TikTok to aid the many people out there who need help honing their eyeliner craft. Notably, rather than starting from the top of the eyelid and drawing downward and out, they started from under the lid and drew the wing upward and out. The TikToker, who credited this clever makeup hack to another user, @DONNI, creates a perfectly sharp tip. If you've consistently struggled with winged eyeliner in the past, make sure to give this innovative strategy a try, and see if it ups your eyeliner game. 
Makeup wipes are the perfect tool to shape your liquid-lined eyes
TikTok user @lenkalul's winged eyeliner hack is great for those who like drawing their cat eye on with a pencil — but what if you prefer to use a liquid liner? Thankfully, Reddit user @makeupaddiction shared her "best eyeliner hack" on the platform. "I do my eye makeup before my foundation, I make a messy wing, then I grab a make-up wipe, fold it and wipe the eyeliner into a sharp edge," the user revealed. "Quick, easy, foolproof." According to Allure, this make-up hack has circulated across the web and is now a tactic used by many. 
Esteemed makeup artist Bobbi Brown also recommends utilizing this trick in her MasterClass devoted to executing "flawless eyeliner." Further, not only must you match your winged eyeliner to your eye shape, but you should also base it around your skin type. While it may be easier to achieve a more striking look with liquid liner, a pencil is a better tool for individuals with older skin. According to Brown, the bold lines that are created when using liquid liner will "inevitably end up looking a bit wobbly" because "the skin around the eyes is thinner and looser." A pencil and eyeshadow will create a subtler look.