UK Poll Shows Prince Harry And Meghan Markle's Popularity Is Worse Than Ever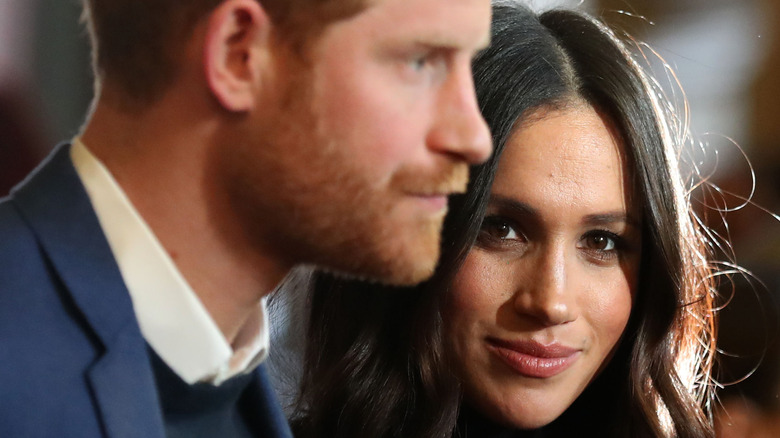 Wpa Pool/Getty Images
Since Prince Harry and Meghan Markle, the Duke and Duchess of Sussex chose to step away from their royal duties and made their way to California, they have been facing backlash. The couple quickly fell out of favor with the British public, but things went downhill even further when they chose to sit down with Oprah Winfrey for an in-depth interview where they made shocking allegations (via Yahoo! News).
It appears Harry and Meghan have been trying to do damage control since they found themselves in an unfavorable position with the public. They chose to tell their story on their own terms per a Netflix documentary series titled "Harry & Meghan." However, many royal experts and fans alike have found that this documentary hasn't put them back in the public's good graces like the Sussexes may have hoped (per Wales Online).
Now, a new survey has found that Harry and Meghan may be less favorable than ever. Fans have been bashing the Netflix series, and it appears to be spilling over into the couple's already low popularity with the British public.
Harry and Meghan are seeing a hit in their popularity following their Netflix documentary
Chris Jackson/Getty Images
A recent survey conducted by YouGov shows how the British public really feels about members of the royal family and the results are not looking good for the Duke and Duchess of Sussex, Prince Harry and Meghan Markle.
YouGov asked a group of randomly selected United Kingdom citizens to share if they felt negatively or positively about each member of the royal family. Since "Harry & Meghan" came out, 59% of those surveyed had a negative opinion of Prince Harry, a new low for the once-beloved duke.
Meghan, who has never had it easy in the British public eye, has a 25% approval rating. The couple is barely above Prince Andrew, the disgraced son of Queen Elizabeth II, who has a 7% approval rating.
According to the Daily Mail, much of the negative pushback Harry and Meghan have faced from their Netflix documentary comes from their candid experience with the royal family that comes off as attacks. This has led William and Catherine, the Prince and Princess of Wales, to rise in popularity as the Sussexes slump.