Does TikTok's Dry Shampoo And Water Hack Really Do Anything For Your Hair?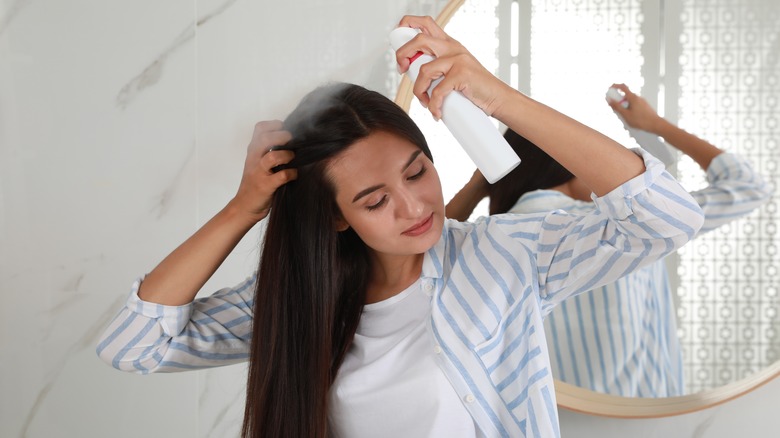 New Africa/Shutterstock
Do you have oily hair? Many women do, so they wash it daily while others use dry shampoo as a solution. If you have used dry shampoo before, you know it's designed to absorb oil on your scalp while giving it a voluminous oomph, but sometimes that oomph lasts only a day or two before you have to revert back to regular shampoo. 
WebMD claims that "experts recommend using dry shampoo no more than two days in a row." So if your hair is extra oily, you've probably made peace with the fact it will always inevitably need to be washed several times a week to prevent it from looking greasy, flat, and dirty. 
TikToker @_alexjames knows the oily hair struggle all too well, but according to a hack she shared on TikTok, you might not have to wash your hair several times a week after all. The trick involves dry shampoo and water, and she claims it can keep your hair looking and feeling fresh for several days. The video went viral and inspired others to try the trick, but does it really do what she says it does?
Full breakdown of the dry shampoo and water hack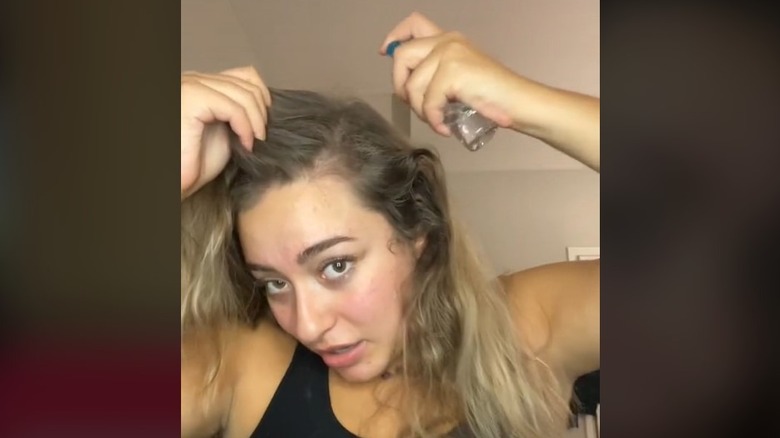 Alex says in the original TikTok post that with just one application of dry shampoo and water, she was able to go four days without washing it. She claims this method prevents the hair from feeling gritty, which sometimes happens with multiple dry shampoo applications. In response to viewer comments, she created a series of videos over a few days to explain and demonstrate each phase of her dry shampoo routine.
In her "Prep for Day 1 Hair" post, she explains how she first washes her roots two to three times with regular shampoo at night and lets it air dry. The following evening, she sprays dry shampoo on her roots in sections and waits about two minutes before massaging it into her scalp, as she demonstrates in her "Prep for Day 2 Hair" video. She ends the video by spraying the same areas that she applied the shampoo and rubs it in.
Alex provided a "Part 3" video to demonstrate how she twists her hair to keep it wavy after applying the dry shampoo and water. After sharing daily video updates, she shared a final "Part 4" video to show how her hair looks four days after applying the dry shampoo. She describes it as "greasy" and in need of a washing, but she claims it would be even greasier if she never used dry shampoo.
What others are saying about the hack
TikToker @_alexjames claims the dry shampoo and water hack worked for her, but does it work for others? In response to her "Part 4" video, one user commented that she was "almost in tears" after trying the trick. She, too, has had oily hair for years, but she said the dry shampoo and water routine allowed her to go three days before she washed it. She added that she could've gone even longer.
POPSUGAR's Renee Rodriguez also tried the hack and said it made a major difference for her hair. "It was a vast improvement from what it usually looked like after days of not washing and only using dry shampoo," she said. She describes it as "a total game changer" that allowed her to go six days without washing her hair.
TikToker @jacimariesmith and veteran stylist Michael Dueñas also gave their two cents on the trick. In her TikTok video, Jaci said, "I feel like it helped a lot. This looks like how my hair looks the day after I wash it." Dueñas told Byrdie that he's been using dry shampoo with water for years. He claims the dry shampoo binds to the hair, which is what causes the hair to be "fuller, thicker, and more voluminous."