Prince Harry's Old Friend Says She No Longer Recognizes Him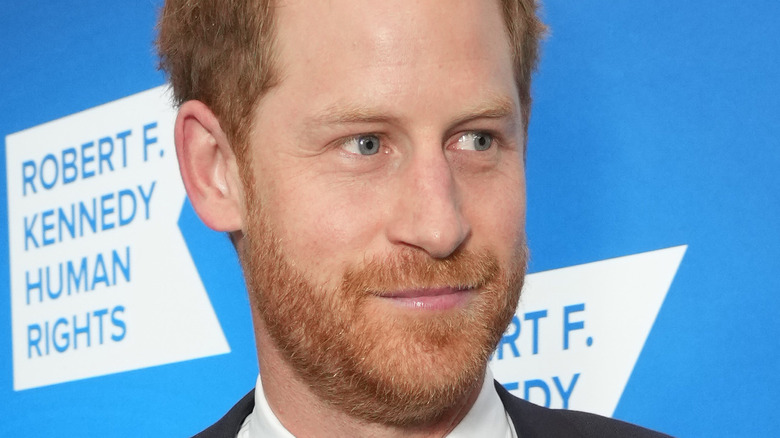 Kevin Mazur/Getty Images
Back when Prince Harry and Meghan Markle's love story first began, various reports insinuated that Harry's pals didn't approve of his then-new girlfriend. Apparently, Meghan's progressive views tended to clash with theirs. "Her politics are an issue. She is ultra-liberal and that trendy-lefty stuff does not go down well with some of Harry's friends," Lady Colin Campbell, a writer, and Princess Diana's former confidante, told the Daily Beast in 2018. "He has introduced her to them all at parties and weddings and private dinners, but she is very anti — a lot of the things that their world functions upon."
What's more, Tom Bower asserted in "Revenge: Meghan, Harry and the War between the Windsors" that Harry's friends allegedly thought he was "f****ing nuts" for choosing to date the former "Suits" star in the first place. When she initially met them, Meghan reportedly "challenged every guest who contravened her woke values," per excerpts obtained by The Mirror. Although Catherine Ommanney, the former "Real Housewife" who claims she had a fling with Harry, was kinder towards the Duchess of Sussex, Ommanney also admitted that she doesn't appreciate how Meghan has changed her husband.
Catherine Ommanney thinks Meghan Markle has Harry under her 'spell'
Catherine Ommanney claims to know Prince Harry due to a past fling, but upon watching "Harry & Meghan," his Netflix docuseries with wife Meghan Markle, she acknowledged barely even recognizing him anymore. In an interview on "Piers Morgan Uncensored," the former reality star claimed that the Duke of Sussex was behaving differently "personality-wise," on the first three episodes of the show, which were released last week. 
As Ommanney explained, "When I watched him [on] the show, I just thought, 'Why?'" Regardless of not knowing Harry for a very long time, if at all, she came to a conclusion about why he changed: "My mother will really hate me for saying this ... But it's almost like she's got a spell over him. And that's why I don't recognize him because he used to be so down to earth and normal, and there's so little of him I actually recognized."
Ommanney's observation is reminiscent of Tom "Skippy" Inskip's stance on the Duke and Duchess of Sussex's relationship. As related in the biography "Finding Freedom: Harry and Meghan and the Making of a Modern Royal Family," Skippy, who was a friend of Harry's from school, apparently told his friends that "Meghan has changed Harry too much" (via Express). In fact, Skippy even worried that "we've lost him" completely.