Days Of Our Lives Fans Are In Agreement Over The Clown Kidnapper Plot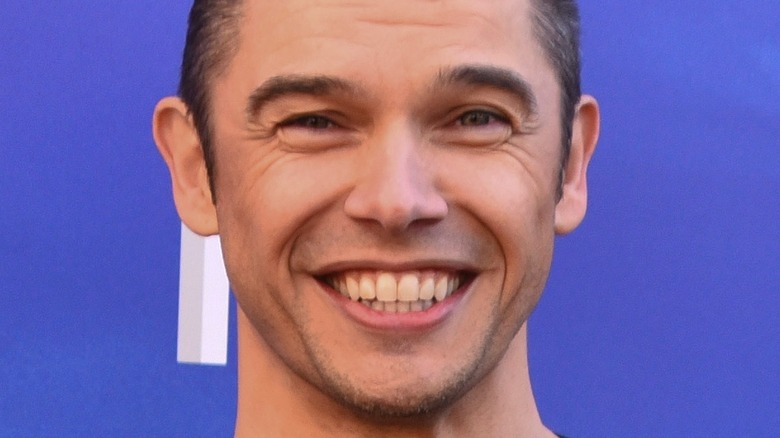 Michael Mattes/Shutterstock
It may be the holiday season, but "Days of Our Lives" is seemingly still celebrating Halloween. In the past few weeks, the Peacock soap opera has been full of drama, and a lot of it has involved a creepy clown costume. The costume first came into play during EJ DiMera's (Dan Feuerriegel) feud with Ava Vitalli (Tamara Braun). Ava was seen peering through the window at the DiMera mansion while wearing the spooky mask and outfit on Halloween (via Soaps). Moments later, EJ's brother, Chad DiMera (Billy Flynn), crept up behind him wearing the same costume, which included red gloves and matching poms down the front, as well as a scary mask complete with terrifying makeup. Chad explains that a vendor was selling the costume at the town square, so it's possible that a child was wearing it.
Later that day, EJ sees the clown costume again when his mother, Susan Banks (Stacy Haiduk), comes rushing to her son's side and warns him that he's in danger, giving EJ three clown sightings for the day, per TV Fanatic. Since that time, the Salem clown costume has been brought back multiple times and used for evil. 
Now, fans are sharing their feelings about the clown costume and all of the drama surrounding it on social media.
Days of Our Lives fans speak out about the Salem clown storyline
Just after the clown costume popped up in Salem, "Days of Our Lives" fans got even more drama surrounding the spooky ensemble. Ava Vitalli asked Xander Kiriakis (Paul Telfer) to kidnap Susan Banks as a part of her devious plot to get revenge on EJ DiMera. Although Xander supposedly turned over a new leaf, he really needed money to support himself and his new wife, Sarah Horton. So, he reluctantly accepted Ava's offer. Xander went on to wear the mask while holding Susan hostage and again when he also kidnapped Bonnie Lockhart (Judi Evans), per Celebrating The Soaps. When Xander began to feel the heat for the kidnappings, a new plan was concocted to have Leo Stark (Greg Rikaart) don the clown mask to pose as the kidnapper in order to get Xander off the hook (via Soaps).
With all of the clowns running around Salem over the past two months, some fans are simply over the storyline. "I'll just say this from an observer standpoint today's #Days episode was ridiculous. I hope this is the end of this clown crap," one viewer tweeted. "I hope these clown masks end soon," another commented. "I don't want to see clown-tales on a soap every day," a third person wrote.
It looks like some fans are getting sick of seeing the clown mask and are ready to move on to the next "Days of Our Lives" drama.