Amy Duggar King Is Being Slammed For Her Over-The-Top Christmas Tradition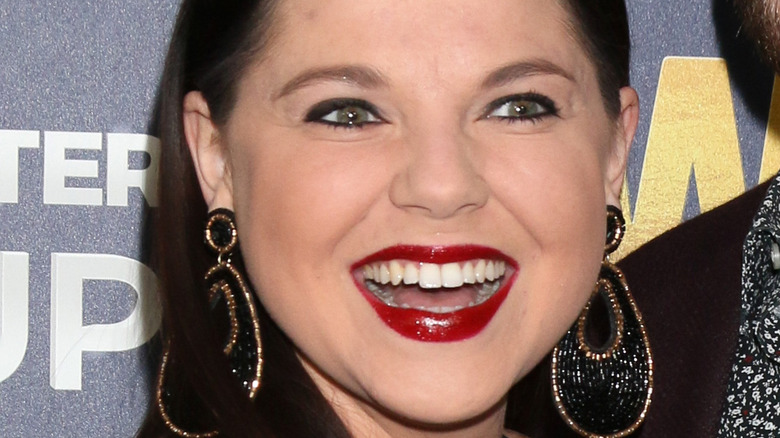 Kathy Hutchins/Shutterstock
The Duggar family of "19 Kids and Counting" and "Counting On" fame are no strangers to doing things big. While Michelle and Jim Bob and Michelle Duggar's large brood of 19 kids was shocking for most to wrap their heads around, they now have an even bigger family, as their adult children have married and become parents themselves (via Us Weekly). "It really is hard to believe that this is number 20 of our grandchildren," Michelle shared after her son, Joseph, and his wife Kendra had their third child together. Now, the couple is the proud grandparents to 26 grandchildren, or "grandDuggars," as they call them.
With such a large family, they have to do things big during the holiday season. They have some strange holiday traditions, according to In Touch Weekly, like personalized gift bags assigned to each child — including a jar of pickles in each bag. While pickles as a holiday gift might be a little strange for most, the Duggar family's cousin, Amy Duggar King, who is estranged from most of the Duggar family, has taken her own twist on big holiday traditions. Except, hers have caught some serious backlash.
Amy's new gift-giving tradition for her son has people talking
Amy Duggar King, an estranged cousin of TLC's Duggar family, has made headlines for her outspoken opinions about her disgraced family member, Josh Duggar, and she's not afraid to post about her life online (per People). She is known for sharing her every feeling online, but now it has come with some backlash.
In December 2022, King shared her elaborate gift-giving plans for her 3-year-old son — and fans were not having it. King posted an Instagram photo of her son, Daxton, with the caption, "So we have decided that sometimes Christmas presents all at once can be extra over stimulating when they are all at once! Last year he literally just stared at them and didn't know what to play with first!" she said. " So this year, we have decided to spread the presents out over the course of the weeks leading up to Christmas!!"
Fans quickly gave their opinions about the concept. "Why not just gift less?" one commenter wrote. "Our kids get one big present and two smaller ones plus one gift from the grandparents. Since we agreed that the kids are so much more appreciative. The money we have goes straight to their bank account." Another Instagram user commented, "Kids don't need so many things. Believe it or not, they don't give things that much importance. I have six kids, and I can tell you from experience."
King did not respond to these comments and has continued to post her daily gifts to her son.