Inside The Bold And The Beautiful Star Hunter Tylo's Tense Court Battle With Aaron Spelling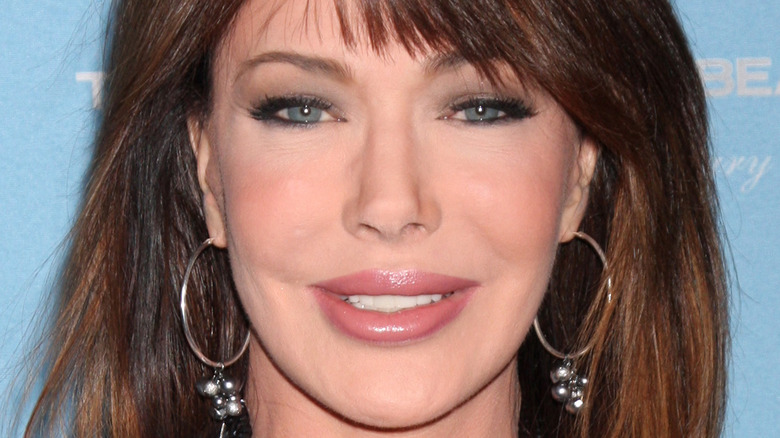 Kathy Hutchins/Shutterstock
In the world of daytime television, Hunter Tylo is a living legend. Her celebrated performance as Taylor Hayes on "The Bold and the Beautiful" led to countless iconic moments over the actor's lengthy tenure. Hunter's romance with Ridge Forrester (Ron Moss/Thorsten Kaye) and the resulting feud with Brooke Logan (Katherine Kelly Lang) over him has been one of the soap's hallmark storylines (via Soaps In Depth).
Taylor was a major power player on "Bold" during her initial run, frequently featuring in the majority of the show's plots. However, Tylo vacated the role in 1996 after landing a part on the primetime soap, "Melrose Place." Taylor was written out accordingly, and it appeared as though Tylo was moving on to bigger and better things with her new gig. Unfortunately, what resulted from this decision became somewhat of a nightmare for the actor. 
Moreover, the famed producer Aaron Spelling played a starring role in the controversy, per Soap Hub. What was supposed to be the next exciting chapter of Tylo's career quickly morphed into the battle of a lifetime, pitting her against one of the most influential titans of the entertainment industry. Theirs was a showdown straight out of a courtroom drama — even soapier than her juiciest "Bold" storylines, in fact.  
Tylo's run on Melrose Place ended before it even really got started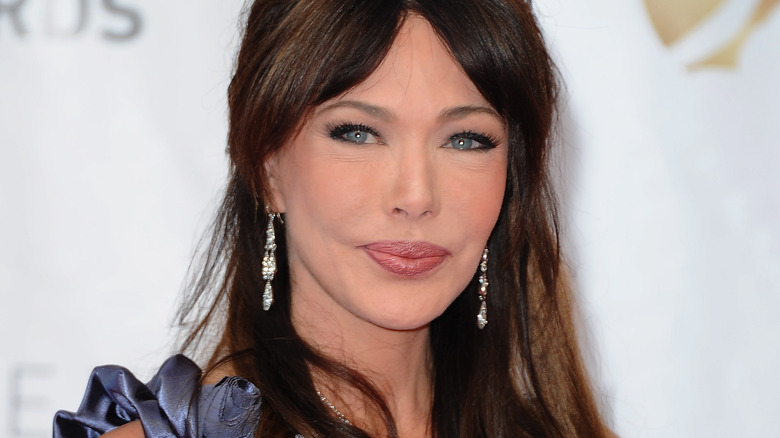 Pascal Le Segretain/Getty Images
Hunter Tylo's move from "The Bold and the Beautiful" to "Melrose Place" was intended to be a seamless transition with no drama, but like something out of a soap opera, chaos quickly erupted. According to Soap Hub, Tylo initially signed on for an eight-episode run on the hit series, at a minimum. She was meant to be a tempting presence for Jack Wagner (Peter Burns), as well as tussling with love rival Amanda (Heather Locklear). However, these big plans were derailed. 
Prior to entering into the role, Tylo announced her pregnancy to the powers that be at "Melrose Place," Aaron Spelling included, and it sadly spelled the end of her job on the show. Unfortunately, the producers believed the pregnancy was a violation of Tylo's contract, with the material forced to be altered, and ultimately fellow soap star and "Real Housewife" Lisa Rinna snagged the role instead. 
Removing Tylo left her angry enough to file a lawsuit against Spelling for a whole litany of reasons. Tylo's filing alleged discrimination due to pregnancy, wrongful termination, and of course, breach of contract, even though the producers believed Tylo was the one in breach of her contract. Spelling (and Tylo) were in for the legal fight of their lives because both sides refused to budge from their stances (via CNN). 
Tylo ultimately won the lawsuit and millions of dollars in the process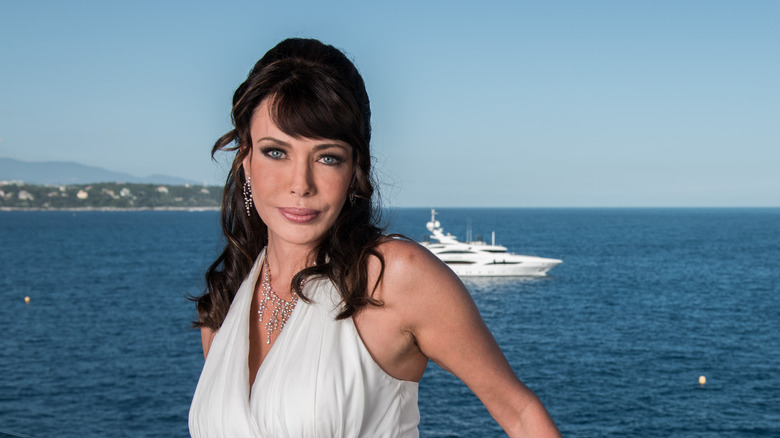 Francois Durand/Getty Images
Hunter Tylo came prepared for her lawsuit against Aaron Spelling. Citing evidence like a producer allegedly asking why she didn't just terminate her pregnancy, as well as pointing out their ability to use alternative camera shots to avoid showcasing her growing stomach. However, Spelling's camp had its own reasons why the lawsuit had no merit. They contended that Tylo's changing body rendered her unfit for the role since she could no longer play the sexual vixen in their eyes, per CNN.
Despite Spelling's best efforts, the case ultimately ended in Tylo's favor. Not only did she win, but the soap star was awarded nearly five million dollars in damages — almost double what she initially asked for. However, in the bizarre world of soap operas and the drama surrounding it, of course, there would be a jaw-dropping plot twist around the corner, towards the end of the trial (via The Washington Post). 
Prior to Tylo walking away victorious in her legal battle, "Melrose Place" executives revealed that Lisa Rinna, Tylo's replacement, was pregnant and would continue playing the character throughout the duration of her tenure. Tylo eventually returned to "The Bold and the Beautiful," before being written off once again in a murder angle. Luckily for fans of the actor, she returned again, making several appearances over the next two decades.