Why Meghan Markle's Suicidal Struggles Caused Prince Harry To 'Hate' Himself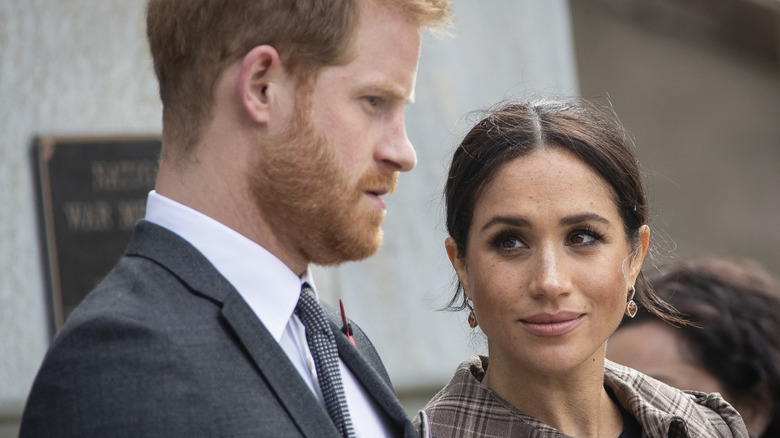 Pool/Getty Images
One of the most stunning things we learned from Prince Harry and Meghan Markle's Oprah interview was that the Duchess of Sussex contemplated suicide during her time with the royal family. Per People, Meghan confessed, "I was ashamed to say it at the time and ashamed to have to admit it to Harry. But I knew that if I didn't say it — then I would do it." As the former actor sadly acknowledged, "I just didn't want to be alive anymore." 
Even though outwardly the Sussexes were living the high life, they were also dealing with intense press intrusion and racist backlash from the public. As Meghan argued, "And that's I think so important for people to remember is you have no idea what's going on for someone behind closed doors. No idea." Thankfully, since stepping down from their roles as senior working royals, in January 2020, Meghan and Harry are both doing much better. 
And, with their Netflix docuseries "Harry & Meghan," the couple is finally in a position to tell their own story. Despite the first three episodes being arguably lacking in shocks, it became Netflix's most-watched documentary debut yet (via The Guardian). And, in the concluding batch, the Sussexes got super real about how tough Meghan's struggles were.
If you or anyone you know is having suicidal thoughts, please call the National Suicide Prevention Lifeline​ by dialing 988 or by calling 1-800-273-TALK (8255). 
The Duke of Sussex felt he acted as a royal rather than a husband
Wpa Pool/Getty Images
Reviews for the initial episodes of their docuseries were scathing — The Spectator branded it "a tedious, narcissistic wallow," while The Guardian described the show as "a one-sided PR effort" — but the final episodes of "Harry & Meghan" find the Duke and Duchess of Sussex in a contemplative mood, as they contend with what really drove them to leave The Firm. Likewise, Prince Harry also explains what Prince William really did to break his heart.
In particular, Meghan Markle shared devastating details about how her mental health suffered during the couple's short sojourn in Britain, divulging, "I was like, 'All of this will stop if I'm not here.' And that was the scariest thing about it. It was just clear thinking." Meghan later explained how she wanted to get help but was prevented from doing so by higher-ups who were more "concerned about how that would look for the institution." They expected her to just get on with it.
Harry revealed, "I felt angry and ashamed. I didn't deal with it particularly well. I dealt with it as institutional Harry, not husband Harry. What took over my feelings was my royal role. I'd been trained to think [about] what will people say if we don't go to this event [or] if we're late. And looking back on it now I hate myself for it. What she needed from me was so much more than I could give."