Why Do You Want To Add Chebe Powder To Your Haircare Routine?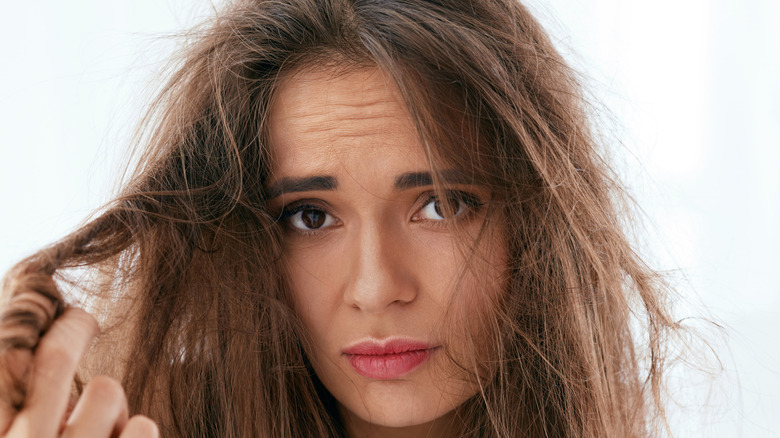 Puhhha/Getty Images
Shampoo and conditioner are not always enough for your hair. You could even be shampooing and conditioning wrong. Medical News Today warns overwashing can damage your hair, leaving the scalp and strands dry. The thicker and curlier your hair, the more susceptible it is to dryness. However, you can suffer from the dreaded dull or oily look if you don't wash your hair enough. 
Apart from traditional shampoo and conditioner, a good haircare routine moisturizes, detangles, styles, and protects (via Healthline). The shampoo will cleanse your stands while the conditioner nourishes. Leave-in conditioners, hair lotions, and oils help to add moisture. Then there are various mousses, gels, sprays, and serums to protect your hair as it styles. Popular protein treatments and hair masks are the cherries on top for extra shine.
For a tight-knit routine, chebe powder might just be the ingredient your haircare is missing. It can help your strands in more ways than one and leave your hair picturesque.
Benefits of chebe powder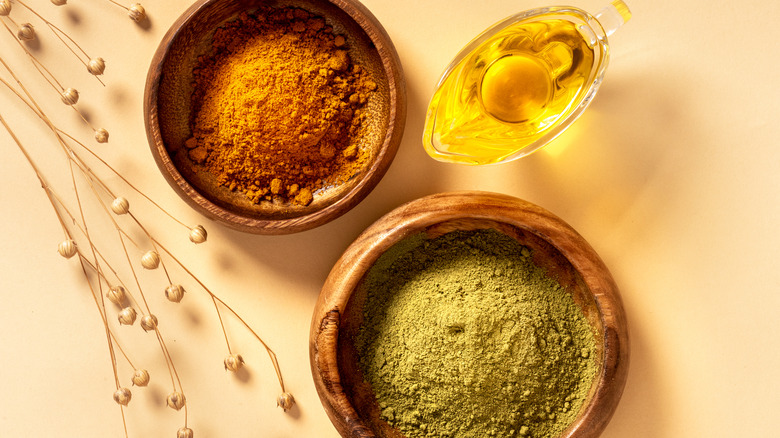 Svetlana Monyakova/Shutterstock
We all want healthy hair. Chebe powder can help. This powder combines cherry seeds, lavender, resin tree sap, cloves, and stone, as Harper's Bazaar explains. It is all-natural. The Basara tribe in Chad has used chebe for centuries. Women in this tribe are known for their long locks, and their chebe secret is out. This ingredient is a rich brown powder resembling soil. One look and it reminds you of its vegan and all-natural properties, but that is not why it's a hair care must-have. 
Loose waves to tight coils and all the curls in between can benefit from this powder. Chebe is the answer to healthy textured hair and growth, per Allure. Its various ingredients help to make hair strands more moisturized, appear voluminous, retain length, and feel softer. Although the women of Chad typically have waist-length hair, chebe powder is not a magical growth serum. It contributes to longer locks as its properties prevent issues that cause strands to split, damage, and break. It combats what's ruining your curly hair. So how can you unlock all of the chebe powder's benefits?
How to use chebe powder for haircare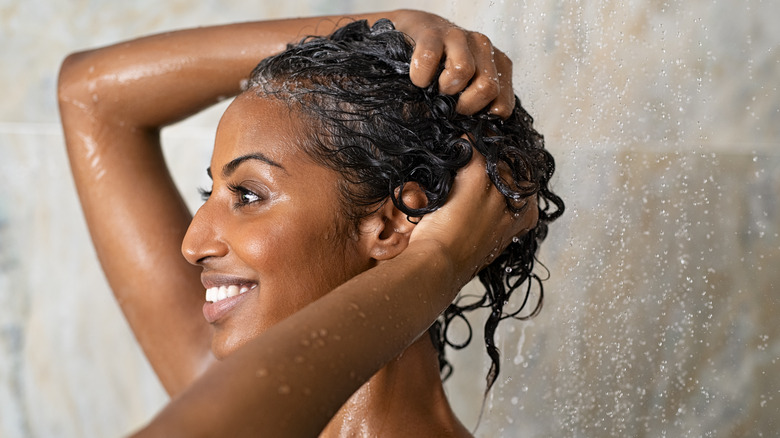 Ground Picture/Shutterstock
There are a few ways to add chebe powder to your haircare routine. Luckily, they are simple. Chebe is traditionally used as a hair mask, according to Brydie. You can mix the chebe powder with your favorite hair oil, like argon or coconut oil, for a pre-shampoo. Apply the paste to the shaft and end of your hair strands. This method is a little messy, and the paste will become clay-like in your hair. It might take a few extra rounds of washing before you thoroughly rinse out the mask. 
For a less messy and easier application, HeyCurls suggest adding the chebe powder to other haircare products. You can turn your regular conditioner into a deep conditioner by adding a few scoops of chebe. Mix the powder into a hair cream or butter to create an amplified moisturizer. Or you can use the powder alone to exfoliate your scalp after shampooing. Chebe powder does stain, so watch out for any dripping paste that might ruin your towel or bath mat.