Argan Oil Vs Coconut Oil: Which One Is Better For Your Hair?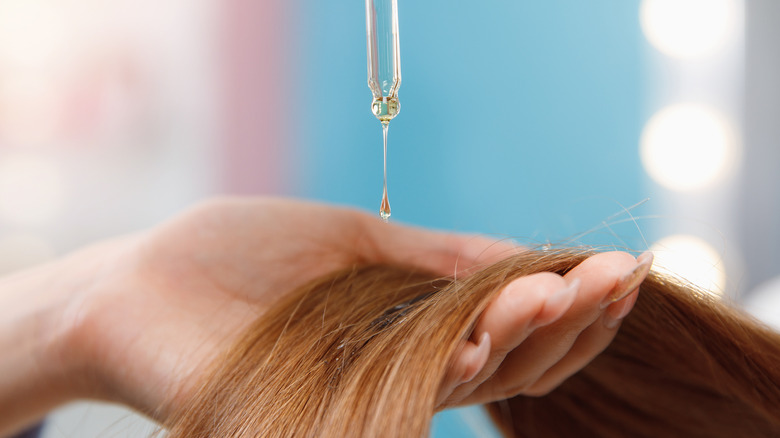 Shutterstock
Hair oil is a healthy trend that has impressive staying power. As such, the market has flooded with different options to use — leaving you to wonder which one to purchase. Two of the most popular hair oil varieties, coconut and argan, are known for their universal properties of hydration and protection. While each camp touts their own unique benefits, the best hair oil for you may vary based on your hair type.
A lightweight option, argan oil can offer moisture to almost every type of hair, Cosmopolitan explains. Its protective qualities can mitigate damage from the sun's UV rays and free radicals that may dull your mane's shine, according to Soapbox. Plus, since it's loaded with Vitamin E, argan oil can do wonders for a dry scalp while increasing the rate of cell regeneration. Essentially, it makes your hair grow faster and stronger, the outlet notes. 
Argan oil also seals the cuticle on your strands, not only protecting them from further damage, but also taming any frizz. Making your hair shine, argan oil can offer the styling benefits of hairspray without the drying effects. This type of oil serves as a powerful protectant, moisturizer and styling treatment. 
Coconut oil offers more nourishment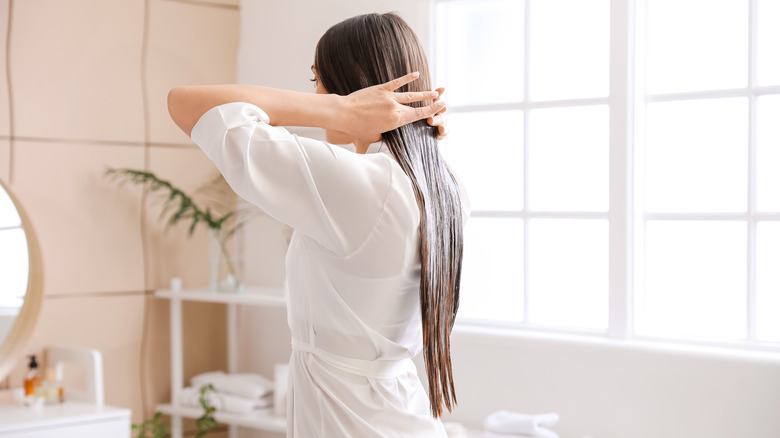 Shutterstock
While argan oil creates a sleek, moisturized look, coconut oil offers a heavier dose of nourishment that may make some types of hair appear heavy or greasy. Cosmopolitan explains that the fatty acids in this naturally-occurring product serve as a protective layer between your strands and common stressors. If you find your hair feeling overprocessed after you wash it, using coconut oil first can coat your mane with these fatty acids and thus buffer the sometimes-drying effects of shampoo. Then, the outlet explains, your hair can hang onto the natural oils that keep it looking healthy while getting cleaned.
However, dry hair may suffer underneath the heavier weight of coconut oil. Cosmo reports that using coconut oil on a regular basis may spur the build-up of proteins that may weigh it down and break off vulnerable parts. This type of oil spurs the creation of proteins that can either fortify your mane or cause damage. Depending on the state of your tresses, using coconut oil can either make or break your hair.
With protective qualities that moisturize both the hair and scalp, coconut oil proves to be a staple of many households. However, using argan oil to style your mane may be a better option, while coconut oil may best serve as a healing treatment on a weekly basis.