The Reason Kate Middleton's First Royal Christmas Was Reportedly So Nerve-Wracking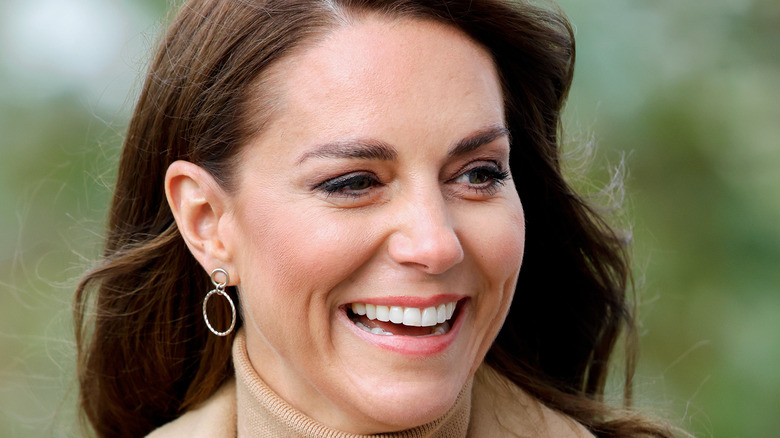 Max Mumby/indigo/Getty Images
While we may fantasize about it as children while watching "Cinderella," marrying into the royal family and becoming a princess is surely not for the faint of heart. Those who have seen Netflix's new docuseries, "Harry & Meghan," know a little bit about the rules, regulations, and expectations there are for the royals. For Kate Middleton, though, we would think there wouldn't be anything to fear. The Princess of Wales seems like she's always had princess potential. That doesn't mean, however, that she didn't get nervous around the famous family when she was first introduced to royal life.
As Hello! reported, back in 2011, Kate was set to make her big debut as the newly crowned Duchess of Cambridge as she joined the royal family for Christmas for the first time. Not only was she spending her first holiday with her new hubby's very high-profile family, but she was doing so in front of basically the whole world. Just imagine taking those normal first-holiday-with-the-in-laws jitters and multiplying them by about 1,000. Suffice it to say, Kate was pretty nervous about this particular holiday get-together. It's clear that all's well that ends well in this case, but that doesn't mean the holiday wasn't without a few bumps in the road for Kate.
Kate Middleton's royal meeting anxiety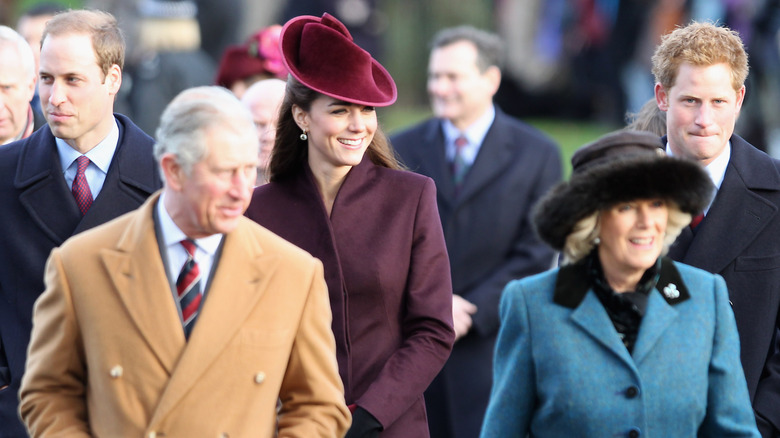 Chris Jackson/Getty Images
Every year on December 25, the royals attend a traditional Christmas Day service at Sandringham Church (per Independent). In 2011, Kate Middleton was seen alongside the whole family leaving the service, and she was all smiles dressed in her monochromatic burgundy holiday look. While she may have been all smiles on the outside, Kate was nervous on the inside. Besides the obvious stresses that come along with attending a very important event with the royal family, Kate was also preoccupied with royal Christmas gifts, and there's reason to believe there may have been even more to worry about.
As Cosmopolitan reported, the royals don't exactly welcome newcomers to the family with open arms. In fact, if you're joining the family for a holiday for the first time, you may even be in for some tests. You may have heard of "the Balmoral test." Balmoral is the castle in Royal Aberdeenshire where the royal family loves to spend time (via Oprah Daily). This spot is so beloved, it's where Queen Elizabeth II spent her final days. 
According to Andrew Morton's book, "Princess Diana: Her Story in Her Own Words," the test is basically a way of pranking newcomers. "The very quirks and obscure family traditions which have accrued over the years can intimidate newcomers," Morton wrote. "Those who successfully navigate the social minefield, popularly known as the Balmoral Test, are accepted by the royal family. The ones who fail vanish from royal favor as quickly as the Highland mists come and go."
Kate Middleton's gift to the queen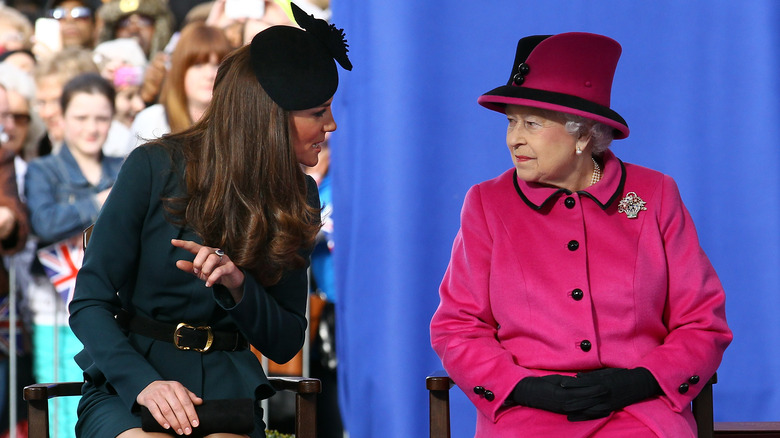 Matt Cardy/Getty Images
As the age-old question goes, what do you get the woman who has everything? Likely by the time Kate Middleton arrived for her first Christmas with the family, she'd already passed her fair share of tests. Still, she was faced with a little challenge of her own: what to get her very important new grandmother-in-law, Queen Elizabeth II.
In the 2016 ITV documentary, "Our Queen at Ninety," Kate shared the concern she'd had about what to gift the queen (via Hello!). Kate said, "I thought, 'I'll make her something.' Which could have gone horribly wrong. But I decided to make my granny's recipe of chutney.'" Kate went on, "I was slightly worried about it, but I noticed the next day that it was on the table. I think such a simple gesture went such a long way for me and I've noticed since she's done that on lots of occasions and I think it just shows her thoughtfulness, really, and her care in looking after everybody."
It sounds like Kate's grandmother's chutney recipe impressed the new grandmother in her life. We can see why Queen Elizabeth II would have loved that gift, especially considering the fact that her grandchildren didn't always take gift-giving as seriously as Kate. Per Hello!, Prince Harry reportedly once jokingly gifted the queen a shower cap that said, 'Ain't life a [expletive]?' Surely, the queen preferred Kate's chutney to that.