Naomi Ackie On Becoming Whitney Houston In I Wanna Dance With Somebody - Exclusive Interview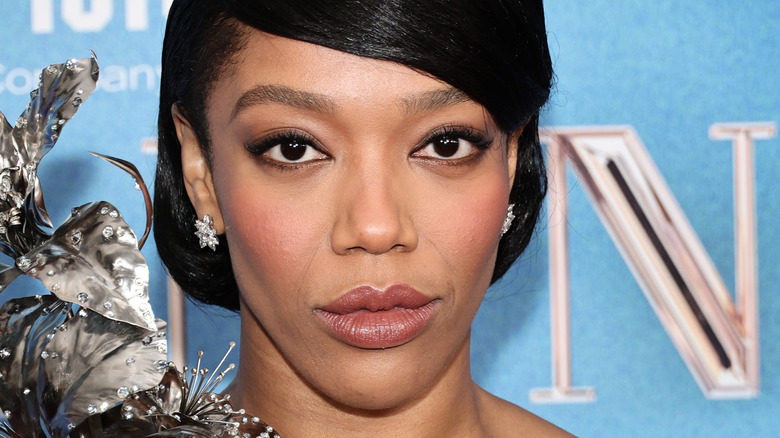 Jamie Mccarthy/Getty Images
For a time during the 1980s and 1990s, Whitney Houston was the biggest thing in music, a place she earned with a steady stream of moving ballads and catchy bops that showed off her enormous talent. Yet her life included plenty of turmoil, too, including a tumultuous marriage to fellow singer Bobby Brown and a drug problem that eventually led to her untimely death. The biopic "Whitney Houston: I Wanna Dance With Somebody," covers all of that and more while providing a glimpse at what it was like to be there as Houston rose to enormous fame and fortune and then fell from grace when her demons got the better of her.
Bringing the legendary singer to life is Naomi Ackie, whose credits include impressive turns in TV shows like "Master of None" and "The End of the F***ing World" and films like "Lady Macbeth" and "Star Wars: Episode IX — The Rise of Skywalker." In "Whitney Houston: I Wanna Dance With Somebody," Ackie seems to channel Houston's spirit, capturing her mannerisms and physicality while providing nuanced insight into her emotional journey from aspiring singer to beloved superstar. It's an indelible performance that's likely to remind Houston's fans why they will always love her. 
In an exclusive conversation with The List, Ackie explained how she prepared to play the icon, the period in Houston's life she was most excited to learn about, and the challenges of bringing some of the singer's most famous performances to life.
Embodying an icon
Whitney Houston is such an icon. What was your approach to figuring out how to embody her?
It took a really long time for me to get my head around what was needed to tackle a role like this. It was a lot of research. It was immersing myself into her world, her history, her movements, giving a reason behind her movements, [a] reason behind her connections, talking to her family and her friends. The whole thing took about eight months of daily practice entering a Whitney world for more than a few hours in a day. I was actually very lucky to have a lot of time on my hands because it was lockdown. A lot of that time was spent with me by myself getting to grips with this.
You're not only playing someone that's incredibly well known, but you're also playing her over several decades of her life. Was there a particular part of her story that you were especially excited to depict?
The younger years were really interesting to me because I wasn't really aware of [them]. I was born in '91, so she was already fully established at that point. I believe "The Bodyguard" came out in '91. Seeing her rise and how she got there was a really beautiful, almost fairytale-like story to me. Her mother tricking her to go on stage while [record executive] Clive Davis is there and all of that is very heartwarming, and it felt like something that I could connect to much easier than the star that I knew and loved. That was a great starting point for me.
The challenges of depicting Whitney Houston's performances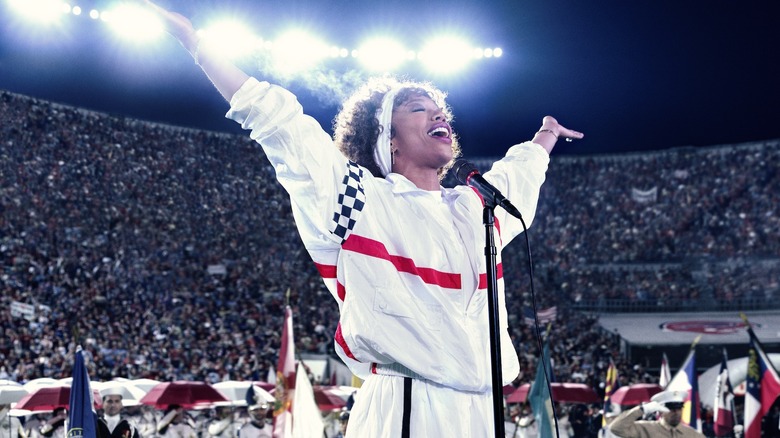 Emily Aragones/Sony Pictures
The music in the film is incredible, but some of the performance scenes are so famous, like the Super Bowl performance. Were there unique challenges to shooting those performance scenes for you, knowing that some of them are so ingrained in many viewers' memor[ies]?
There was a decision that Polly Bennett, who was my movement coach on this, [and I] made about some performances, the iconic ones, being as close to the original as we possibly could get. Then there were performances that she choreographed that were more [a matter of] collecting little trinkets from many different live performances and putting [them] all together.
It was challenging because you are trying to get accuracy, so every movement has a dimension and a height, and it's very technical. Sometimes that can get in the way of the idea of connecting with an audience. But once you put it all together and you get your groove ... Polly used to say it was probably about on the third take of performances [that] I hit my groove and I didn't have to think about it — third or fifth or sixth, sometimes tenth. Who knows? But at some point, something would work and I would be able to start to fill it out.
"Whitney Houston: I Wanna Dance With Somebody" debuts exclusively in movie theaters on December 23.
This interview has been edited for clarity.